Art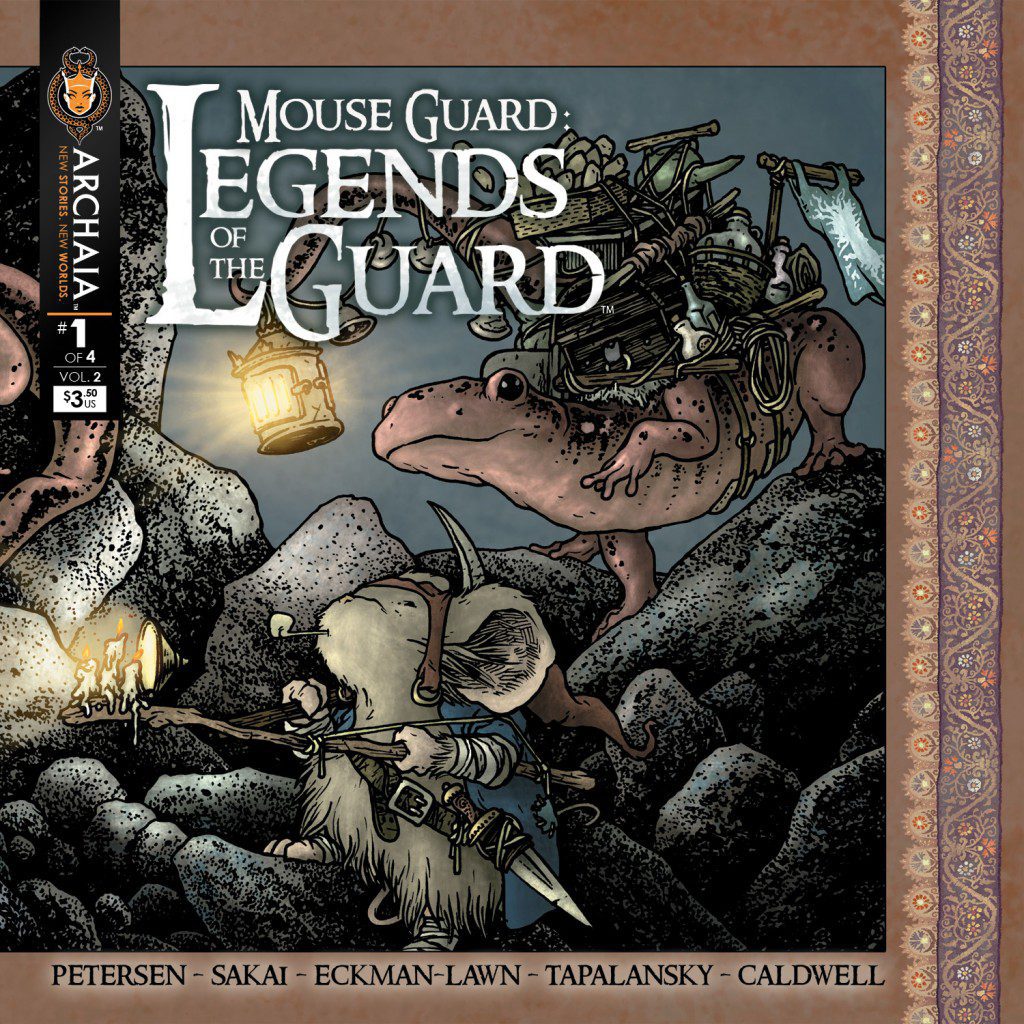 Archaia Entertainment Announces the Return of Mouse Guard- Legends of the Guard
Get ready for more Mouse Guard goodness!
Archaia Entertainment has announced today that the award winning Mouse Guard is back with volume two of the amazing Legends of the Guard anthology. If you haven't picked up a Mouse Guard book yet, then you are really missing out. David Petersen's Mouse Guard is an amazing showing of talent, creativity and animal awesomeness. Check out the press release below:
ARCHAIA ANNOUNCES VOLUME 2 OF THE EISNER AWARD-WINNING ANTHOLOGY 'MOUSE GUARD: LEGENDS OF THE GUARD'

'Mouse Guard' creator David Petersen invites a new group of creators to come and play in his sandbox in this new, four-issue miniseries!

Los Angeles, CA (March 20, 2013) – New legends will be forged! Award-winning publisher Archaia Entertainment is excited to announce the launch of Volume 2 of the Eisner Award-winning anthology miniseries Mouse Guard: Legends of the Guard. The first of four issues is set to debut in May 2013. Mouse Guard is the best-selling fantasy comic book series created by Michigan-based David Petersen about a group of elite warrior mice who serve to protect and guide the common mice under their care.

"After winning the Eisner Award for the first volume, the talent that David has brought to the table for the second volume of Legends is incredible," said Stephen Christy, Editor-in-Chief of Archaia. "Between industry legends like Stan Sakai, Bill Willingham, and Rick Geary to amazing up-and-comers like Cory Godbey, Mouse Guard fans are going to have a lot to look forward to in this miniseries."

As in the first volume, Mouse Guard: Legends of the Guard Vol. 2 finds a group of mice at the June Alley Inn trying to outdo one another in a storytelling competition, spinning typically fantastic tales of the Mouse Guard and their adventures. After all, the mouse that tells the best story gets their bar tab cleared! Petersen writes and illustrates the tavern scenes, while each contributor (or team of contributors) writes and illustrates the different mouse tales.

Petersen has assembled another all-star lineup for this four-issue miniseries. The contributors to issue #1 of Mouse Guard: Legends of the Guard Vol. 2 include Stan Sakai (Usagi Yojimbo), Ben Caldwell (The Dare Detectives!), and the team of writer Nick Tapalansky and illustrator Alex Eckman-Lawn (Awakening). Subsequent issues will include contributions from Christian Slade (Korgi), Rick Geary (The Adventures of Blanche), Jemma Salume (Unicorn Life Cycle), Jackson Sze (concept art on films like The Avengers and Iron Man 3), Cory Godbey (Fraggle Rock, the upcoming Jim Henson's Labyrinth), Eric Canete (Fear Itself: Spider-Man), C.P. Wilson III (The Stuff of Legend), Bill Willingham (Fables), and fantasy illustrator Justin Gerard.  Archaia will release the hardcover collection in late Fall of 2013.

"It's been amazing to have people I admire write and draw stories for Mouse Guard," said David Petersen. "Getting the behind-the-scenes view of their process is a treat for me. These contributors are putting together some great stories and I'm anxious for the fans to get to see what I've been watching come together!"

The first volume of Mouse Guard: Legends of the Guard spent five weeks on The New York Times Best Sellers list and won the Eisner Award for Best Anthology in 2011. A new printing will be available for sale in June (ISBN: 978-1-932386-94-3; Diamond Order Code MAR130807).

Mouse Guard: Legends of the Guard Vol. 2 issue #1 is available for pre-order now at your local comic book shop. To pre-order, provide your retailer with this Diamond Order Code: MAR130802. To find your closest comic book shop, visit www.comicshoplocator.com.