Animation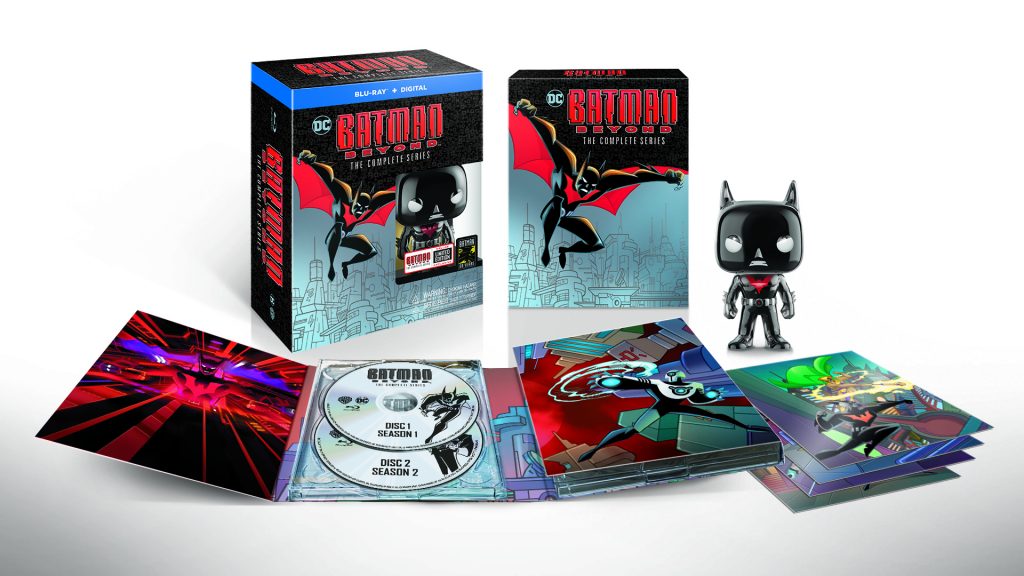 Batman Beyond: The Complete Series Comes to Blu Ray and Digital in October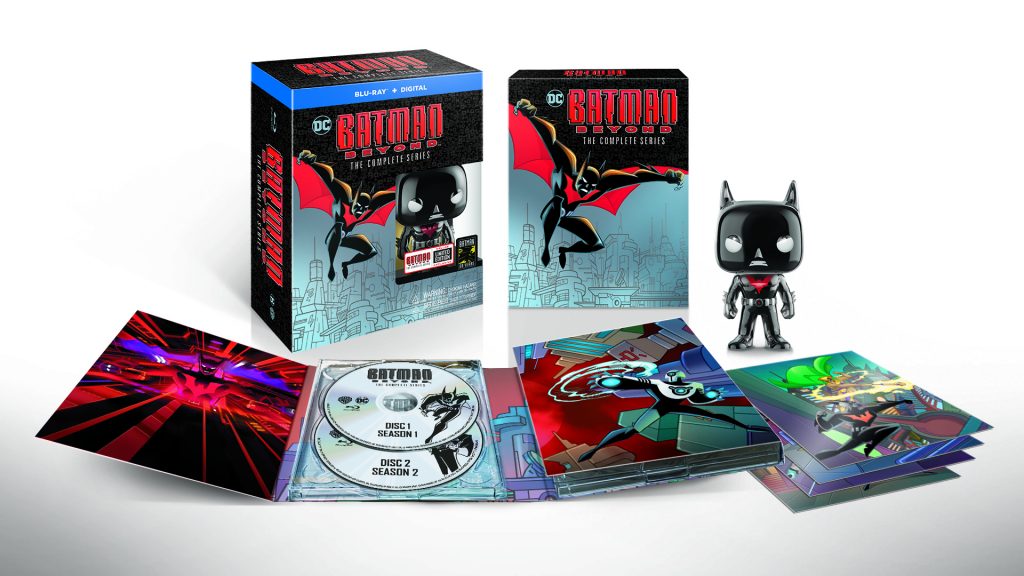 By Staff Reports
Batman Beyond, the landmark animated television series that illuminated the imagination of a new generation of Batman fans with its creation of an altogether new hero, is celebrating its 20th anniversary – and you get the gift! Warner Bros. Home Entertainment has remastered the heralded series for its first-ever presentation on Blu-ray™ in the all-encompassing Batman Beyond: The Complete Animated Series Limited Edition, arriving on Digital ($49.99 SRP USA, $59.99 SRP Canada) starting October 15, 2019 and in a stunning box set ($99.99 SRP USA, $119.99 SRP Canada) on October 29, 2019. Distribution in Canada will be day-and-date with the USA, Pre-orders are now available.
The extraordinary Batman Beyond: The Complete Animated Series Limited Edition package features approximately 1,500 minutes of entertainment spread over four Blu-ray™ discs, plus the two bonus discs of enhanced content. In addition to a newly-remastered Blu-ray presentation of Batman Beyond: Return of the Joker, there are 15 featurettes on the bonus discs, highlighted by two new inside looks at the beloved television series, led by Nostalgic Tomorrow, a gathering of Batman Beyond production talent and cast led by executive producer Bruce Timm and actors Kevin Conroy and Will Friedle, the voices of Batman and Terry McGinnis, respectively. The bonus discs also spotlight four episodes with audio commentary from Timm and select members of the production team.
Collectibles within the stunning packaging include an exclusive chrome Batman Beyond Funko POP, and four beautifully-designed lenticular art cards produced especially for Batman Beyond: The Complete Animated Series Limited Edition. This ultimate collectors Blu-ray box set will be individually numbered for a Limited Edition release of 50,000.
Produced by Warner Bros. Animation, Batman Beyond premiered on January 10, 1999 to instant ratings and critical success. The series would run for three seasons, covering 52 total episodes and a full-length animated film, Batman Beyond: The Return of the Joker. Nominated for nine Emmy Awards, Batman Beyond would ultimately take home two Emmys – including Outstanding Special Class Animated Program in 2001 – as well as three Annie Awards.
Of the 52 original Batman Beyond episodes, 41 have been fully-remastered from either their original 35mm film source or the uncommon format "OCND," the original camera negative digital (a digital scan of original negative). Lines and resolution have been enhanced, and dust and dirt have been removed – however, cell dirt remains to not disturb the original picture. Included in the remastering was the removal of grain, resulting in enhanced colors. The remastering process does cause a slight aspect ratio change (approximately 3% loss of screen image).
Due to time-worn irreparable damage, the remaining 11 episodes were "Smart Rezzed" from standard definition Digibeta video. The process provides for significant enhanced resolution and improvement of the original source material in converting from standard to high definition, though it does sacrifice horizontal lines for clearer image and color representation. While still a marked improvement over the original video, viewers will notice a slight difference between the Remastered and the Up-Rezzed final footage. The 11 affected episodes are: "Eyewitness," "Final Cut," "The Last Resort," "Armory," "Sneak Peek," "The Eggbaby," "Zeta," "Plague," "April Moon," "Sentries of the Lost Cosmos" and "Speak No Evil."
The creative team behind the breakthrough animated series was headed by the producing quartet of Bruce Timm, Paul Dini, Alan Burnett and Glen Murakami, alongside executive producer Jean MacCurdy and associate producer Shaun McLaughlin. Shirley Walker composed the award-winning score with the Dynamic Music Partners trio of Lolita Ritmanis, Kristopher Carter and Michael McCuistion, while 8-time Emmy Award winner Andrea Romano guided an impressive collection of actors as casting/dialogue director. Butch Lukic, Dan Riba and Curt Gida directed the majority of episodic animation along with James Tucker, Kyung Won Lim and Yukio Suziki. Primary story editors and writers on the series were Burnett and Dini with Bob Goodman, Rich Fogel, Hilary Bader and Stan Berkowitz.
The Batman Beyond cast was spearheaded by Kevin Conroy, the fan favorite voice of The Dark Knight as established in the landmark Batman: The Animated Series. Will Friedle (Boy Meets World, Kim Possible) created the character of Terry McGinnis, Batman's protégé. Veteran voiceover actresses Cree Sumner (Codename: Kids Next Door, Drawn Together) and Lauren Tom (Friends, The Joy Luck Club, Futurama) were series regulars as Max and Dana Tan, respectively.
The guest cast included a healthy collection of film and primetime television stars spanning from Academy Award nominees Paul Winfield, Stockard Channing, William H. Macy, Teri Garr and Michael McKean; Emmy Award winners John Ritter, Wayne Brady, Seth Green, Tim Curry, David Warner and Patton Oswalt; Golden Globe winners Stacy Keach, Amanda Donohoe and Jill Eikenberry; four Grammy Award winners led by Ice-T; and five members of the Hollywood Walk of Fame – Macy and Ritter along with George Takei, Michael Ansara and Mark Hamill. The cast also included legends of the entertainment industry and several young actors heading toward stardom, like Adrienne Barbeau, Kate Jackson, Angie Harmon, Linda Hamilton, Clancy Brown, Gary Cole, Ed Begley Jr., Wendie Malick, Cary Elwes, Olivia Hussey, Kurtwood Smith, Robert Patrick, Ian Ziering, CCH Pounder, Frank Welker, Johnny Galecki, Pauley Perrette, Michael Rosenbaum and Diedrich Bader.
All totaled, the Batman Beyond cast featured actors with laurels totaling five Academy Award nominations, 47 Emmy Awards, 206 Emmy nods, four Gold Globe Awards, 45 Golden Globe nominations, three Grammy Awards and nine nominations, and five actors forever enshrined with stars on the Hollywood Walk of Fame.
"Batman Beyond elevated the animated adventures of The Dark Knight to even greater heights, providing an edgier, faster-moving, more contemporary take on crime-fighting in Gotham with an inspiring new character in Terry McGinnis," said Mary Ellen Thomas, Warner Bros. Home Entertainment Vice President, Family & Animation Marketing. "Warner Bros. Home Entertainment has long known the fans' desire to see this series come to Blu-ray, and we're excited to finally have the technology to elevate the quality of the original assets to an exquisite high-definition presentation packaged with compelling collectibles in a limited edition set, especially as fans celebrate Batman's 80th anniversary this year."