Art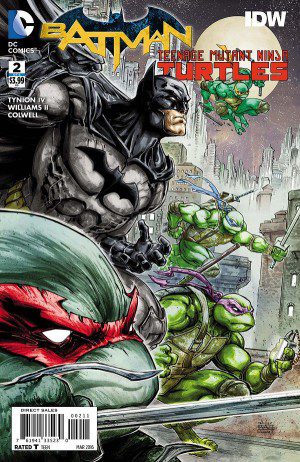 Batman/ Teenage Mutant Ninja Turtles #2 Review: The Bat of Gotham Vs. the Heroes in a Half Shell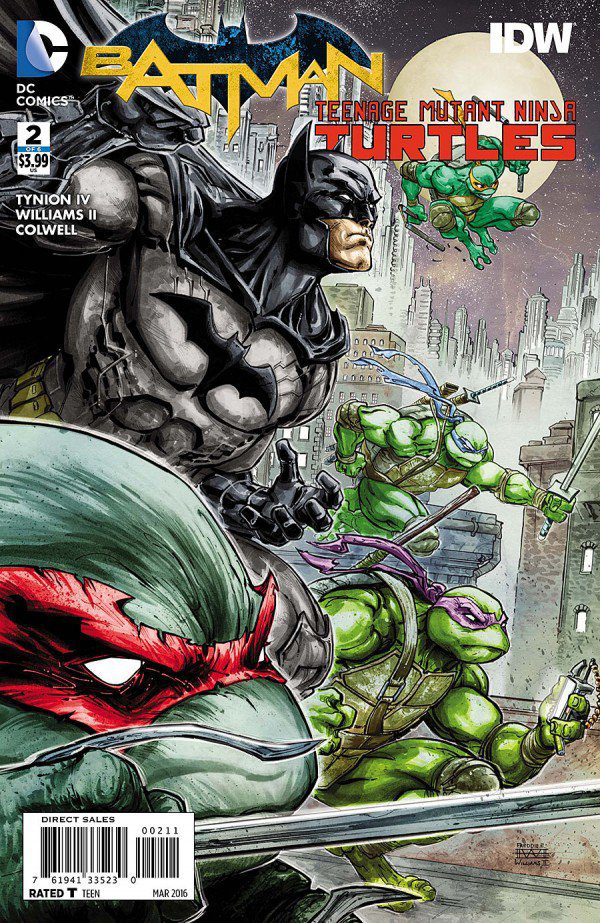 Review by Nolan P. Smith
(Victor Valley)—Last month, we got the debut issue to the Batman/ Teenage Mutant Ninja Turtles mini-series from DC Comics and IDW, which was superb. It set the stage for this titanic crossover, showing the turtles in Batman's Gotham City, as well as the villainous Shredder having made the leap to this universe as well. With the sophomore issue, we get the battle fans have been wanting to see: Batman versus all four of the Teenage Mutant Ninja Turtles.
Written by James T. Tynion IV, the issue kicks off with a battle already in process, as the Dark Knight dukes it out with all of the turtles. This scene makes the entire issue for me, as the rest of the book is pure gravy after seeing this fight. Artist Freddie E. Williams II captures the essence of the turtles and Batman perfectly, and to see this seemingly one sided fight shows why Batman is, well, Batman. We also see the emergence of Splinter, who comes face to face with Batman for another purely amazing scene.
On the flip side of our heroes, the criminal kingpin Penguin is shown having made an uneasy alliance with the Shredder, and of course, trouble isn't far behind. To see how the heroes and the Shredder react and adapt to this universe is a joy to see, especially Splinter's part in this issue. This is a fantastic second issue, and for me, overshadows the first issue's level of greatness. This is a fun series, one that is going as fans had hoped: full of familiar faces, fights and answers the age old question: who would win?
Rating: 4 out of 5.
This review was created in conjunction with QBC Toys and More, a local comic book and collectible shop located in Victorville, CA. Featuring new comic books every week, collectibles, action figures, original artwork, and more, QBC has something for the pop culture lover in us all. You can find them on Facebook at https://www.facebook.com/QBCToysandMore/.