Movies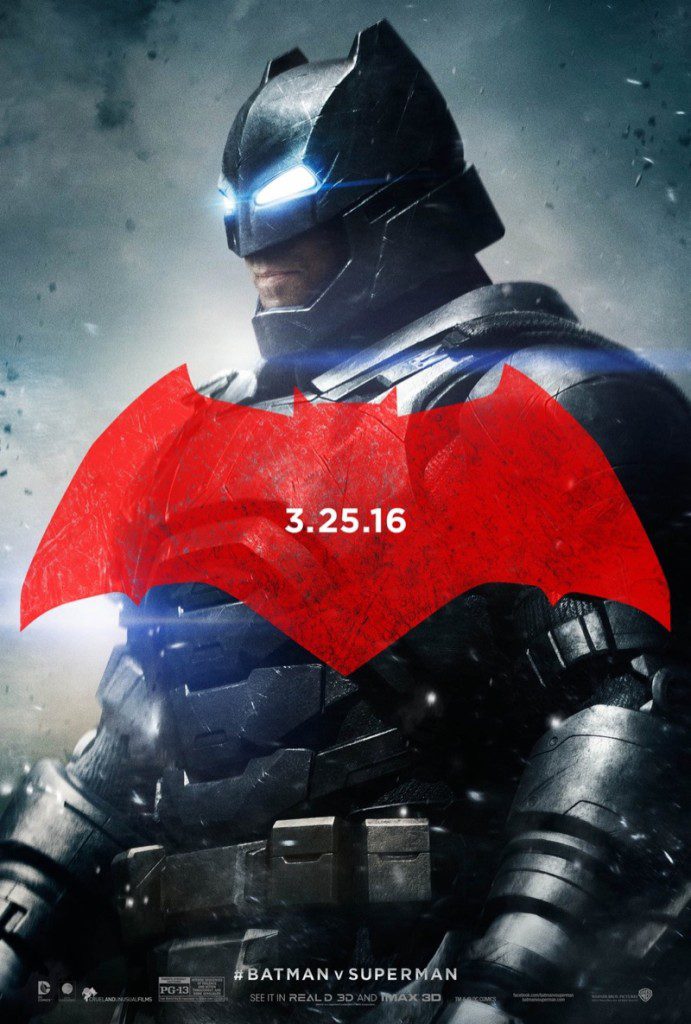 Batman V Superman: Dawn of Justice Review
The Dark Knight versus the Man of Steel- Welcome to Batman V Superman
By Nolan P. Smith
(California)– DC Comics had made no secret that a lot is writing on Batman V Superman: Dawn of Justice. Having some lackluster outings at the box office in the past (Green Lantern, Jonah Hex, Superman Returns), this film is poised to be the crux of the entire cinematic universe. Did this film serve its purpose and deliver a movie that can be the backbone for an entire company, or is the silver screen DC's very own Kryptonite?
Spoilers below.
The film, directed by Zack Snyder (Man of Steel, Watchmen), is a dark, brooding introduction to two of DC's trinity of mainstay heroes- Batman and Wonder Woman. This time around, Ben Affleck takes up the cowl and does a superb job of it. His portrayal of the caped crusader is so spot on; I think he takes the spot as my favorite Batman so far. The serious nature of Batman, coined with the millionaire playboy persona of Bruce Wayne, is done perfectly. The film actually feels like a Batman film, guest starring Superman and Wonder Woman, which is a great tone to have.
Speaking of Wonder Woman, Gal Gadot has hit the mark and completely owns the role of Diana Prince, better known as Wonder Woman. Her strong, demanding presence can be felt even in the scenes that lack fighting, as she is so confident, strong and beautiful, it jumps off the screen and leaves the audience wanting more. Wonder Woman plays a pretty big role in the film, and thankfully, the rumored rest of the Justice League are held to simple, yet effective, cameos.
With a movie title like Batman V Superman, everyone wants to see these two iconic heroes duke it out- and that dream comes true here. To have the super powered last son of a dying planet take on a broken, intelligent man scarred by the harsh realities of Earth, this is a dream match, no doubt. Complete with his anti-Superman armor, Batman goes toe to toe with the Man of Steel, and all I can really say is: wow. These two have one of the best fight scenes in a superhero movie, leaving nothing out as each fights desperately for a cause near and dear to their heart. The brutality of it all really sets in, but also reinforces how important this is. For those that weren't happy about the wide scale destruction seen in "Man of Steel", all of that sets up the major conflict for this film, showing that what we saw in the previous film absolutely needed to happen.
Of course, Superman is a massive part of the story, but when it comes to the big blue boy scout versus a troubled man, we are going to root for the troubled man every single time. I still think Henry Cavill is a great choice for the man of steel, and he does a great job here as well. It's just that in a movie with a new Batman and introducing Wonder Woman, it is easy for Superman to get overlooked. His nemesis. Lex Luthor, is also introduced here, played by Jesse Eisenberg. Eisenberg brings a new flare to Luthor- one of an eccentric genius. I loved the role of Luthor, and the arch we saw him take, from beginning to end.
Overall, this is, in my opinion, one of the best superhero movies to date. It's not easy to make one film serve the purpose of introducing new heroes, while still maintaining itself as a sequel to "Man of Steel", and to do so within the confines of a feature film. But they did it: we not only got the fight scene with hero vs hero, we got to see a retelling of Batman's origin, a glimpse into Wonder Woman's past, and a battle with the killing machine known as Doomsday. Marvel has held the reigns for comic book films for quite some time now, so it is great to see DC not only rise to the occasion, but set the bar for future films to come with Batman V Superman.
Rating: 9.50 out of 10.