Comics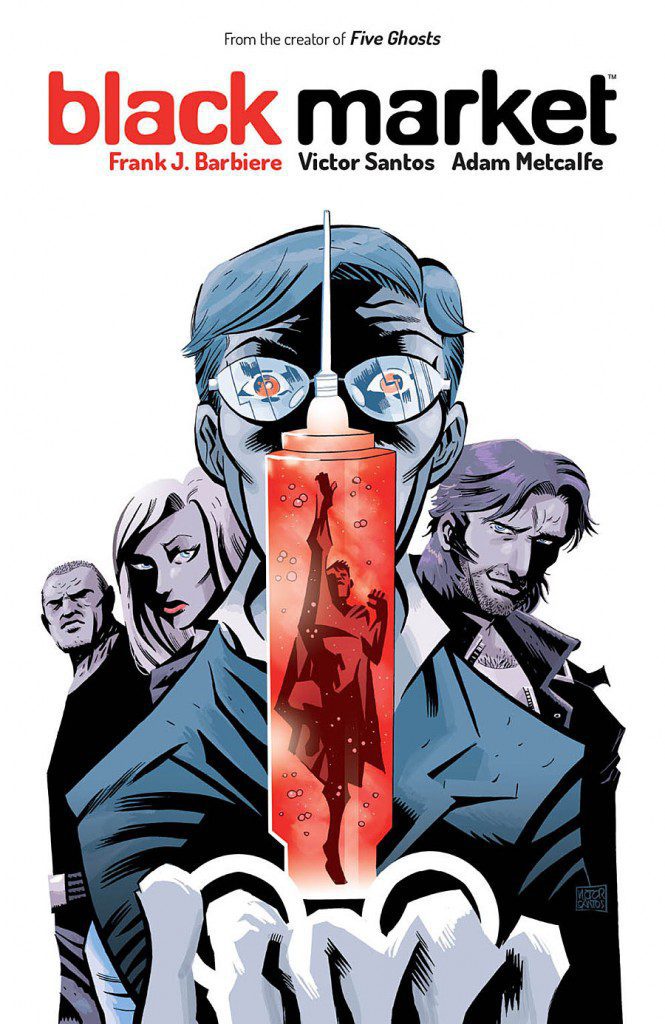 Black Market TPB Review: Superheroes For Sale
Review by Daniel Schwartz
Contributing Guest Reviewer
(Victor Valley)– Following the successful release of the miniseries Black Market, Boom! Studios has collected the ground-breaking 4 issues into a trade paperback.
Black Market takes a dark look at the world of superheroes and what the meaning of the word hero is. Imagine if ordinary people dressed as superheroes and patrolled the streets doling out vigilante justice. Then, one day they are replaced with super-powered, costumed champions who clean up most of the crime in the city overnight. How far would ordinary people go to obtain the powers and abilities of these "Supers"?
This 4-part miniseries poses that very question to its main protagonist Ray. Ray is a nerd who works in the coroner's office and is enlisted to assist his brother Denny secretly obtain Super DNA for a pharmaceutical company. After recruiting a former un-powered superhero to act as their muscle, Denny and his team go to work collecting super-powered tissue samples by any means necessary.
With a knack for strong characterization and seamless dialogue, Frank J. Barbiere beautifully shapes the complete transformation of the main protagonist. All the while begging the question as to whether the Supers (who look down on humans as being inferior) are the true heroes, or if the people taking their DNA for a company that can use it to cure disease around the world (because the Supers are not giving samples willingly) are. The only drawback is that at times, the story felt disjointed. Jumping to different points within the narrative, the reader can occasionally lose track of where they are in the timeline of events.
Not only does Barbiere craft an amazing tale, Victor Santos's pencils give the reader marvelous-looking superheroes and fit the tone of the story perfectly.
Not satisfied with just delivering a remarkable story, the trade paperback also includes several pages of character design and page evolution that walks through the process of creating the seminal series.
An amazing product from beginning to end, the miniseries makes you think and poses a moral dilemma. What would ordinary people give for a taste of the power that the Supers poses? Would they sell their soul to change the world? This series not only poses this question, but answers it with certainty.
Rating: 4.5 out of 5
Publisher: Boom! Studios
Writer: Frank J. Barbiere
Illustrations: Victor Santos
Colors: Adam Metcalfe