Comics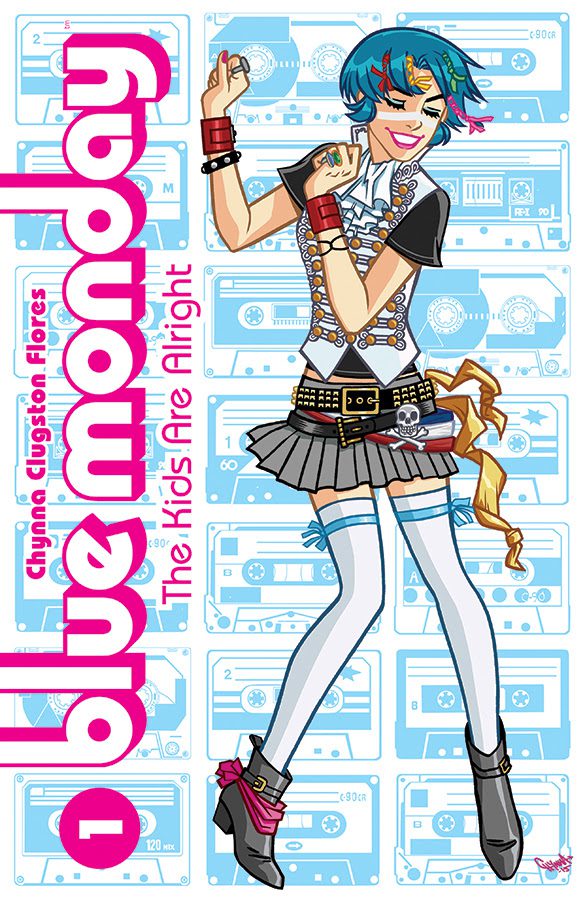 Blue Monday Grooves its Way Into a Full-Color Paperback
Fan Favorite Blue Monday Gets a Full Color Release from Image Comics
Chynna Clugston Flores (IT GIRL & THE ATOMICS, Scooter Girl) will release the fan-favorite first volume of BLUE MONDAY, with all-new colors from Jordie Bellaire, this July.
Experience the Pepsi-fueled misadventures of Bleu L. Finnegan, comics' favorite blue-haired, Buster Keaton-obsessed, Adam Ant-worshipping teenager from the very beginning! Featuring an introduction from Kieron Gillen (THE WICKED + THE DIVINE), this collects the original first volume miniseries as well as early short stories and more.
"BLUE MONDAY in full color is like a dream come true for me, since it's always appeared in the brightest of colors in my head," said Flores. "The whole thing has been remastered in a sense––the art's been cleaned, it's as bright and alive as it always wanted to be, and it'll be full comic size instead of digest. It'll be at full-volume, maximum obnoxiousness, and I really can't wait for everyone to see its new incarnation."
"I grew up reading BLUE MONDAY in my teenage years, and it is the foundation for exposing me to all sorts of music, comics, and films that saved my adolescence from shit-kicker suburban hell," said editor Ian Shaughnessy. "As a fan and now a friend, I couldn't be happier working as Chynna's editor on these new full-color editions, as well as on the new adventures of Bleu and the gang in future BLUE MONDAY comics. Jordie Bellaire's vibrant palette is the perfect match for Chynna's material, and seeing it in color is like reading it all over again, for the first time."
BLUE MONDAY, VOLUME 1: THE KIDS ARE ALRIGHT (ISBN 978-1-63215-704-1) hits comic book stores Wednesday, July 27 and bookstores Tuesday, August 2, and will be available for $9.99. It can be ordered by retailers with the Diamond code APR160791. It can be preordered now on Amazon, Barnes & Noble, Indiebound, and Indigo.
PRAISE FOR CHYNNA CLUGSTON FLORES AND BLUE MONDAY:
"I think a generation owes Blue Monday. It's the missing link. You remove it, you remove huge chunks of the 00s, or at least the stuff that made the 00s worth living, and the stuff that grew from the 00s into the present scene."—Kieron Gillen (THE WICKED + THE DIVINE, PHONOGRAM)
"The art has attitude, just like the characters."—Comics Worth Reading
"I love Blue Monday. Like John Hughes before her, Chynna perfectly recreates that feeling of hanging out with your high school friends (except Chynna has way better taste in music than your high school friends). It's a beautifully rendered time capsule of a time in your life when the stakes were so small but felt so big. The perfect blend of boredom, anxiousness, and sexual frustration that is high school."—Clark Duke (Hot Tub Time Machine, The Office, Clark and Michael)
"As charming and funny and melodramatic as anything you could want."—Multiversity
"Her art style is always welcome: with tight, slightly angular lines defining a sleek figure, there's something about it that is just instantly appealing."—Comic Book Resources