Comics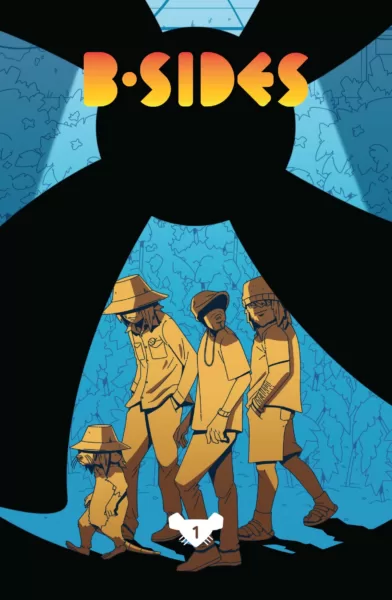 Bring the vibrant B-Sides World to life with QR codes, featuring pop-up animation voiced by Dex Carvey, and Third Wheel Comedy's Mike Masilotti and Nolan Culver!
By Staff Reports
Announcing B-SIDES Volume 1, the FRESHEST new slice-of-life series created and edited by Greg Bourne, now live on Kickstarter! Born from the minds of alt culture enthusiasts from London to L.A., featuring the lead story by Mike London with vibrant and dreamlike artwork by Rich Ivens, Hayley Dwan, and David Arguno, and animation by Theo Duberry. B-Sides melds the everyday and the fantastical—putting a new spin on the essence of L.A.'s Dogtown counterculture.
At the center of it all is the B-Sides bar, the beating heart and soul of Sidetown, run by Gus, the barman, who lives in an old airstream in the parking lot. In front of the bar, on their bench, you'll usually find Slippery Kev and his mate, Sketch – a Riff Rat. With their own speakeasy under the floorboards, The Riff Rats live among the other residents in their own, rat-sized world.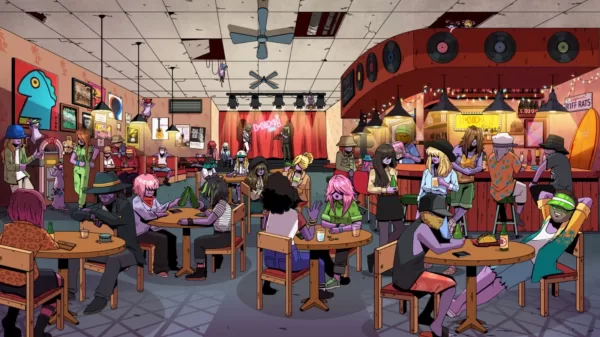 There's a regular open mic night at the bar hosted by the slightly irregular Open Mike, who gets his name from being, well, open, too open… Next door is the vinyl record exchange, Sounds Good, run by the couple Sheena and Debs, who also run Sounds Good Radio from the back of the store. On the other side of the bar is Bodhi's Taco truck where you can get the best tacos in town, that is unless 'surf's up', then Bodhi and his sous chef Nacho are nowhere to be seen.
Greg Bourne, Creative Director, spoke of the project:
"B-Sides was born out of a love of counterculture in all its forms so our stories lean heavily into the worlds of skating, music, surfing, street culture and, most importantly just hanging out. The characters of Sidetown have kind of written their own stories. They staggered to life fully-formed and we've just felt like we've been watching them interact. The Riff Rats we discovered along the way. They started out in the background but everyone fell for them and we just kept going deeper and deeper into their story, uncovering a whole hidden world. Getting a team together to bring B-Sides to life was actually the easy part. Friends just understood the vibe from the start and wanted to play their part, however big or small."