Art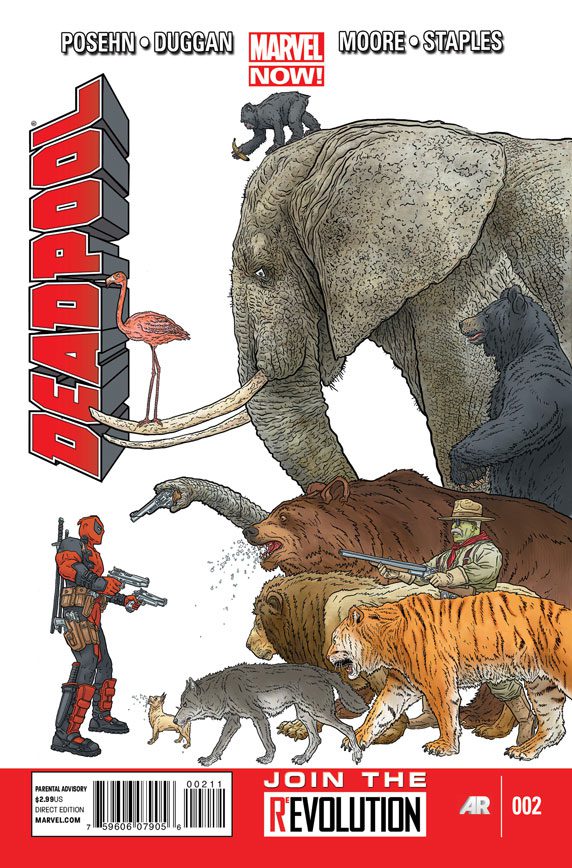 Chopping Block Review: Deadpool #1 and #2
The Merc with a Mouth is back… again. The ultra popular masked madman has always been popular, ever since he debuted in The New Mutants all those years ago. But in the last few years, Deadpool fever hit like never before. He was in the Wolverine movie…kinda. He was in Marvel Vs Capcom 3, and has his own video game hitting next year. He has a solo movie in development with Ryan Reynolds attached to star: so when does it become too much of a good thing? The newest Deadpool chapter comes in the form of his new Marvel NOW series relaunch. With new writers, a new artist and a heck of a way to kick off a new storyline, does the new Marvel NOW era bring greatness, or is it treading familiar ground?
Now written by comedian Brian Posehn and Gerry Duggan, with artwork by Tony Moore (Fear Agent, The Walking Dead), Deadpool comes out the gate with guns blazing in true Deadpool fashion. The smart mouthed mercenary is in true form, with a storyline that could only be in a Deadpool comic: the dead Presidents of the United States have been brought to life as zombies. Yes, that's not a mistake, I said zombie Presidents. Franklin D. Roosevelt, Harry Truman, Teddy Roosevelt: the actual Presidents are wrecking havoc on the world, and S.H.I.E.L.D. doesn't want Captain America and the Avengers to be seen battling the patriotic undead. That's where Deadpool comes in to the picture. Recruited by S.H.I.E.L.D. the merc with a mouth is contracted to kill the undead and do so with no connection to the organization.
Sounds crazy enough for you, am I right? Spanning the first two issues, Posehn and Duggan hit the high notes with ol' Wade Wilson, bringing back the fun and insanity the Deadpool is known for. Like the way Daniel Way and Joe Kelly did in the past with Deadpool, this new writing duo channels the feel and excitement that fans of Deadpool clamor for. Tony Moore, known for his amazing eye for detail, beautifully illustrates this new chapter in the history of the character. Deadpool has never looked better, and the undead Presidents strike a chord of nostalgia from the man who first drew The Walking Dead. These first two issues do everything right, infusing comedy and violence into every single page and making Deadpool feel as fresh and new as he did back when Kelly and McGuinness launched his first ongoing book. Highly recommended, I give both Deadpool #1 and #2 a solid @@@@ out of FIVE.