Comics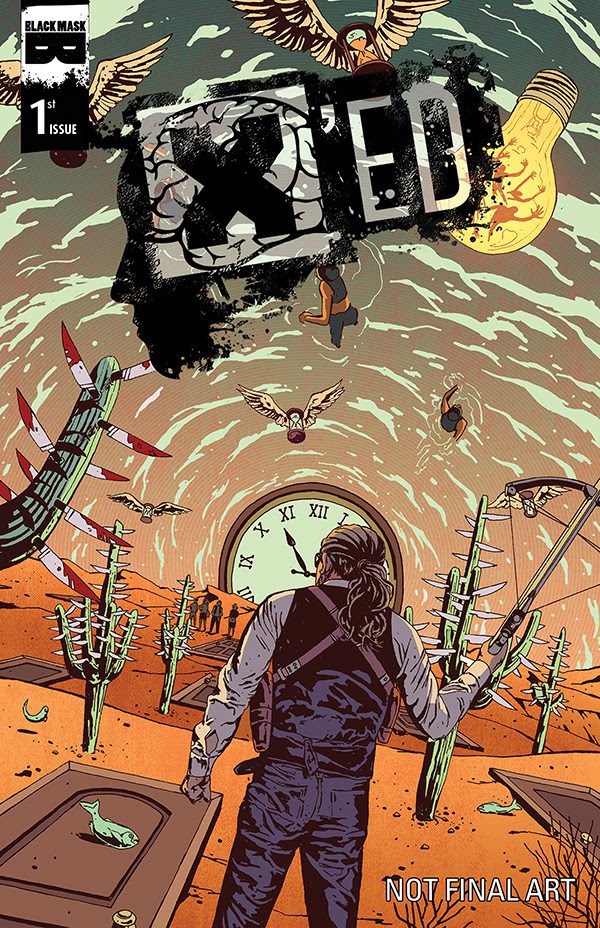 Clandestino and X'ed join Black Mask Roster in October
By Staff Reports
Following up on the momentum generated by recent hits  We Can Never Go Home, Space Riders, and the hotly anticipated Young Terrorists, Black Mask Studios has announced two new #1s for October from new creators Amancay Nahuelpan (artist of Young Terrorists in his solo debut), Tony Patrick (whose recent short film Black Card just premiered at the HBO Short Film section of the American Black Film Festival), and Ayhan Hayrula (Occupy Comics).
CLANDESTINO
Written & Illustrated by Amancay Nahuelpan
#1 street date October 7
Diamond order code AUG151178
The country of Tairona became a no man's land after the military coup. Guerrillas were formed across the lands, and rebels unified against the dictator to resist the regime. The hopes of many lay on CLANDESTINO, who barely escaped from the military attacks as a child, to lead the revolution.
Amancay's bold, brash, and stylish storytelling reads like he pounded this radical uprising story in the barrel of a sawed-off shotgun and shot it in your face. With its vertigo-inducing chases, high-octane heroics, and crazy body count of totalitarian stormtroopers, revolution never looked so Tarantino.
Amancay jumped on our radar after contributing a pinup to Occupy Comics and then officially joined the roster as artist on Young Terrorists. We're excited to help launch his solo debut into the stratosphere.


X'ED
Written by Tony Patrick
Illustrated by Ayhan Hayrula
#1 street date October 28
Diamond order code AUG151180
A psychedelic action-thriller about a next-gen form of psychiatry: 'subliminal hitmen' injected into your mind who hunt down and kill the demons that haunt you. 
Ex-military sharpshooter Colin McClure is Mezign Corporation's most recent recruit for the still-experimental (and often deadly) job of subliminal hitman. McClure is the perfect candidate for two reasons: a- he's a killing machine, and b- he lost his legs in the war, so subliminal-ops are his only way to see any action. But he's also a dangerous candidate for one reason unknown to Mezign: Colin's true motive is to enter the mind of his catatonic daughter and bring her out of a coma. 
Newcomer Tony Patrick has crafted a slam-dunk concept that merges all the things we love about comics: complex characters, surreal locations, mindbending concepts, and non-stop action. Ayhan's sophisticated linework brings a smart and grounded feel to the otherworldly actioner.
Although this is Tony Patrick's comic writing debut, he actually interned at Milestone Comics as a kid. After years of touring the world as a musician, Tony returned to New York to mentor youth in East NY and commit to his lifelong love of comics. He teamed up with Ayhan Hayrula (who illustrated the "Channel 1%" story in Occupy Comics) to bring the braincrunching world of X'ed to life.
About Black Mask Studios
Black Mask Studios (www.blackmaskstudios.com) is a publishing/production company devoted to supporting bold new voices and provocative stories. Launched in 2013 by Matt Pizzolo (GODKILLER, Occupy Comics), Brett Gurewitz (Bad Religion, Epitaph Records, ANTI- Records), and Steve Niles (30 DAYS OF NIGHT), the eclectic slate features tyro creators on breakout books such as We Can Never Go Home and Space Riders as well as new books by living legends such as Ghostface Killah, Darick Robertson, and Grant Morrison.