Comics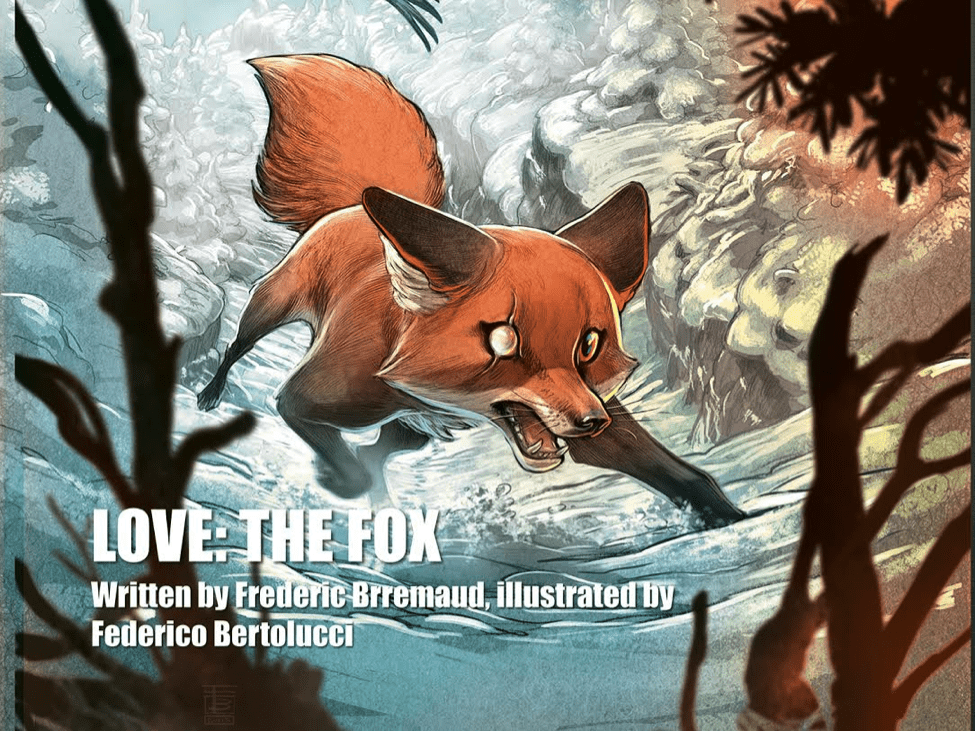 Magnetic Press Announces First Slate of Second Year Titles
By Staff Reports
First-year, Eisner-nominated publishing company Magnetic Press recently completed its second successful appearance at the annual San Diego Comic-Con International, with their first star-studded panel featuring award-winning artists and creators, as well as a peek at new titles slated for release in Year Two. Following a first-year slate that contained twelve books, forty-four digital releases, an original comic series, and two Eisner-nominations, the publisher has no plans to rest on its initial success.
GOLEM 
Illustrated & written by LRNZ
Set in a future, post-Eurozone Italy, entrenched in a bizarre form of hyper-capitalism, GOLEM follows a young boy who is kidnapped during a political protest gone sour, who learns that he has the power to not only change the city, but reality itself. This intensely imaginative political-sci-fi graphic novel is a visual tour de force, created by contemporary design icon Lorenzo Ceccotti, better known as "LRNZ," whose design-influenced illustration is a lush, fluid blend of manga masters like KATSUHIRO OTOMO with western comic icons like JOSH MIDDLETON, creating a style that is wholly unique and absolutely breathtaking.
KLAW
Illustrated by Joel Jurion and written by Antoine Ozenam
Teenager Angel Tomassini has been hiding a dark and scary secret: when threatened he involuntarily turns into a violent and vicious Weretiger. He doesn't know why, how, or what to do, because when he transforms, he loses control and people end up badly hurt. As if this isn't enough for a kid to deal with, Angel is slowly learning his father is one of the biggest organized crime leaders in the city. And are there more like him? Are there… different creatures too?
This wildly world-popular comic series about secret wars between clans of ancient, mythic were-animals comes to the US for the first time in a new hardcover edition collecting the entire first cycle of the series in a single gorgeous volume.
LOVE: THE FOX
Illustrated by Federico Bertolucci and written by Frederic Brremaud
The second volume in the award winning, lushly illustrated, wordless graphic novel series, LOVE: THE FOX follows a spry, intrepid, one-eyed fox during an average day of foraging when a natural disaster erupts.  Readers are taken on a thrillride as animals of all shapes and sizes react to the danger, but the fox inexplicably runs towards the fire, braving daunting obstacles and even larger predators to reach a desperate location in the heart of the storm. LOVE: THE FOX is a gorgeously rendered and ultimately heartwarming story that is also a monument to modern sequential narrative.  It is like a beautiful and exciting nature documentary in illustrated form.
BITTEN
Created by Cornelia Funke, written by Raul Garcia, and illustrated by Francisco Herrera
International best Selling YA author Cornelia Funke (The Inkheart Trilogy) teams up with comic book artist and character designer extraordinaire Francisco Herrera (Megamind, Venom, The Prodigies) and animated film Director Raúl García (Lion King, Who Framed Roger Rabbit, Aladdin, Land Before Time) to create a wild and furry world where Hollywood werewolves are real and hiding in plain view! Entering high school is tough enough as it is, but how do you cope when you've also just been bitten by a Werewolf?  This beautifully illustrated, madcap all ages adventure is like a classic 2D animated feature in print!
ANGELARIUM: THE BOOK OF EMANATIONS
Written and illustrated by Peter Mohrbacher and Eli Minaya
This stunning art book of mind-bending illustrations, poetry, and short stories is unlike anything you have ever imagined. Exploring the eleven angelic emanations of the Tree of Life, ANGELARIUM paints a world of sheer awe, unveiling unknowable symbolic entities that point towards an immutable ancient truth: "As above, so below."  Fans of Wayne Barlowe's EXPEDITION and INFERNO will find this book to be a fascinating exploration of an entirely new world of wonder.
ROBOT ENVY: ZENITH
Illustrated by various, produced by Dave Pasciuto
Leaping from the online webpages of Robot Envy, an online community of the world's most exceptional and innovative illustrators from the film, comic, and video game industries, ROBOT ENVY: ZENITH is a lush, high-end art book that celebrates the coolest robot designs you have ever seen.  From cutesy robot mascots to giant robot war machines, the pieces in this massive collection cover a wide spectrum of visual styles, but all of them are uncategorically stunning and loads of fun.
RE*PRO*DUCT
Written by Austin Wilson and illustrated by Logan Faerber
In the future, robots have been legally granted the right to life. Their intelligence is not artificial, and it may not be the best approximation of a personality, but they reflect all the intricacies of a human mind and personality, only from within a manufactured shell, developing and learning as the rest of us do. They mirror us in all the ways we would want, but also in those ways we would wish to exclude…
Carbon Barnes is one such robot, just looking to get by with a meager job, nights out at the club with friends, maybe meet a nice girl.  But he still has a lot to learn about the world, as all of us do, starting with what to make of this weird nightly phenomenon folks call "dreaming."  A slice-of-life story for everyone, with a robot-twist.
BEER-O
Illustrated by Kevin Castaniero and written by Chris Northrop
This madcap graphic novel introduces readers to the high-functioning alcoholic, middle-aged, overweight private eye, Beer-O.  He specializes in missing dog cases, but one such case turns sour, and he quickly finds himself entangled in the murder of the son of the most dangerous capo in the Burbank Mafia.  Things spiral down the drain faster than car keys in the toilet, and pretty soon, Beer-O is up to his neck in danger.
A loving, and somewhat sideways, satire on traditional noir tropes, BEER-O pays as much homage to THE MALTESE FALCON as it does to THE BIG LEBOWSKI.
SIDE-KICKED
Written by Russell Brettholtz and illustrated by Miguel Mendonca
The first title from the newly-announced partnership imprint Darby Pop! Richard is having a bad week. He has a secret alter-ego: Phantasm, sidekick to Mr. Marvelous (Chicago's most beloved super-hero) who has never lets him forget his "lesser" place as a sidekick.  Richard compares notes with his sidekick colleagues, and comes to realize that all of his sidekick friends are systematically disrespected by the heroes they work with, ignored by the media, and taken wholly for granted by society. How much can these five endure before they decide that enough is enough?  And what then?  A slightly-irreverent, sarcastic look at life behind the masks.
THE ADVENTURES OF BASIL & MOEBIUS
Vol. 3 & 4 
Written by Ryan Schifrin & Larry Hama, illustrated by Various.
The third and fourth volumes in the quarterly graphic novel quadrilogy follow the unlikely, thieving duo of Alaric Moebius, Oxford playboy turned dashing cat-burglar, and Basil Fox, former SAS commando slumming it in the Queen's guard, as they continue to fetch rare and exotic artifacts for the mysterious — and otherworldly — billionaire known as "The Collector."  As The Collector's collection grows more complete, thanks to the duo's excellent adventuring skills, his wicked scheme starts to unfold, leaving the pair of scoundrels to question what they've done… and how to undo it.
This epic high-adventure series will be further supplemented by more digital prose short stories by fan-favorite writers Timothy Zahn, Michael Stackpole, Greg Bear, Richard Lee Byers, and Rose Estes.