Comics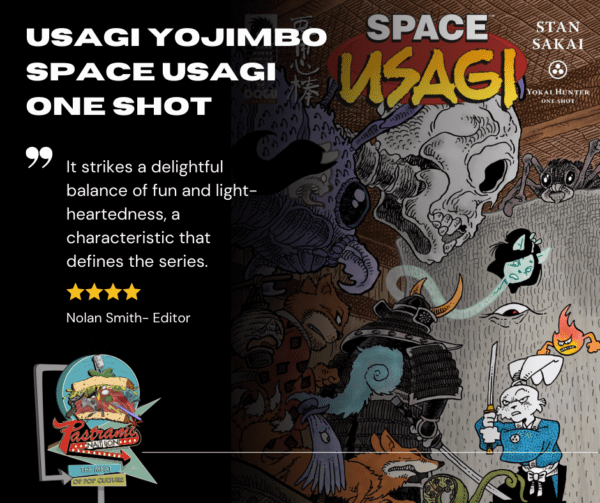 Comic Book Review: Usagi Yojimbo: Space Usagi – Yokai Hunter One-Shot
By Nolan P. Smith
Editor
As a long-time admirer of Stan Sakai's "Usagi Yojimbo," my journey with the samurai rabbit began in childhood, intertwined with the world of the Teenage Mutant Ninja Turtles. Over the years, I've witnessed the evolution and expansion of this universe, and in this particular one-shot, we're treated to a perfect blend of classic Usagi elements and intriguing future prospects.
Crafted with the quintessential Sakai touch – written, drawn, and lettered by him, with vibrant colors by Emi Fuji – this issue is a testament to Sakai's enduring brilliance. For veterans and newcomers alike, it's an essential read, encapsulating the essence of "Usagi Yojimbo": a mix of adventure, bravery, danger, and heart.
Sakai's style, as always, is a highlight. His work is not just skilled; it's the mark of a modern-day master storyteller. This issue is no exception, showcasing Usagi's heroics as he risks everything to save a stranger, battling Yokai with his trusted blade. A fascinating glimpse into the future introduces descendants of Usagi, cleverly paying homage to the creator's legacy.
"Usagi Yojimbo: Space Usagi – Yokai Hunter" is an exceptionally enjoyable one-shot, true to the spirit of its title. It strikes a delightful balance of fun and light-heartedness, a characteristic that defines the series. For those yet to delve into the world of "Usagi Yojimbo," Dark Horse Comics delivers a true gem with this release.
Rating: 4 out of 5 Pastrami Nations