Art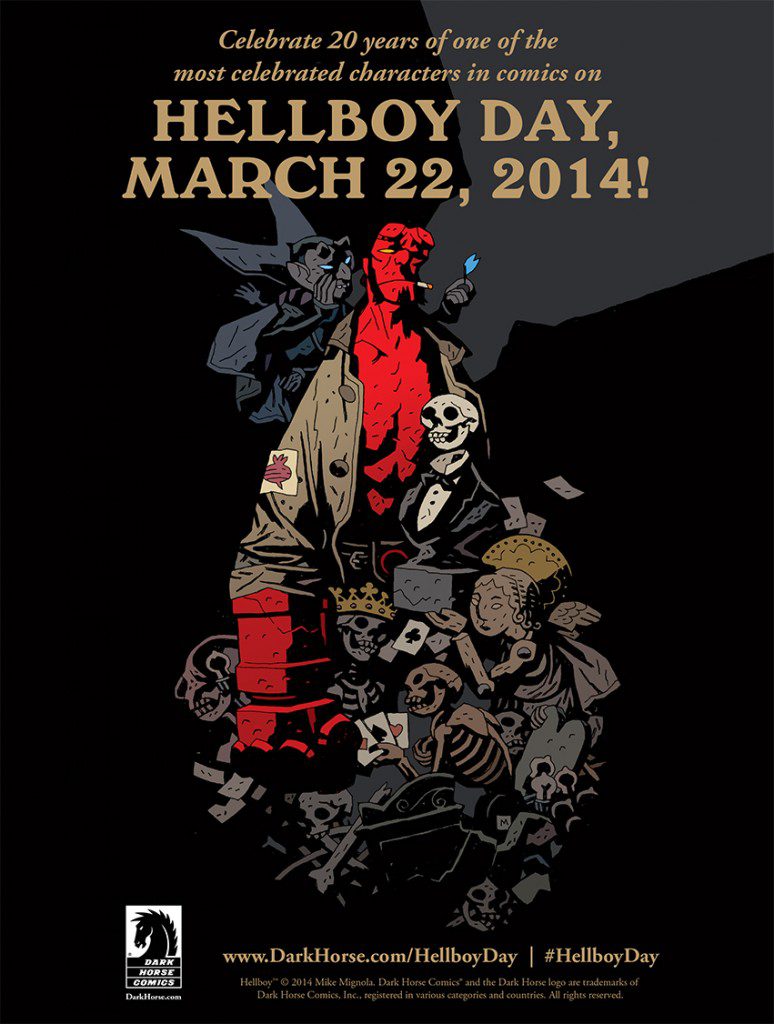 Dark Horse Announces Participating Hellboy Day Stores
By Staff Reports
(MILWAUKIE, OR)– March 22 marks the twentieth anniversary of Mike Mignola's career-defining release of Hellboy: Seed of Destruction #1. After the character's somewhat humble beginnings in an eight-page feature in Dark Horse's San Diego Comic-Con Comics special, Seed of Destruction would begin the long life of the beloved "beast of the apocalypse."
In December, Dark Horse announced March 22, 2014, would be Hellboy Day, with events happening in comic shops around the world!
In addition to a slew of exclusive giveaways, Dark Horse has produced an all-new sampler comic featuring two classic Mignola tales, "The Ghoul" and "Another Day at the Office," as well as two new stories by Mignola, Fábio Moon, and R. Sikoryak!
Additionally, as part of this special promotion, participating retailers were entered to win an original piece of art from Mike Mignola. This special honor goes to Hot Comics and Collectibles in New Hope, Minnesota!
Look for the Hellboy: The First 20 Years hardcover collection, on sale in comic shops everywhere on March 19! This deluxe oversized hardcover presents Mignola's favorite covers and illustrations in gallery style, from his first drawing of Hellboy through twenty years of publishing.
See below for the list of stores hosting signings and events with the creators currently working in the Hellboy universe! Check the Dark Horse NewsFeed for a complete list of stores participating in this special anniversary celebration!
HELLBOY DAY EVENTS—Saturday, March 22, 2014
1. Mike Mignola—Meltdown Comics—Los Angeles, CA
2 p.m.
Meltdown Comics
7522 Sunset Boulevard
Los Angeles, CA 90046
(323) 851-7223
Facebook Event Page:
https://www.facebook.com/events/604965422917272/
2. Tyler Crook, Dave Stewart & Scott Allie—TFAW—Portland, OR
7 p.m.–10 p.m.
Things From Another World—Portland Location
2916 NE Broadway Street
Portland, OR 97232
(503) 284-4693
Facebook Event Page:
https://www.facebook.com/events/517966264988958/?previousaction=join&source=1
3. Duncan Fegredo, Laurence Campbell & Mick McMahon—Gosh! Comics—London, England
2 p.m.–4 p.m.
Gosh! Comics
1 Berwick Street
London W1F 0DR
+44 20 7636 1011
Facebook Event Page:
https://www.facebook.com/events/663075443731579/?fref=ts
British Comics Month Blog Post:
http://www.goshlondon.com/2014/02/gosh-presents-british-comics-month/
4. Art Baltazar—Aw Yeah Comics—Skokie, IL
Aw Yeah Comics
4933 Oakton Street
Skokie, IL 60077
(847) 423-2916
Facebook Event Page:
https://www.facebook.com/events/635908639791454/?previousaction=maybe&source=1
5. Franco Aureliani—Midtown Comics—New York, NY
2 p.m.–4 p.m.
Midtown Comics—Downtown Location
64 Fulton Street
New York, NY 10038
(212) 302-8192
Facebook Event Page:
https://www.facebook.com/events/440353906097223/
Midtown Comics Blog:
http://blog.midtowncomics.com/ai1ec_event/hellboy-day-signing-itty-bitty-hellboy-artist-franco/?instance_id
6. Tonci Zonjic—The Beguiling—Toronto, ON, Canada
2 p.m.–4 p.m.
The Beguiling Books & Art
601 Markham Street
Toronto, ON M6G 2L7
+1 416-533-9168
Facebook Events Page:
https://www.facebook.com/events/587874404633938/
The Beguiling Website:
HELLBOY DAY @ THE BEGUILING – w/ Tonci Zonjic, Lobster Johnson Artist (BOOK SALE UPDATE!!!)
7. Sebastián & Max Fiumara—Moebius Liceo—Buenos Aires, Argentina
5 p.m.–10 p.m.
Moebius Liceo
Av. Santa Fe 2729
Local 13 P. Baja
1425 Buenos Aires
+54 11 4866 6960
Facebook Event Page:
https://www.facebook.com/events/265174783659681/
8. Fábio Moon—Quanta Academia de Artes—São Paulo, Brazil
Quanta Academia de Artes
Rua Dr. José de Queirós Aranha, 246
Vila Mariana
São Paulo 04106-061
+55 11 3214-0553
Facebook Event Page:
https://www.facebook.com/events/426855620794323/?source=1