Art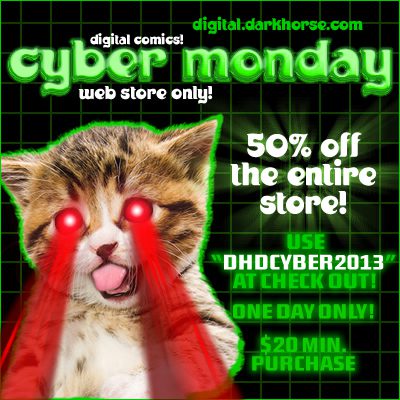 Dark Horse Digital Cyber Monday Deal
By Nolan P. Smith
Pastrami Nation
(Victorville)– Want some excellent books this holiday season? Then here you are!
Dark Horse Comics has announced their Cyber Monday sale, which is 50% off an entire order using the code ­­­­­­­­­­dhdcyber2013 on Dark Horse Digital.
What is on Dark Horse Digital? How about Star Wars, Age of Reptiles, Empowered, Hellboy, and more?
See the press release below for all the info:
(MILWAUKIE, OR)– In anticipation of the infamous holiday shopping weekend, Dark Horse Comics is giving you another killer deal for Cyber Monday. Dark Horse Digital is offering comics fans 50% off their entire order for 24 hours!

You can redeem this 50% discount with the coupon code ­­­­­­­­­­dhdcyber2013.

This offer is good for 24 hours beginning at midnight (PST) on Monday, December 2 ($20 cart minimum). Visit Digital.DarkHorse.com to take advantage of this amazing web store only offer. Sign up for the Dark Horse Digital Newsletter by Thanksgiving to get even more discounts (http://goo.gl/FP6Eva).

The free Dark Horse Digital comics app is now available worldwide through all modern web browsers and features cloud storage in both the Android and iOS apps.

Stop by Dark Horse Digital and get a massive discount on all the Dark Horse comics you could want and more!

About Dark Horse Digital
Founded in 1986 by Mike Richardson, Dark Horse Comics has grown to become the third-largest comics publisher in the United States and is acclaimed internationally for the quality and diversity of its line. In 2011, the company that revolutionized the comic industry proudly presented its groundbreaking digital-publishing program, Dark Horse Digital.
Having launched with hundreds of titles, Dark Horse Digital offers its most popular titles at an unprecedented value, while providing the highest-quality reading experience possible. Single-issue comics are priced as low as just $0.99, and there is also an extensive list of free introductory #1 issues. Additionally, DH Digital's "bundles" group together story arcs spanning multiple issues into affordable packages, allowing readers to get the three or four issues that comprise a complete narrative, starting at just $3.99 and up. And through cloud-based technology, Digital Store purchases can be read and enjoyed on your laptop, desktop, mobile browser, and Dark Horse Bookshelf app, available now on iTunes.
To get started, simply log on to Digital.DarkHorse.com or download the app to create an account, and begin building your collection today.