Video Games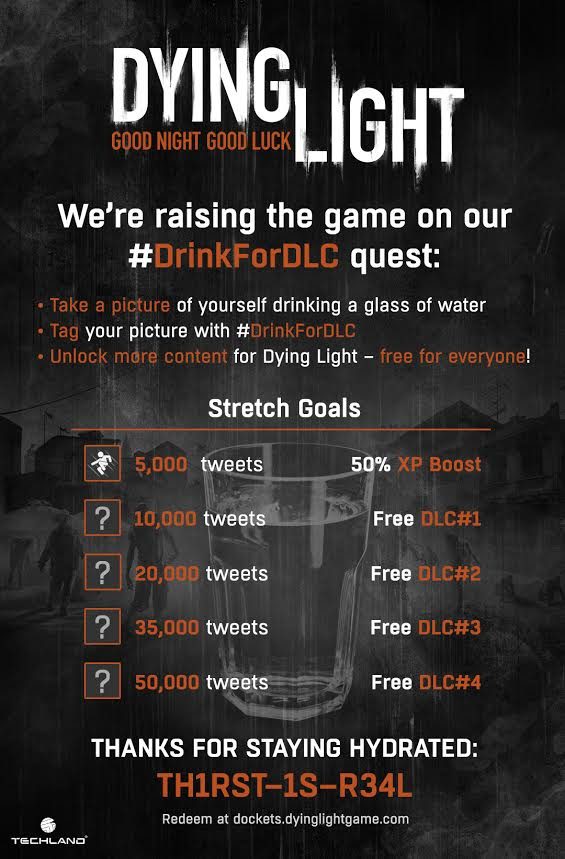 Drink Water, Get DLC on Dying Light? Easy Enough- #DrinkforDLC Campaign
By Staff Reports
Yesterday Dying Light playfully encouraged people to drink water in exchange for a free docket code that gives players a high-tier weapon to redeem in-game. The response from the community was overwhelmingly positive with fans from all over the globe joining in.
To thank fans for their amazing involvement, today Techland announced an additional level to the Drink For DLC campaign. Techland have decided to design, create and release a number of all new free DLC packs for Dying Light throughout the second half of the year. The campaign will be led by the fans reaching successive stretch goals – by posting pictures of themselves drinking water on Twitter and tagging them with #DrinkForDLC.
All fans who have already participated will have their submissions added to the total tweet count. A full breakdown of the stretch goals are listed in the attached image along with the originally promised docket code:
However, the very first stretch goal will be a more immediate reward. As the tweet count is already nearing 5,000, Techland decided to reward all the water-loving fans with a 50% XP boost to player agility. The perk will be active for 24 hours, starting this Sunday, June 28th (Pacific Time).
Techland will keep fans informed on the campaign progress via the official Dying Light Twitter account and will announce the number of upcoming free DLCs by the end of July 2015.
About Techland
Founded in 1991, Techland is a renowned independent game developer, distributor, and publisher. The Polish-based company is best known for the original Dead Island games, the Call of Juarez series, and Dying Light. Thanks to its proprietary game engine technology, Techland develops top-tier entertainment content for Windows PC, PlayStation 4, Xbox One, Linux, Mac OS X, Android, and iOS. Comprised of four offices in Warsaw, Wrocław, Ostrów Wielkopolski, and Vancouver, Canada, the company is committed to delivering unforgettable experiences and using latest technology for innovative entertainment. For more information about the company, visit the official website at: http://techland.pl/