Comics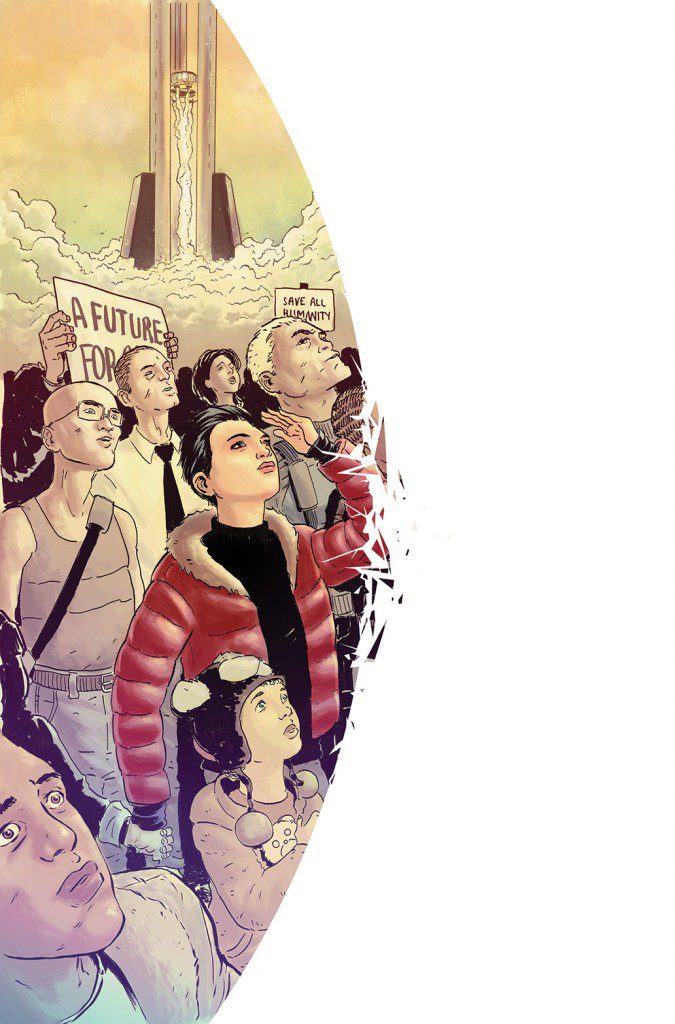 Frank J. Barbiere and Christopher Peterson Explore the End with Their New BOOM! Studios Series 'Broken World'
By Staff Reports
Award-winning publisher BOOM! Studios is pleased to announce the June debut of Broken World, a new sci-fi thriller and survival adventure series from Frank J. Barbiere (Five Ghosts, Avengers World) and Christopher Peterson (Grindhouse, Mayday). Broken World explores the lives of people left behind on the last days of Earth, perfect for fans of Y: The Last Man or The Massive.
"It's hard not to fall in love with a well-crafted survival story," said BOOM! Studios Editor-in-Chief Matt Gagnon. "From zombie viruses to post-apocalyptic wastelands, we all love to cheer for the last survivors. For BROKEN WORLD, Frank and Christopher have created an intense, riveting story about a woman who chooses to live on in a world facing an extinction-level event from the stars."
With a meteor days away from causing an extinction-level event on Earth, time is running out for Elena Marlowe. While most of the planet's population and her family were approved by the government to escape on one of the giant spaceships headed to another planet, her application was denied due to her mysterious past. With the meteor fast approaching, Elena tries desperately to find a way to fake her way onto the last ship or else be left behind to die with the rest of Earth's rejected denizens.
Broken World #1 arrives in comic shops on June 3rd with a main cover by series artist Christopher Peterson for the price of $3.99 under Diamond order code APR151199. Also available in a limited quantity are a 10 Years incentive cover by Frazer Irving (Annihilator, Uncanny X-Men) and a retailer incentive cover by Christian Ward (ODY-C).
The Final Order Cutoff deadline for retailers is May 11th. Not sure where to find your nearest comic retailer? Use comicshoplocator.com or findacomicshop.com to find one! It's also available for order directly from boom-studios.com.
ABOUT BOOM! STUDIOS
Founded by Ross Richie in 2005, Diamond Gem Award-winning "Best Publisher" BOOM! Studios (boom-studios.com) generates a constellation of best-selling Eisner and Harvey Award-winning original and licensed comic books and graphic novels with the industry's top talent. BOOM! Studios is comprised of four distinct imprints. The original Studios imprint is home to Mike Carey's Suicide Risk; James Tynion IV's The Woods; Mark Waid's Irredeemable; Sons of Anarchy; and Big Trouble in Little China. Steven Grant's graphic novel 2 Guns was released as a feature film from Universal Pictures, starring Denzel Washington and Mark Wahlberg. BOOM!'s all-ages imprint KaBOOM! publishes Charles Schulz' Peanuts; Jim Davis' Garfield; Cartoon Network's Adventure Time, Regular Show, The Amazing World of Gumball, and Steven Universe; Mike Kunkel's Herobear and the Kid; and Natasha Allegri's Bee and PuppyCat. BOOM!'s experimental imprint BOOM! Box publishes The Midas Flesh and Lumberjanes. In June 2013, BOOM! acquired Archaia Entertainment (archaia.com). Archaia is the Eisner and Harvey Award-winning graphic novel publisher of Mouse Guard, Cow Boy, Gunnerkrigg Court, Rust, and Jim Henson's Tale of Sand. In October 2013, BOOM! Studios entered into a unique first-look relationship with 20th Century Fox, giving the studio access to its library of titles and giving the publisher access to Fox's vast catalog of films. In August 2014, BOOM! Studios began a similar first-look relationship with 20th Century Fox TV to develop properties for the small screen.