Comics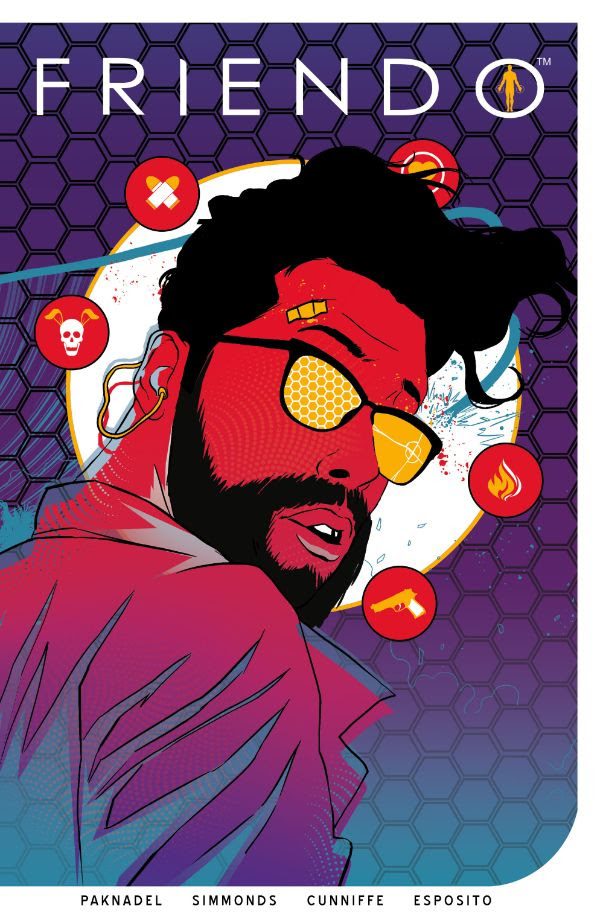 Friendo Volume 1 Review: You Got a Friend In Me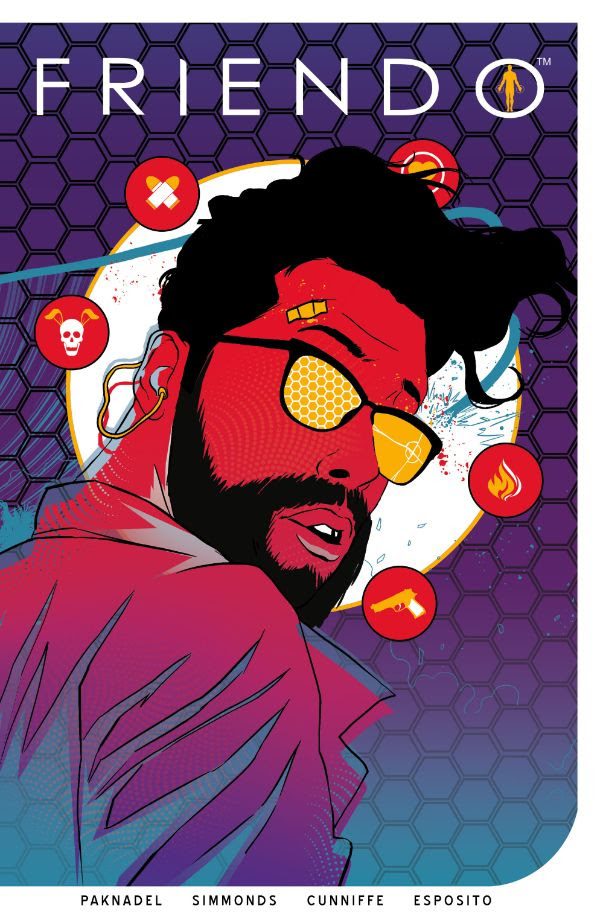 By Nolan P. Smith
Imagine growing up with technology out of your reach, thanks to a strict parent. No technology, no toys, no friends. So as an adult, when you meet someone who is there for you, talks to you, laughs at your jokes- naturally, you make a connection. But what if that person was a VR assistant inside a pair of high tech glasses? Welcome to Friendo, friendo.
From Vault Comics, Friendo Volume 1 collects the entire run of the mini-series from Alex Paknadel and Martin Simmonds. You see, Leo is kind of a loser: he is a wannabe actor who has trouble finding work, so he dives in, ahem, less than noble work. He survives off of the money from his girlfriend, who is doing well for herself. But things change the day she gives Leo a pair of tech glasses, Friendo. He sets up the program and generates a personal assistant based on his personality: Jerry. Jerry is cool, he's great, but only when Leo is spending money, as that is Jerry's purpose. No money? No Jerry.
This sends Leo on a downward spiral of sorts, which leads to him getting stabbed, electrocuted, shot at, and more. Jerry ends up taking center stage in Leo's life, as Leo becomes more and more dependent on the VR friend, one that would do anything to keep Leo. The book takes a decidedly dark turn when Leo unintentionally gets recruited by the makers of Friendo for a reality show involving him, Jerry and robbing department stores. That all sounds crazy, and it is. Throw in a cold-blooded killer with pink bunny ears hired to kill Leo, and it's even more off the wall, and extraordinary.
Paknadel and Simmonds, as well as the entire creative team, create something new and fresh. Something that looks at our current reality and takes it only a few steps further to the world of Friendo. The story is well paced, the characters feel original, and the concept is so true to the world it is fantastic. Simmonds artwork is pretty amazing, and he has one page that might go down as one of my favorite pages of sequential art I have ever seen as drones attack a character. Extremely gory and exceptionally well done.
Friendo doesn't feel like anything else on the shelves, because it isn't. I can see this becoming a film that hits cult status with its offbeat humor, crazy antics, and a story that hits too close to home in our technological era. I highly recommend giving this mature rated book a shot, and well you are at it, check out the rest of Vault's library. I have been thoroughly impressed, and I think you will be, too.
Rating: 9.0 out of 10.
Nolan P. Smith is the Editor and Co-Founder of Pastrami Nation. Being a reporter for the past ten years, he has worked for a variety of media outlets, from newsprint to the ever-evolving internet platform. Residing in Victorville, CA, writing has always been a major aspect of his life. You can usually find him at comic book conventions, looking for more amazing books to dive into, or at the gym at odd times of the night. You can follow him on Facebook, Twitter @nolanpsmith and Instagram @kakooee.