Collectibles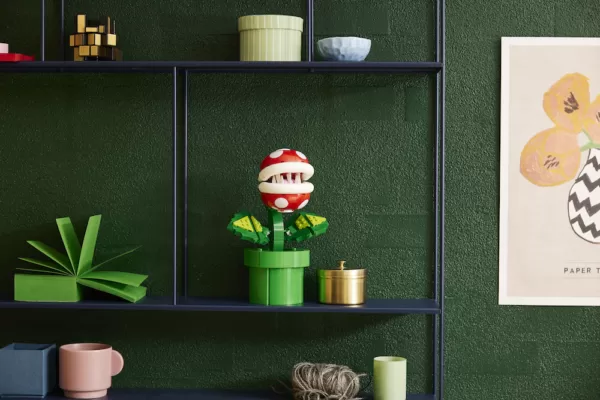 Get Ready to Snap Up the LEGO Super Mario Piranha Plant
By Staff Reports
The LEGO Group revealed the brick-built Piranha Plant, the latest addition to the expanding LEGO® Super Mario™ theme for Adults, in partnership with Nintendo. The new building set is a fun re-creation of the iconic plant from Super Mario™ video games.
Built from over 500 pieces, the LEGO® Super Mario™ Piranha Plant is a detailed and posable set. It allows LEGO and Super Mario fans alike to move the head, mouth, stalk and leaves to create new and exciting poses. In addition, the building experience of the set allows you to create from the bottom up, so the Piranha Plant emerges as if it's growing out of the pipe.
Carl Merriam, Senior Designer, LEGO Super Mario, commented: "When designing the Piranha Plant, it felt important to capture its distinctive features and ensure that the set could be positioned in a way that reflects its iconic poses. I'm so proud of the finished result, from the mouth to the leaves and stalk, we've managed to perfectly portray the menacing essence of the Piranha Plant!"
A fun gift idea for Nintendo fans or as a treat for yourself, the LEGO® Super Mario™ Piranha Plant makes an impressive centerpiece for the home or office. The Adult line includes a series of Super Mario-themed building kits, such as The Mighty Bowser™, each designed to evoke nostalgia from LEGO fans who remember Mario as an intrinsic part of their childhood.
The new LEGO® Super Mario™ Piranha Plant will be available from November 6, 2023, via LEGO stores, lego.com and from select leading retailers around the world. For more information, please visit www.LEGO.com/supermario