Theme Parks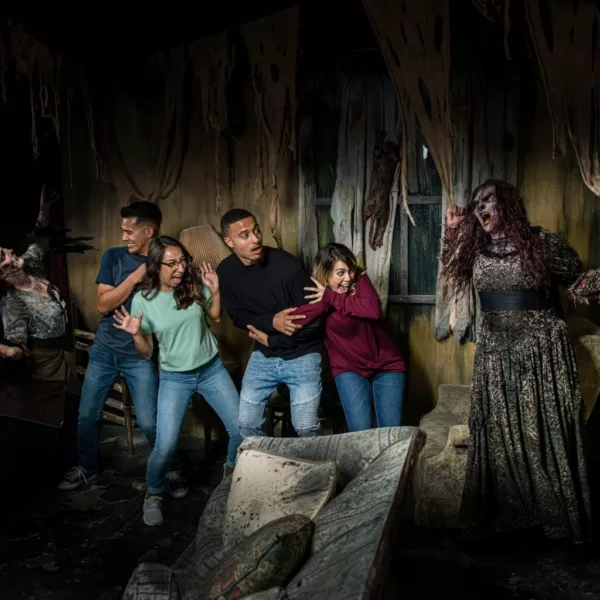 Six Flags Unleashes Horrifying New Haunted Houses Inspired by Two Truly Terrifying Movies – The Conjuring, and Saw X
By Staff Reports
Six Flags EntertainmentCorporation (NYSE: SIX), the world's largest regional theme park company and the largest operator of water parks in North America, launches the 30th season of Six Flags Fright Fest with all-new haunted houses inspired by iconic horror movies, The Conjuring, opening in New Jersey and California, and Saw X, opening in 4 parks across the U.S.In addition, fifteen Six Flags parks in the US, Canada and Mexico are scaring guests with dozens of immersive experiences, spooky mazes, live shows, themed food and beverage offerings and of course, trick-or-treating.
"Six Flags Fright Fest is an important part of our passion to thrill guests and exceed their expectations," said Six Flags Chief Marketing Officer Edithann Ramey. "The Fright Fest events taking place at Six Flags parks across North America are scarier than ever, but we've also included activities for the little ones at our daytime Boo Fest event. What's also great, is that it's incredibly affordable to visit during Fright Fest because the event is included at most parks for season pass holders."
Six Flags Fright Fest presented by SNICKERS® is ready to make guests scream in horror or delight. Family-friendly events and seasonal décor make the daylight hours a fun and special experience for families. When dusk approaches, the ghouls come out, making it an appropriate time for those who are easily scared to make their exit. Select rides and attractions are open throughout the park and nothing is scarier than tackling a monster coaster in the dark.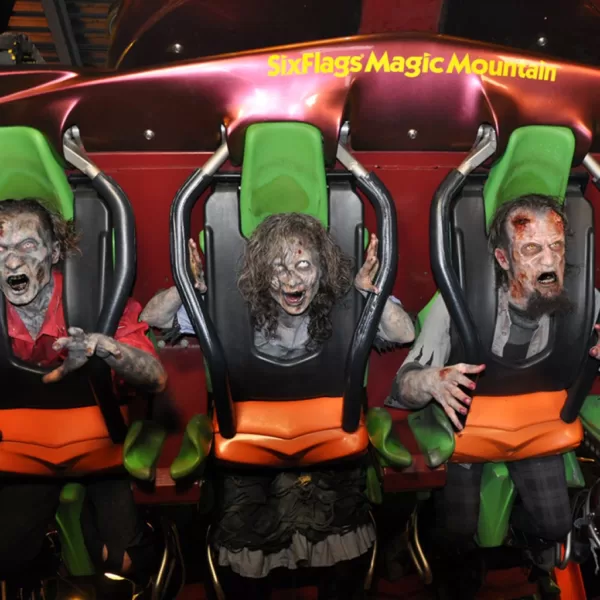 Six Flags Fright Fest Highlights:
When the sun goes down, the fear factor goes up. Here is a peek at the truly twisted haunts Six Flags is brewing:
Ultimate Scares & Entertainment
The Conjuring ─ Inspired by the film The Conjuring, dare to enter the secluded farmhouse of the Perron family that has been terrorized and plagued by sinister spirits (exclusively at Six Flags Magic Mountain and Six Flags Great Adventure).
SAW X ─ Do you want to play a game? Experience the return of Jigsaw as you attempt to survive his ingenious and terrifying traps in the untold chapter of his most personal game yet. Inspired by the upcoming release from Lionsgate and Twisted Pictures, SAW X is exclusively at Six Flags Magic Mountain, Six Flags Great America, Six Flags Great Adventure and Six Flags Over Georgia.
Vault 666 Unlocked – Demonic relics are locked in a dark and sinister antique shop, casting spells and haunting those who try to steal them.
Sewer of Souls – Guests journey into an underground world of lost souls and terrifying tunnels where evil oozes everywhere.
Aftermath ─ The zombie apocalypse has struck a sole lively town. In order to survive, travelers must follow the escape route and avoid the infected with help from the evacuation team, if they are still alive.
Twisted Fairytales 3D – A nightmarish maze where happy childhood fairytales go to die.
Necropolis – Things aren't so pretty in the Big Easy where the party never ends unless you dance til you drop.
Hell Block 6 – Secure the monster prisoners before you become a prisoner yourself.
The Uprising Parade: Nightly Call of the Dead – An evil army stirs in this all-call for tortured souls prepared to terrify guests all night long.
A sampling of Fright Fest spooky fun, appropriate for families, includes:
Family Friendly Experiences
BOO-Yeah! Parade: Join Tractor Terry and his friends as they celebrate fall at Kids Boo Fest with a festive parade and dance party.
Spooky Mooky Mayhem – The LOONEY TUNES crew, dressed in their favorite Halloween attire, is stepping out to greet guests in a Spooktacular dance party.
Trick-or-Treating – Kids can collect sweet treats as they visit candy stations hosted by not-so-scary characters.
Pedal Go Karts – Obstacle course with hay gives kids the opportunity to ride for fun.
Interactive Halloween Fun – Lawn games, hay mazes, pumpkin painting, costume contests, sing-a-longs and more.
Monstrous Mummy Pit– Monster Foam Pit party just for kids.
No theme park visit is complete without sweet and scary treats. All parks offer seasonal fare, with many featuring themed drinks and immersive experiences including entertainment:
Food & Beverage Experiences
Nightmarez – This "speakeasy" hosted by Arania features freak-style performers and a private dance party for diehard fans.
Blood Bank Lounge – Screaming makes a mortal thirsty so step inside and enjoy an adult beverage with the resident Vampires.
Sangria Blood Bag – Keep dehydration at bay as this bright red beverage drips from your blood bag.
Snacks and Treats – Fiendishly delicious offerings include Boo-rita Bowls, Frankenstein's Fries, Hotzarella Sticks, Bloody Candy Apples and more.
Fright Fest is free and included with park admission at most parks. Some premium haunts require an additional haunted house attraction pass or special Fright Fest ticket. For more information as well as operating dates, hours and rates, please visit sixflags.com.
Follow us on Twitter @SixFlags
Like us on Facebook at facebook.com/sixflags