Art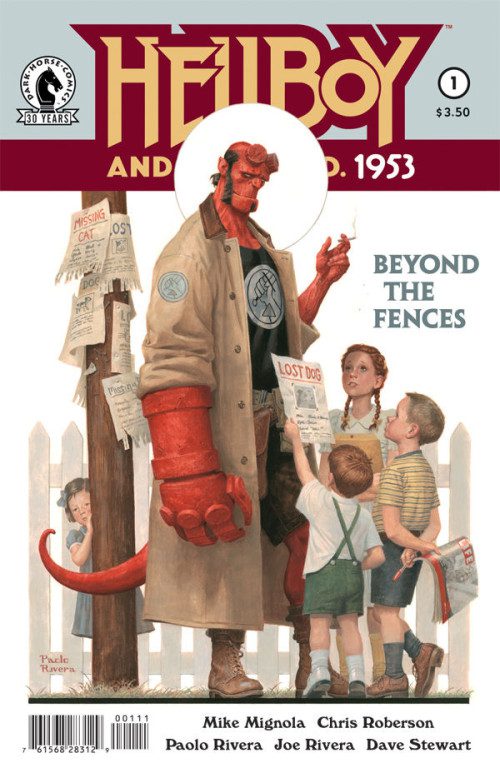 Hellboy and the B.P.R.D.: 1953-Beyond the Fences #1 Review
Hellboy and the B.P.R.D. Head West
Review by Nolan P. Smith
Editor
The paranormal adventures of Hellboy and the Bureau of Paranormal Research and Defense (B.P.R.D.) have been a staple for Dark Horse Comics for quite a while now. With this latest miniseries, we delve into the early years of Hellboy as the team journeys to California to investigate a slew of mysterious disappearances by both humans and pets.
Hellboy creator Mike Mignola is joined by iZombie Co-Creator Chris Roberson as the duo scribes the latest entry into the world of Hellboy. The art here is brought to life by award-winning artist Paolo Rivera (Daredevil, Mythos), including the amazing cover, paying homage to the iconic style of Norman Rockwell. Mignola and Roberson pen an excellent start to the series, as we get more of a feel for not only a young Hellboy, who is a celebrity to kids everywhere, but also the developing psychic Susan Xiang, who's horrific visions catch the reader off guard and always brings home the paranormal aspect of the book. Rivera's artwork here is so fluid, and yet, so terrifying at times, he shows a range of diversity here. From demonic battlefields on one page to the pleasant sunny California suburbs in the next, Rivera shows that he clearly has a place in the Mignolaverse.
The book ends on a great and chilling cliffhanger as we get one step closer to solving the mystery. I thoroughly enjoyed this first issue, as it continued to make the B.P.R.D. feel more cohesive and shows a more comfortable and confident Hellboy. This is a great jumping on point for casual fans of the horned hero and die hard followers alike.
Rating: 9.5 out of 10.
This review was created in conjunction with QBC Toys and More, a local comic book and collectible shop located in Victorville, CA. Featuring new comic books every week, collectibles, action figures, original artwork, and more, QBC has something for the pop culture lover in us all. You can find them on Facebook at https://www.facebook.com/QBCToysandMore/.