Comics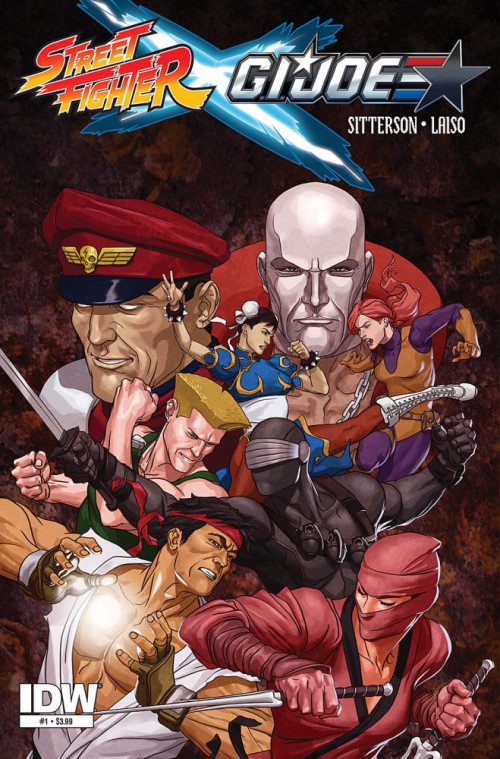 Street Fighter X GI Joe #1 Review
Street Fighter X GI Joe Brings the Fight
Review by Nolan P. Smith
Editor
(Victor Valley)—It's the meeting of two monumental franchises that have lasted the test of time. One is one of the most recognizable action figure brands that crossed over into animation, comic books and even live action films. The other is one of the premiere fighting games to have lasted throughout the evolution of video game hardware, from the Super Nintendo to the PlayStation 4. Get ready for the Joes and Cobra to duke it out with the world warriors from Street Fighter as Street Fighter X GI Joe #1 kicks off.
IDW Publishing brings us this match made in nostalgia heaven, but let's face it: there have been plenty of times when crossovers of this magnitude just don't live up to the hype. I can say that with this debut issue, those fears are put to rest. When you think of the title of this book: Street Fighter X G.I. Joe, tell me, what comes to mind? For me, it is one word: fight! Well, fights are exactly what we get here. Written by Aubrey Sitterson (Hulk, Superman) with art by Emilio Laiso (Hack/Slash: Son of Samhain), this team knows exactly what fans want to see, and we see it from cover to cover. With multiple fights taking place within these pages, we see some pretty iconic battles: like Crimson Viper taking on the most dangerous of the Joes- Snake Eyes, the Baroness going toe-to-toe with Rufus, and Ryu versus the red clad Jinx just to name a few.
Sitterson pens a tale bursting with action, and presented in a way that pays homage to the fights seen in Street Fighter- from the title screens to the K.O. that flashes across the screen, we get a true wink to Street Fighters lineage here. I love that the writer didn't try to introduce the characters in a campy way- just straight to the point battles back to back. Laiso's artwork is clean and conveys the story well, bringing to life the impact of a roundhouse kick and the creepiness of Hakan.
There is no groundbreaking plots or revelations here- what you do get is pure entertainment, from cover to cover. The attention to detail here completes the package perfectly: from the various covers (I got the video game homage cover) to the file cards at the back of the book featuring the Street Fighter crew, this book was a joy to read, and that's what ultimately counts when journeying into the medium of sequential art. I am on board for Street Fighter X GI Joe, and can't wait to see how next issues battles turn out.
Rating: 9.0 out of 10.
This review was created in conjunction with QBC Toys and More, a local comic book and collectible shop located in Victorville, CA. Featuring new comic books every week, collectibles, action figures, original artwork, and more, QBC has something for the pop culture lover in us all. You can find them on Facebook at https://www.facebook.com/QBCToysandMore/.