Comics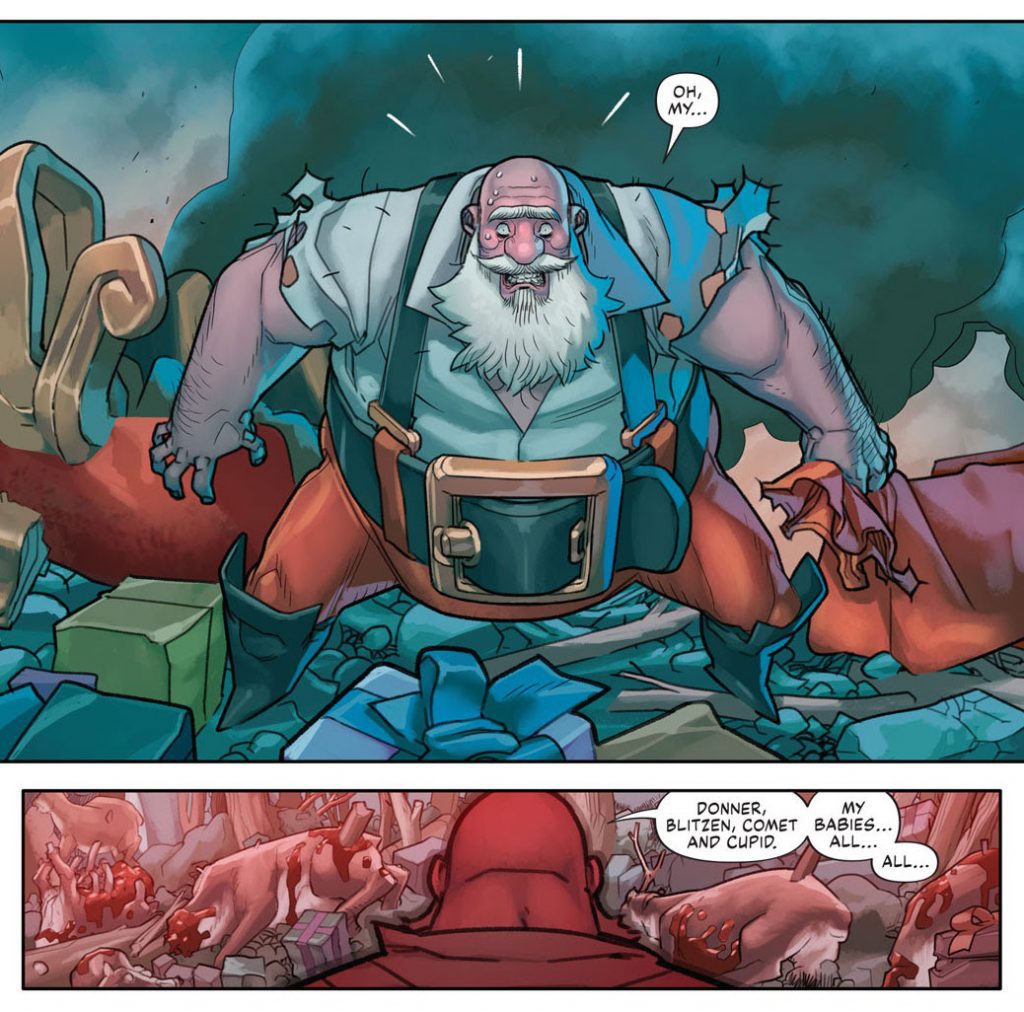 Ho Ho, Oh No, It's SLAY BELLS #1 – Bad Idea's Santa Spectacular Kicks Butt, Takes Names with Zeb Wells & David Lafuente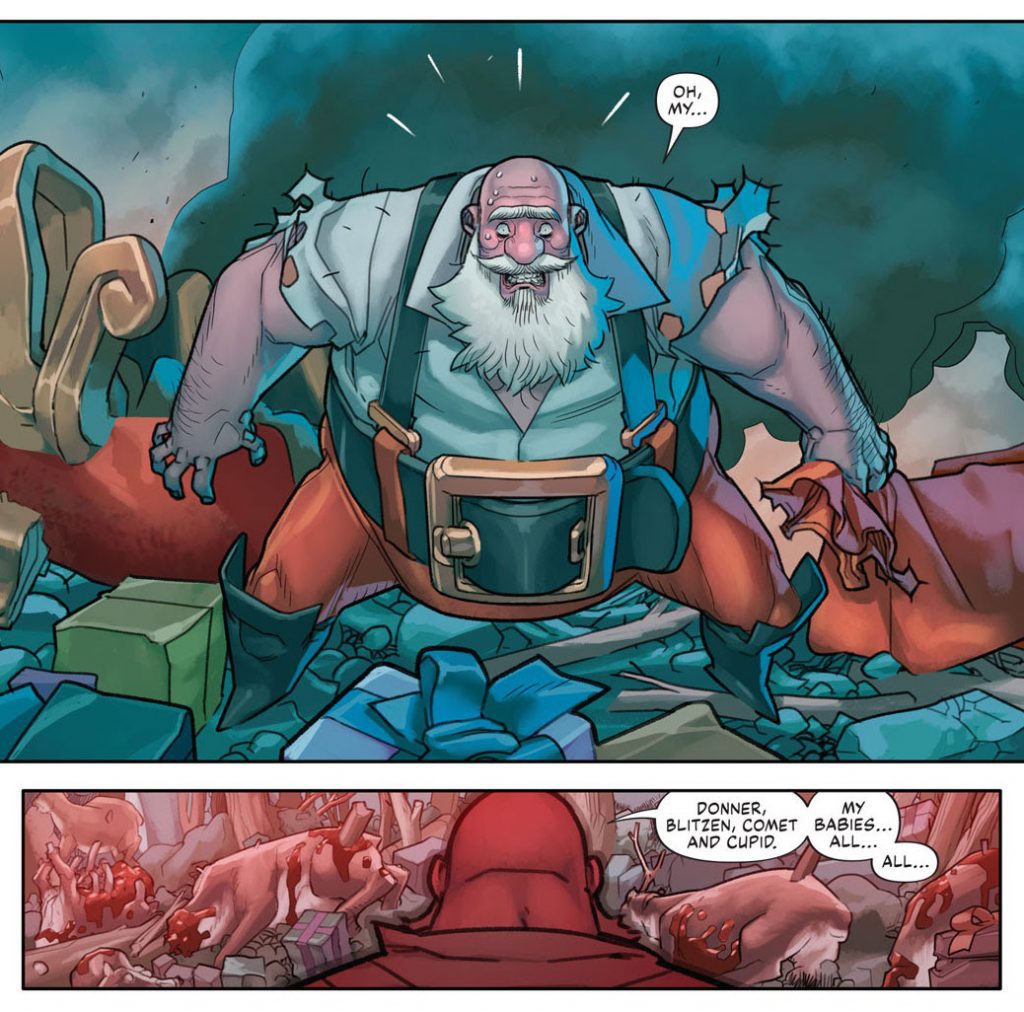 By Staff Reports
Move over, It's a Wonderful Life. Scram, Miracle on 34th Street. Gent bent, actually, Love Actually. (You're still cool, Die Hard.)

Next summer, Bad Idea is taking the #1 spot on Christmas classics forever with a king-sized holiday spectacular so touching, so hilarious, and so (checks notes)…relentlessly bloodthirsty….that we have to release it in July! Any closer to December and we'd probably have to cancel Christmas altogether. (I mean, what would be the point.)

That's because Emmy Award-winning writer Zeb Wells (Hellions, Robot Chicken), powerhouse artist David Lafuente (Ultimate Spider-Man), and colorist Ulises Arreola (Action Comics) are giving the Christmas season what it's always needed – firepower – as Bad Idea's battering ram of a rollout continues in SLAY BELLS #1– a seasonally twisted tale of broken dreams, dead reindeer, and insatiable revenge that will forever live in infamy…and our hearts.

Every Christmas Eve, little Bobby Hamilton and his father rise at dawn for an early morning hunting trip. It was their favorite tradition – until they accidentally killed a certain red-nosed reindeer. They should have known better. They shouldn't have tried to cover it up. Because Santa Claus knows that they've been naughty – and, now like so many fragile Christmas ornaments violently shaken free, the yuletide peace of a quaint Midwestern farming hamlet will forever be shattered as Old Saint Nick comes to town to reap the sweetest gift of all: vengeance.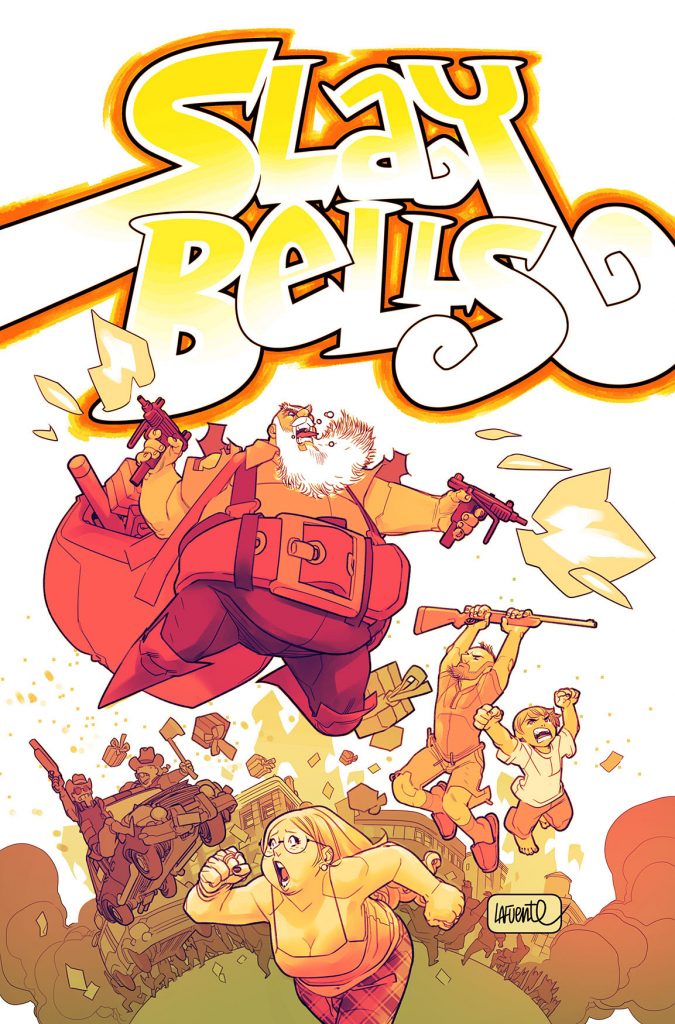 And, fear not, there's more where this came from because SLAY BELLS #1 is but the coup de grace of Bad Idea's merciless onslaught of attention-grabbing new releases coming to select comic shops throughout spring and summer 2021:
March 2021
ENIAC #1 (of 4)
Matt Kindt (writer) ** Doug Braithwaite (art) ** Diego Rodriguez (colors) ** Lewis LaRosa with Laura Martin (cover)

April 2021
TANKERS #1 (of 3)
Robert Venditti (writer) ** Juan Jose Ryp (art/cover) ** Jordie Bellaire (colors)

May 2021
WHALESVILLE #1
Matt Kindt (writer) ** Adam Pollina (art/cover) ** Matt Hollingsworth (colors)

July 2021:
THE LOT #1 (of 4)
Marguerite Bennett (writer) ** Renato Guedes (art/cover)

July 2021
SLAY BELLS #1
Zeb Wells (writer) ** David Lafuente (art/cover) ** Ulises Arreola (colors)
And how does one procure such refined and distinguished pieces of comics history in the making? You simply have to visit a Bad Idea "destination store" – one of the 100 and counting comic shops around the world that have signed on to join our independent network of direct-distribution retail partners – to pick them up on a Wednesday. (Or pre-order in advance to make sure you secure your copy.)

We'll be revealing more stores in the weeks and months to come and progressively adding even more on a rolling basis too, so if you're a retailer and would like to get some of what Bad Idea's got, just email us at hello@badideacorp.com.

We've made it even easier, too. To locate a Bad Idea retailer near you and then pre-order ENIAC #1 and every other Bad Idea title, simply click here and fill out the little form.

For more information and holiday-smashing action, visit Bad Idea online at BadIdeaCorp.com, Facebook, Twitter, and Instagram, or just mash the screen with your palm and do all four simultaneously. 
SLAY BELLS #1
** ZEB WELLS(writer) **
** DAVID LAFUENTE (art/cover) **
** ULISES ARREOLA (colors) **
** DAVE SHARPE (letters) **
** ON SALE JULY 2021 **