Art
Interview with Going to the Chapel and Spencer & Locke Creator David Pepose
By Kevin Hoskinson
With Spencer & Locke and its sequel, writer David Pepose took us on a hard-boiled journey through a city riddled with crime and corruption. It was Calvin & Hobbes meets Sin City, with the titular heroes, Detective Locke and his imaginary partner Spencer, ready to put everything on the line to save the city they were sworn to protect.
But this fall, Pepose is taking us on a completely different journey. Along with artists Gavin Gauindry and Liz Kramer, he is taking us down the aisle and into the ultimate hostage situation with Going to the Chapel, a romantic comedy with an action movie twist. The story is about Emily Anderson, a conflicted bride, who's big day is ruined by a gang of Elvis masked criminals when they bust in and take the whole party hostage. Having read the first issue in advance, I can say it's a great story, one filled with action, comedy and quirky characters.
Recently, I was given the chance to interview David Pepose about Going to the Chapel and Spencer & Locke. We talked about doing research for projects, working with Action Lab Danger Zone, SDCC, and what character he would love to write for in the future.
Pastrami Nation: Spencer & Locke 2 was such an incredible series, and an incredible sequel.  Was a sequel always something you had in mind? Or was the idea planted with the success of the first series?
David Pepose: First off, thank you for saying that! I actually had the idea for SPENCER & LOCKE 2 before I even approached artist Jorge Santiago, Jr. to draw the first volume — I knew that the idea of mashing up Calvin and Hobbes with Sin City would be the perfect foundation for a sustainable story, but the idea of taking that pitch-black noir sensibility and stretching it across the funny pages — in the case of our sequel, pitting hard-boiled Detective Locke and his imaginary panther Spencer against Roach Riley, our murderous analogue of Mort Walker's Beetle Bailey — felt like a natural progression for the series and an irresistible sucker-punch to give readers.
PN: Spencer & Locke dealt a lot with trauma and PTSD. How did you get into that mindset to create this story? What kind of research did you do?
DP: Some of it was research, and some of it was autobiographical — I used to be a reporter back in the day, and I did several stories about veterans coping with trauma and PTSD upon returning home, so a lot of those interviews wound up helping inform our story. But a lot of it was tapping into my own experiences, and just trying to treat past scars with empathy — while I've definitely never had it as bad as Locke, I've certainly gone through moments in my life that were painful and deeply traumatic, and those moments often linger and shape people more than we'd like to admit. I think that's kind of the universal nature of SPENCER & LOCKE's high concept — we've all been hurt, and we've all got memories we don't like to think about, and sometimes it takes a certain kind of courage to face those demons just to get out of bed every morning.
PN: The "chicken or the egg" question has always fascinated me. For Spencer & Locke, what normally comes first? The characters, or did you take the comic strips you loved and build off of that?
DP: I try to do my homework as far as our homages go, so I actually went back and reread every single Calvin and Hobbes strip (as well as a decent collection of Beetle Bailey archives) before I even started writing the book. It's sort of like baking a cake, for me — you look at your initial inspirations as your starting ingredients, but then you take your own individual twists and turns based on the characterization. A lot of that is trial and error, to see what lines resonate with me as a writer — sometimes down to the lettering proofs, to be honest — and a lot of that is just responding to the terrific artwork that artist Jorge Santiago, Jr. gives me. Honestly, while I had an idea of how this series was going to turn out, Jorge is the guy who brought it all to life, and seeing his take on certain scenes and characters really informed the tone of the scripts.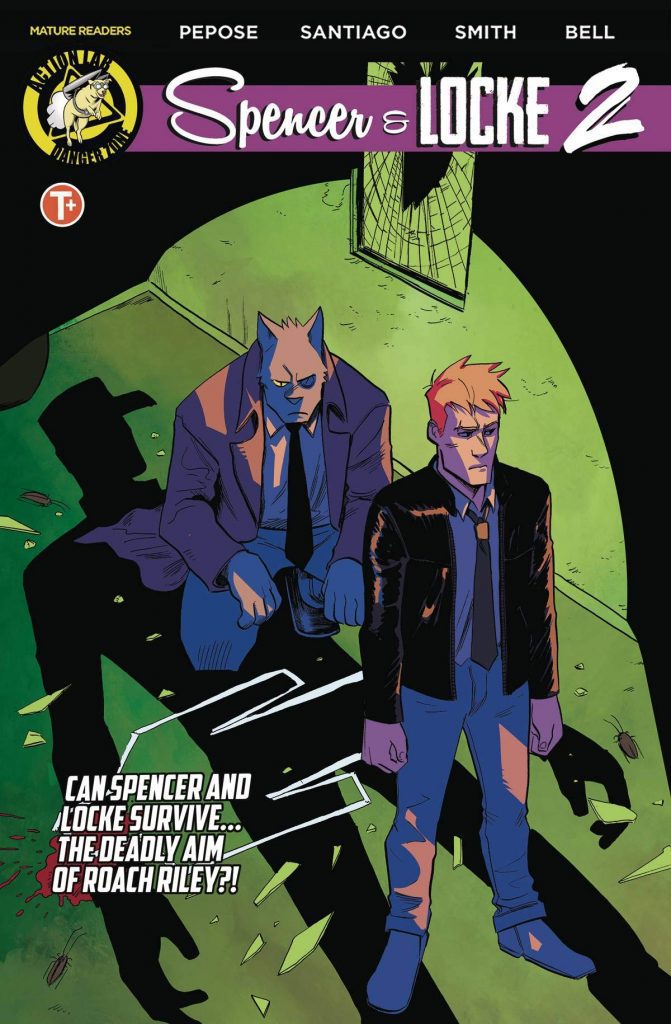 PN: Spencer and Locke has been a hit at Action Lab, and now you are penning a new tale in Going to the Chapel. How does it feel to go from the crime/noir feel of your previous book to a very different vibe in Going to the Chapel? 
DP: Actually, I feel like it's really a natural progression — while GOING TO THE CHAPEL certainly has a lighter tone than SPENCER & LOCKE, I think they do share a lot of similarities. There's the crime angle, for sure, and there's also that mixture of action and comedy that keeps the story moving. And I think both stories are about characters trying to make sense of their pasts, and coming up with extremely dysfunctional coping mechanisms to avoid that introspection. There's definitely a reason why I was adamant that CHAPEL would be the next story I'd write.
PN: What inspired you to create Going to the Chapel?
DP: GOING TO THE CHAPEL was initially inspired by my disastrous turn as best man at my oldest friend's wedding — in particular, my planning of the bachelor party just completely crashed and burned from top to bottom. At the time, I thought to myself, "at least this didn't happen during the wedding," which of course got me thinking, "but what if it did?" The idea of taking a tightly paced crime thriller and putting it in the context of a wedding felt like a fresh, funny idea that I hadn't seen done in comics before, which made me want to tackle it even further.
PN: What can readers expect from this new series? 
DP: GOING TO THE CHAPEL follows Emily Anderson, a wealthy bride grappling with a serious case of cold feet — but before she can say anything, her wedding will be taken over by the band of bank robbers known as the Bad Elvis Gang. Yet this seemingly simple smash-and-grab turns into a full-blown standoff with the police (and her own dysfunctional family), Emily will have to become the ringleader of her own hostage situation to not just get everyone out in one piece, but to figure out what her future is going to look like. If you like stylish action, laugh-out-loud comedy, or are just a fan of my previous work on SPENCER & LOCKE, you're going to find a lot to love about GOING TO THE CHAPEL.
PN: Going to the Chapel is more grounded than your previous work. Are there people in real life that characters are based off of in that book?
DP: More grounded? I wrote a book where I had to weaponize an entire wedding registry, so let's not say anything we can't take back! (Laughs) As far as the real-life inspirations behind our cast, I tend to construct my characters as kind of a patchwork — I take some things from people I know, other things from actors and fictional characters I've liked elsewhere, and other things from my own life. There's a lot of elements of Emily, Jesse and Tom that draw from my personality, but I think a lot of the family members certainly were inspired by my own crazy family. I will say that Grandma Harriet definitely came from my own Grandma Helen, though — I think if she was held hostage by bank robbers, she'd definitely throw them some sass, too.
PN: You have created a few series with Action Lab now, how is it working with the publisher? 
DP: It's been great! The thing I like most about Action Lab is that they trust creators to tell their own stories without micromanagement or self-consciousness — both SPENCER & LOCKE and GOING TO THE CHAPEL were both series that a lot of publishers didn't think could sell, and Action Lab's been a great supporter, knowing that when you lead with quality, the rest will follow.
PN: Any news or updates on upcoming projects fans can be on the lookout for? 
DP: Fans of SPENCER & LOCKE should keep their ears to the ground, because we might have some fun news to share with them soon. I'm also hard at work on my upcoming Top Cow series GRAND THEFT ASTRO, which is coming together fantastically — and I've got a few other projects that are looking really awesome, that I can't wait for readers to see. I've got sci-fi, crime, even fantasy in the pipeline… it's just very exciting all around.
PN: How was your experience at the mecca of pop culture, SDCC 2019? How was the reception for Going to the Chapel?
DP: This was definitely my best SDCC yet — we blew through a ton of copies of MJ Erickson's incredible GOING TO THE CHAPEL variant, as well as every copy of SPENCER & LOCKE 2 we brought to the show. And it's always great to not just meet new readers, but to get to reconnect with diehard fans who come back to chat year after year. Honestly, seeing that people are so invested with our books is such an enormous compliment, and I can't thank our readers enough.
PN: And finally, if you can write for any character, whether it be in comics, movies or television, who would it be?
DP: Captain Planet. I've got a pitch that would make your toes curl.
Don't forget to pick up Going to the Chapel #1 when it hits comic shops on Wednesday, September 4. You can pre-order it right now from your local comic shop using Previews codes JUL191409, JUL191410 or JUL191411. Also, make sure to check out our advanced review, which is available now at PastramiNation.com!