Comics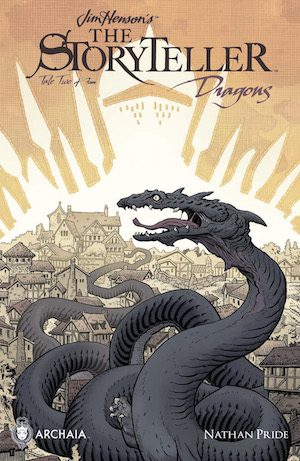 Jim Henson's The Storyteller: Dragons #2 Review: All Shapes and Sizes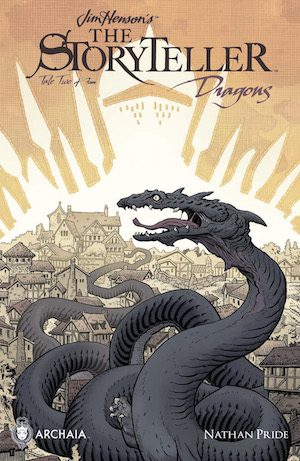 Review by Nolan P. Smith
(Victor Valley)— Jim Henson's The Storyteller: Dragons continues on with the second issue, featuring another stand alone take of dragon folklore, told by the wise Storyteller with his trusty canine friend. This time, we get a tale of decisions and consequences set in the medieval times.
Written and drawn by Nathan Pride (Mage The Awakening), this story is about a young, arrogant prince who catches a strange worm in a river. Disgusted by it, he discards it into a well and goes off to war in an effort to come back a better person, a person worthy enough to be his father's successor. But while he is gone, that worm grows into a long, deadly serpent that wrecks havoc on the kingdom. When the prince returns a hardened, changed knight years later, he has to come to terms with what has happened in his absence, and what can he do to save his land.
Pride creates a story that follows what we saw with previous Storyteller tales- it not only entertains, it has a meaning, a moral to it all. Pride's story and artwork are well deserved and fitting for this series, bringing a new type of dragon to the mix, one different than what we saw in last issues story. I love the whole idea of The Storyteller; the previous series, Witches, is one of my favorite series of 2015, and with the way Dragons is going, I have no doubt this series will rank right up there, if not higher. If you aren't reading this series, you are seriously missing out on an extremely fun series.
Rating: 8.0 out of 10.
This review was created in conjunction with QBC Toys and More, a local comic book and collectible shop located in Victorville, CA. Featuring new comic books every week, collectibles, action figures, original artwork, and more, QBC has something for the pop culture lover in us all. You can find them on Facebook at https://www.facebook.com/QBCToysandMore/.