Art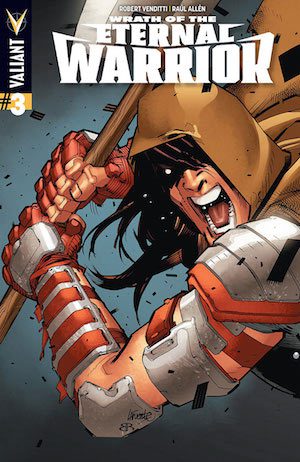 Wrath of the Eternal Warrior #3 Review: Fight Like Hell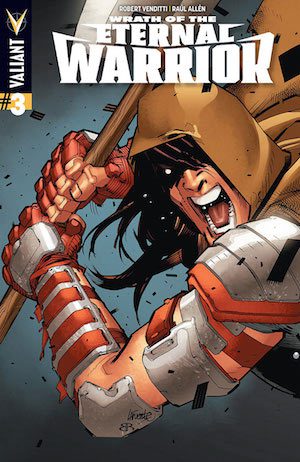 Review by Nolan P. Smith
(Victor Valley)— Since the start of this series, Gilad the Eternal Warrior has been fighting battles, both internal and external. In the Book of Death series, he was granted a release from his eternal life and went to the here after, where he was reunited with his family. But Gilad is a fighter, and he knows the world of the living still has evils that need to be fought, so he starts his journey back.
Writer Robert Venditti (Book of Death) continues to create a sprawling storyline that literally spans life and death. With the third issue, we see Gilad facing the hordes of evil Humongous, a demon that wants nothing more than to torture the warrior for eternity. But a warrior fights, as I said earlier, and that's evident as Gilad fights to make it through the iron door, back to the world he has walked countless times in the past. This feels like a classic, mythological tale, which is exactly the type of story the Eternal Warrior deserves.
Artists Raul Allen (Hawkeye) and Patricia Martin create some stunning and demonic visuals here. The fight scenes are bloody and violent, and the use of silhouettes adds something more to the overall feel of the book. Gilad's journey is a well paced, visually entertaining romp through hell and, hopefully, back. With the way this issue ends, #4 can't come soon enough. I'm ready for more axe-wielding heroics from Valiant's immortal hero.
Rating: 9.0 out of 10.
This review was created in conjunction with QBC Toys and More, a local comic book and collectible shop located in Victorville, CA. Featuring new comic books every week, collectibles, action figures, original artwork, and more, QBC has something for the pop culture lover in us all. You can find them on Facebook at https://www.facebook.com/QBCToysandMore/.