Art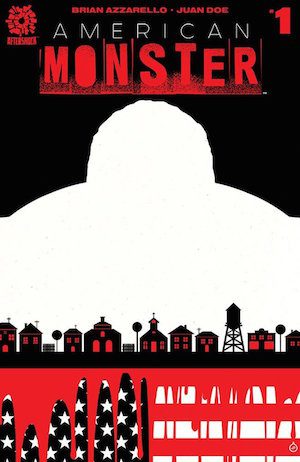 American Monster #1 Review: Bloody Beginnings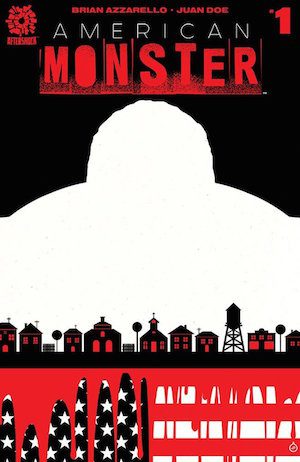 Review by Nolan P. Smith
(Victor Valley)—The new comic book publisher, Aftershock Comics, have garnered quite a bit of buzz already, with solid releases from well known names in the industry. With American Monster, the company has a creative team that just about every comic fan should know, as Brian Azzarello (DK III, 100 Bullets) and artist Juan Doe, who has created some of the most iconic comics seen at Marvel, come together to create something realistically scary.
The book shows us three different tales, which I am sure will intertwine in some way or shape as the series progresses. The first we see is a brutal home invasion/kidnapping of a married couple. Second, which spotlights who I believe is the protagonist of the series, shows a severely scarred man coming into a small town- a veteran (we see some bloody, strong flashbacks) who is short on words and patience. The third is about a group of teens and a strange man on a teeter totter, with a very uncomfortable scene. How will these three all tie together? Also, how does this veteran become this "American Monster", and what all will he end up doing before the series ends?
Azzarello is known for his gritty, violent worlds, and American Monster is no different. Though the stories feel a little disjointed at the moment, I am sure that once future issues are released, all will make sense. Juan Doe, who is one of my favorite cover artist, shows his sequential art skills and creates the strong imagery needed for this tale. His designs, his line work, all make this story that more chilling and disturbing.
This is a good start for the series, and another solid debut for Aftershock. I will no doubt be referring back to this issue as the series progresses to see how it all works together.
Rating: 8.0 out of 10.
This review was created in conjunction with QBC Toys and More, a local comic book and collectible shop located in Victorville, CA. Featuring new comic books every week, collectibles, action figures, original artwork, and more, QBC has something for the pop culture lover in us all. You can find them on Facebook at https://www.facebook.com/QBCToysandMore/.