Television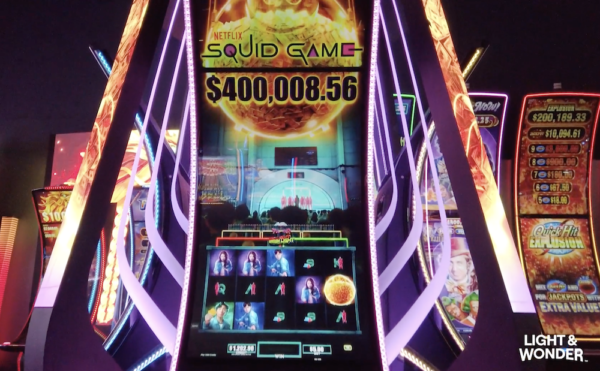 Light & Wonder to Unveil SQUID GAME Slot at G2E
Light & Wonder, Inc. (NASDAQ and ASX: LNW) ("Light & Wonder," "L&W" or the "Company") announced it will debut its brand new SQUID GAME slot machine within its Global Gaming Expo (G2E) booth #1116.
Based on the widely acclaimed and most-popular Netflix series of all time, SQUID GAME, the captivating theme seamlessly integrates iconic games from the show such as Red Light, Green Light; Tug of War; and The Glass Til
The iconic theme will make its global debut on Light & Wonder's new large-screen jumbo cabinet, HORIZON. The visually impactful machine is the next evolution of Light & Wonder's highly successful JUMBO cabinet and features a 75-inch screen with 600,000 individual micro-LED pixels taking the display area to a massive 90-inches. The barrier-breaking cabinet also offers a large, transparent iDeck with integrated lighting, 27-inch touch screen, mobile charger and dual play buttons for an immersive and seamless player experience.
The Company will also introduce a digital adaption of the theme, featuring three bonus rounds inspired by the iconic games from the beloved series. This launch further cements Light & Wonder's position as a leading cross-platform global games company, delivering engaging content to players of all types.
"Light & Wonder is proud to be the first slots gaming company in the industry to partner with Netflix's Squid Game and bring this ground-breaking show to life across multiple casino gaming platforms," said Matt Wilson, Light & Wonder Chief Executive Officer. "We've seen how combining fan-favorite shows with immersive gameplay can resonate with audiences both digitally and on casino floors. Unveiling this captivating game on our innovative HORIZON cabinet makes for an unparalleled player experience."
G2E attendees can stop by Light & Wonder's booth #1116 to experience SQUID GAME slots and get a firsthand look at the forthcoming digital version of the title. SQUID GAME is expected to hit casino floors in 2024.
All ™ notices signify marks registered by Light & Wonder, Inc., or one of its subsidiaries.