Movies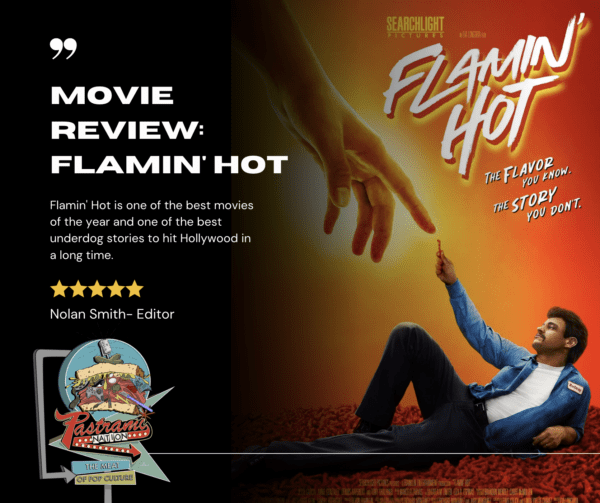 Movie Review: Flamin' Hot
By Nolan P Smith
Editor
2019 I attended an educational conference in Riverside, CA, with keynote speaker Richard Montanez. I didn't know the story of Flamin' Hot Cheetos, but Mr. Montanez captivated the entire audience with his inspirational words. So when I heard about a movie based on his life story, I was dying to watch it. Well, now it is available on Hulu- so how was Flamin' Hot? Did it pack the punch I hoped, or did it go all Cool Ranch Doritos on me?
I can say that this movie delivers big time. It brings a healthy dose of humor, heart, and a dose of reality to a surreal tale. Jesse Garcia plays Richard Montanez, a kid that rose from rough origins but gave his all into an honest living thanks to the support of his fantastic wife Judy (Annie Gonzalez). His life drastically changes when he applies to Frito-Lay, with massive thanks to his wife and his friend Tony (Bobby Soto). He lands the Janitor gig and begins his lifelong journey at Frito-Lay. But curiosity takes Montanez on a journey from cleaning tanks to making bank, with many trials, tribulations, and lifelong lessons.
It's hearing the words of Pepsico's Mr. Enrico (Tony Shalhoub) on encouraging everyone at the factory to think like a CEO that pushes Montanez to put it all on the line and work with his wife in creating the origins of the Flamin' Hot dynasty. But without his wife, with his supportive friends and co-workers, like the genius Clarence (Dennis Haysbert), Richard would have never realized his true potential. From the Janitor to the marketing genius of a multicultural movement, Montanez's story rings true on many levels. Being a Marketing Coordinator and a Marketing Teacher, I can boil down the brilliance of Montanez's idea and tactics to their marketing principles, and it's a lesson in diversifying your target market and increasing exposure. For Montanez, it is doing what he was meant to do in this life, at least one of his callings.
Director Eva Longoria creates a true testament to hard work, dedication, and what it means to bet on yourself. Like Montanez, one of my first jobs was being a janitor- first for a movie theater and then for a school. So to see this rags to riches true story that embodies the American Dream, it makes me, and probably everyone else, feel like anything is possible. Flamin' Hot is one of the best movies of the year and one of the best underdog stories to hit Hollywood in a long time.
Rating: FIVE Pastrami Nations Out of FIVE