Movies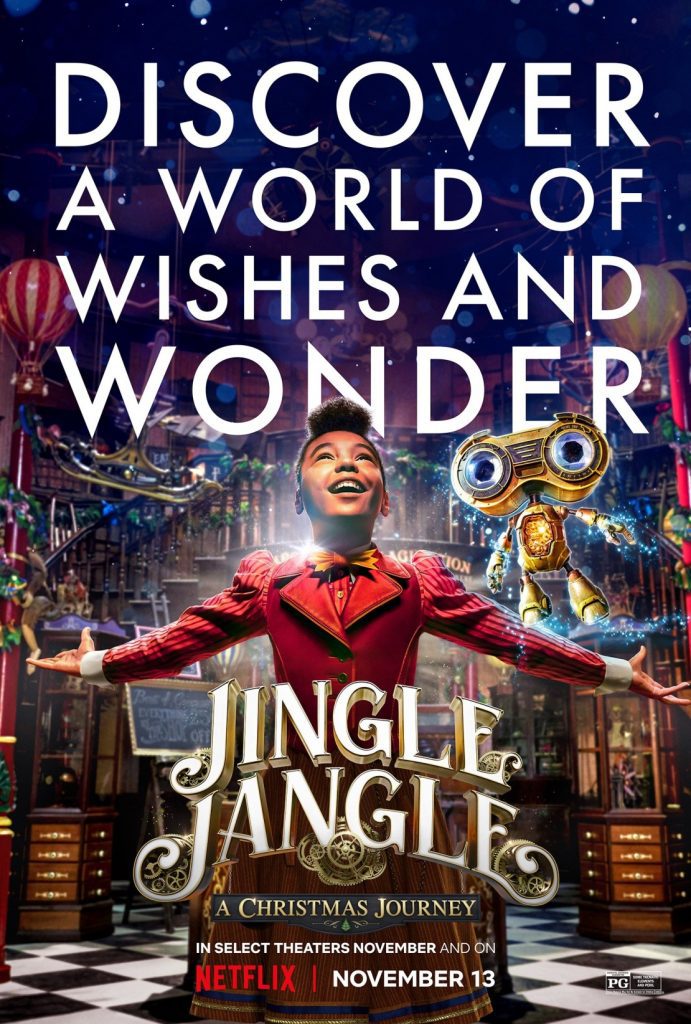 Movie Review- Jingle Jangle: A Christmas Journey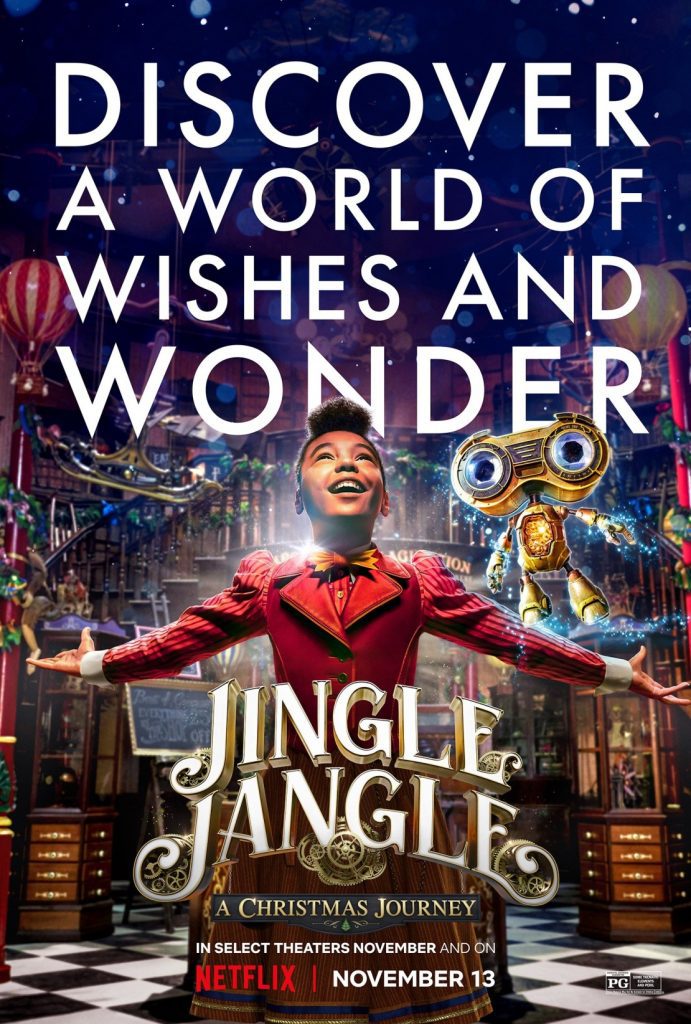 By Kevin Hoskinson
2020 has been a heck of a year. It's been a rollercoaster with its fair share of ups and downs, as many places around the world are going back into lockdown this holiday season. Lots of people are left without being around their families this year to celebrate. With that being the case, people are trying to find cheer in other places. Whether it's decorating the house early or getting festive by consuming holiday media, we are all finding ways to cope with this year. And one of the best ways to do that is to watch the wonderful new Christmas film on Netflix, Jingle Jangle: A Christmas Journey.
The movie is about Jeronicus Jangle, an inventor and toymaker. Receiving the final component that he believes will change his family's life forever, he brings his most treasured invention to life, a robotic matador doll named Don Juan Diego. Don Juan isn't the toy he thought he was making, though, and Don convinces Jangle's apprentice, Gustafson, to steal the book of inventions and run away. This puts Jangle's store, Jangles and Things, in financial hardship, and his life falls to pieces.
Thirty years later, his store is reduced to a pawn shop, and Jangle has lost his creative spark. Losing touch with his daughter Jessica years earlier, she sends her daughter Journey to stay with him until Christmas. Much like Jeronicus used to be, his granddaughter is inventive, creative, and believes in magic. She soon gets entangled in the feud between her grandpa and his old apprentice as Gustafson steals something else, an invention that could change Jangle's life and make him believe again.
To tell you the truth, I knew close to nothing about this new film before watching it. I knew it was a Christmas-themed musical and starred Forest Whitaker, Kegan-Michael Key, Anika Noni Rose, and a host of other actors and actresses. I honestly had no idea how much it would touch me or how magical, whimsical, and downright entertaining it was going to be.
Phylicia Rashad plays a grandmother telling her grandchildren the story about Jangle, and this is what bookends the film. It's such a cool way to take us into this world and allows the filmmakers to have some fun with the material. They used marionette type puppets to tell portions of the story, which was a fun way to make it feel like a storybook come to life. It also brings the theatrics of it all to life, making it feel believable and taking it to the next level.
On top of that, one of the things that stood out to me was the look of the movie. It was bright and colorful with a beautifully constructed town. The whole town had a stage play feel to it but on a massive budget. Most of the action takes place here, and you get fully immersed in it. Jangles and Things was especially cool, with many of the townspeople being in awe as they walked through it. That feeling translated well while watching it, and it was a place I wanted to visit.
Obviously, one of the most important elements of a musical is the music and choreography. With music by John Debney, they really nailed that with this movie. Every number was better than the last, and each one was filled with emotion and so much heart. There wasn't a single song wasted, with this cast giving it their all. In another way, it felt like a stage play; the songs felt so personal and so alive like they were giving a glimpse into their soul while performing them. And the extras were incredible, giving more life to already powerful songs.
The performances here are also so much fun. There are actors that play younger versions of Jangle and Gustafson, but for the most part, they are played by Whitaker and Key as they are a bit older. Key is a standout, playing the bad guy and chewing up the scenery. Unexpectedly, singer Ricky Martin is the voice of Don Juan, and he absolutely slays it. Whitaker is the perfect choice to play a disenchanted Jangle, bringing a subtlety to the role that not many actors can. The young actress who plays Journey completely blew me away; she is just incredible. In fact, all of the children in this film are full of curiosity and just so good. Everybody is amazing here; it's astounding.
Directed by David E. Talbert and featuring a wonderful diverse cast, Jingle Jangle will put you into the Holiday spirit. It tells a unique story on top of having a classic message at its core. It's about the importance of family and always believing in yourself, something we should never forget. It's a truly wonderful film that will have you smiling all the way through, and it's bound to become a classic.
Rating: 4.5 Pastrami Nations out of 5.

Kevin Hoskinson is a writer with a deep-seeded love for movies, comic books, television, and the paranormal. He is also the host of Pastrami Nation: Popcorn on YouTube, Spotify, Apple Podcasts, SoundCloud, and more. From humble beginnings working the box office at his local movie theater, he's worked his way to becoming a humble family man and professional bug exterminator. Growing up, he wanted to become an astronaut, a Ghostbuster, a dinosaur, and a Disney animator before he found his passion for writing as a teen. He studied film at Los Angeles Valley College with an emphasis on screenwriting and film criticism. He currently lives in Portland, Oregon, with his wife and two kids. You can follow him on Facebook, Twitter @Kevin_Hoskinson, and Instagram @kevinhoskinson.