Comics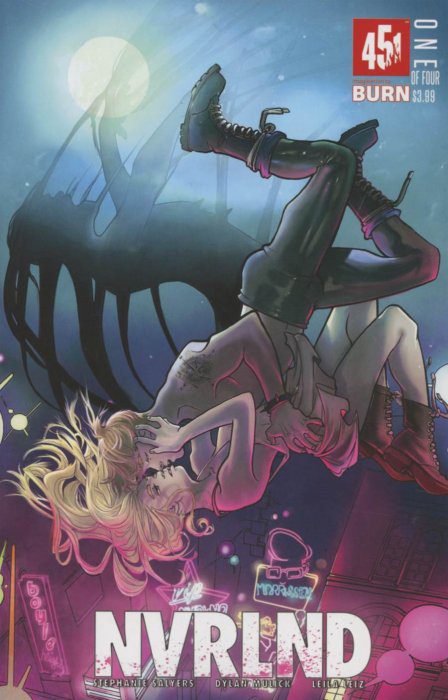 NVRLND #1 Review: Re-imaging Neverland
NVRLND takes Peter Pan and co down a dark and entertaining road
By Nolan P. Smith
The story of Peter Pan is one so well known, it's hard to take a re-imagining seriously. The tale, which is so well respected and known for its heart and fantasy elements is one that usually shouldn't be messed with. 451 Media has taken the story of Peter Pan and made it with a modern twist, set dead center of Los Angeles.
Peter Pan is a rock star in this version, along with his band, the Lost Boys. Wendy is the new girl in town, with a father poised to take on crime and stop the influx of teen overdoses on a new drug, pixie dust. James Hook is a creepy, one armed tattoo artist with perversion on his mind and drugs to pedal to the youth. Sounds odd, yes? It is, but it also works extremely well.
Oh, and by the way, this is a mature title, so you are warned on the content.
Writers Dylan Mulick and Stephanie Salyers craft a very interesting and catchy first issue. To see the characters we know and love in such an edgy, adult environment is a sight to see. Artist Leila Leiz creates an intoxicating feast for the eyes, with character designs that pay homage to their predecessors yet look unique for this tale.
I, like many others probably felt, wasn't terribly excited when I heard about this book, mainly because it sounded like treading old water. But after the recommendation from the local comic shop owner, I gave it a shot and loved it. This book should be something you give a try, if only for the first issue. That's all it took me to get hooked.
Rating: 8.5 out of 10.
This comic book review was created in conjunction with QBC Toys and More, a local comic book and collectible shop located in Victorville, CA. Featuring new comic books every week, collectibles, action figures, original artwork, and more, QBC has something for the pop culture lover in us all. You can find them on Facebook at https://www.facebook.com/QBCToysandMore/.