Art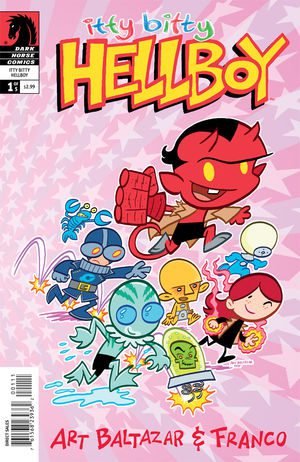 Pastrami Comic Review: Itty Bitty Hellboy #1
Review by Frank Guzman III and Christopher Guzman-Pastrami Nation
Writers: Art Baltazar, Franco
Artist: Art Baltazar
Publisher: Dark Horse Comics
Website: www.darkhorse.com
The fight between good and evil continues as the BPRD ( Bureau for Paranormal Research Defense) fights for justice and the biggest cardboard box you can find. Art Baltazar and Franco, known for "Superman Family Adventures " bring you Dark Horse Comics new Itty Bitty Hellboy. This adaptation of Anung Un Rama is clearly targeted for young and old audiences alike. It presents a dark set of characters in a happy-go-lucky schoolyard light.
From time to time I often catch my son in my nerd stash and I'm like "son, maybe you shouldn't be reading that." Simply because sleeping on the couch is not my thing. Mainly it's the adult oriented story line or the graphic decapitation of a poor old lady we find all to often in comics today. So when I was given the new Dark Horses title, Itty Bitty Hellboy, I knew exactly what to do with it.  For this review I looked to the experts and one of the most talented, hardest and seasoned critics I know (maybe not seasoned since he's only been here on earth for eight years): Junior Reporter Frank Guzman III.
Laughter ensues from the first page to the last. The comedic interpretation of the well-known dark universe of characters from the Hellboy franchise is there and it's great. Each character resembles the more serious counterpart and every obvious quirk or annoyance with each character explodes in this juvenile set. Example: Johann sneezed into a sandwich bag, because that could totally happen ….it could you know science baby. The art of the famous cartoonist behind "Ah Yeah Comics," Art Baltazar, is simply awesome. The colors pop and the form is original. Baltazar's art is a recognizable welcome for comic book kids everywhere.
This funny, lighthearted adaptation of one of comics' most well known ass kicking characters is approved by son and father. It was a great time to sit here and share the experience. Especially when trying to explain the symbolism of the duct tape and refrigerator box: his response was "you read into stuff too much Dad!" Well it was right, am I right! We are truly reminded of how awesome being a kid really is. For outstanding artwork and old school slapstick humor straight from the Pastrami scale we give it a strong Frankie Four out of FIVE. Till next time, Cheers!