Art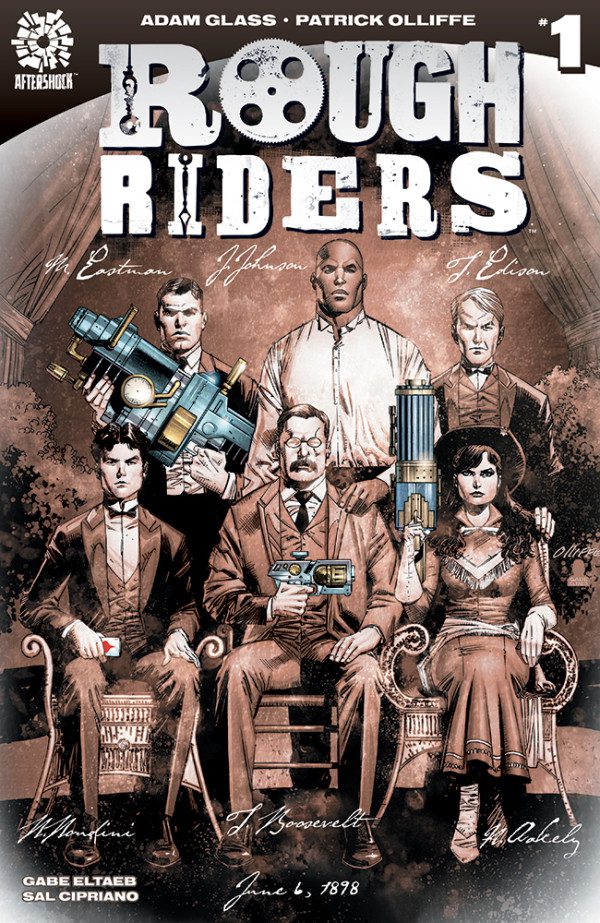 Rough Riders #1 Review: That's How Rough Riders Roll
Rough Riders assembles a historic, action packed romp through the end of the 1800's
By Nolan P. Smith
(Victor Valley)—Super teams are all the rage right now- with movies based on the Avengers having ruled the box office and a looming Justice League flick on the horizon, who doesn't love to see heroes come together to combat evil and, in the end, save the world? Well, what if those heroes were at the end of the 1800's and included Theodore Roosevelt? Then you would have Rough Riders, the latest series from AfterShock Comics.
Writer Adam Glass (Writer and Co-Runner of Criminal Minds: Beyond Borders) crafts a world where a young Teddy Roosevelt is far more than we thought. In this Steampunk-eque world, Roosevelt patrols the night, saving those in need and fighting against the darkness. But when the United States is in peril with a mysterious threat coming from Cuba, Roosevelt must put together a team to stop this threat, and what a team it is. Jack Johnson- the famed, undefeated boxer is the first to join the teams' ranks, and the master of illusions, Harry Houdini, makes an appearance as well, with more legendary historic figures to come.
Glass creates a fun and gripping tale, casting Roosevelt in an almost Batman-like role. A simple man who overcomes the odds and risks his own life to help those in need, we get to see how Roosevelt came from being a weak bodied boy to a strong, scarred man. Artist Pat Oliffe (Spider-Girl) provides the visuals, as he crafts an excellent look for the first issue. I felt like I was reading a true to life team book, led by one of the most beloved Presidents in history.
Bringing together such a well-known group of historic figures, Rough Riders is poised to take no prisoners in this action packed romp through an alternate history. This issue has action, build up, comedy relief and more- everything you could ask for in a debut issue. Rough Riders #1 is an excellent start to a very different, original, and welcomed series.
Rating: 9.25 out of 10.
This review was created in conjunction with QBC Toys and More, a local comic book and collectible shop located in Victorville, CA. Featuring new comic books every week, collectibles, action figures, original artwork, and more, QBC has something for the pop culture lover in us all. You can find them on Facebook at https://www.facebook.com/QBCToysandMore/.