Art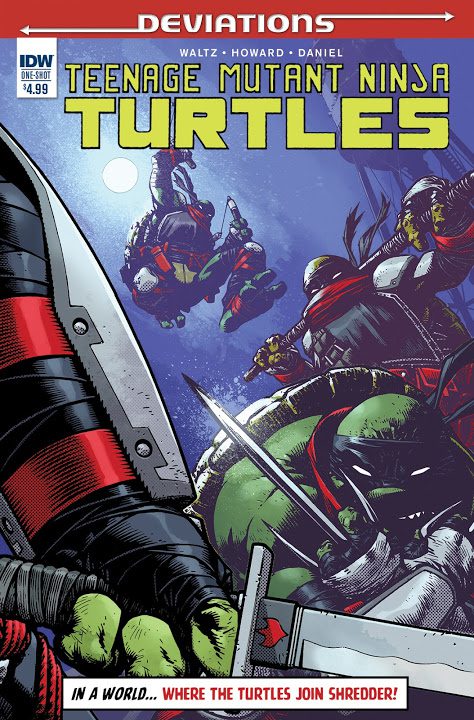 Teenage Mutant Ninja Turtles: Deviations Review
Teenage Mutant Ninja Turtles: Deviations Makes an Interesting Alternate Tale
By Nolan P. Smith
They are one of the most popular quartets in pop culture- from various animated series, comic books, video games, feature films and more- everyone has heard of the Teenage Mutant Ninja Turtles. The four turtle brothers and their sensei/father Splinter have fought against the Shredder and the Foot Clan for decades. With this Deviations issue, we see what might have been if the turtles were brainwashed by the villainous Shredder.
Deviations takes a crucial point in time for a series and goes the other way: much like the classic "What-If" books Marvel used to produce. Taking a point from the current IDW series, we see Shredder stab turtle alley Casey Jones, which leads to all mayhem to break loose. In the original series, Leonardo is taken by the Shredder and brainwashed, as he is turned into a weapon against his own family. But with this issue, we see what could have happened if all four turtles were brainwashed- and the outlook is grim.
This dark, gritty book puts the heroes in a half shell in a battle against their former father figure, Splinter. The humor is still present with the turtles, but the outright brutality is something we have never seen from the four. At the same time, Arnold Jones, father of the now deceased Casey Jones, cannot stand by while his son's murderer runs free. It all boils down to a huge battle with the turtles, Shredder, Splinter, Old Hob, Slash, the Foot Clan, and Arnold Jones that literally pulls no punches. This is a very dark look at what could have been for the turtles, and the outcome is not pretty.
This issue is a great look into an alternate reality- and is easily accessible to those who may not be following the current series. The artwork matches the mood driven story well, and seeing the turtles as members of the Foot is something I never thought I would see. If you are a fan of the turtles, like me, then this is a must buy for a break of the ordinary.
Rating: 8.25 out of 10.
This review was created in conjunction with QBC Toys and More, a local comic book and collectible shop located in Victorville, CA. Featuring new comic books every week, collectibles, action figures, original artwork, and more, QBC has something for the pop culture lover in us all. You can find them on Facebook at https://www.facebook.com/QBCToysandMore/.