Art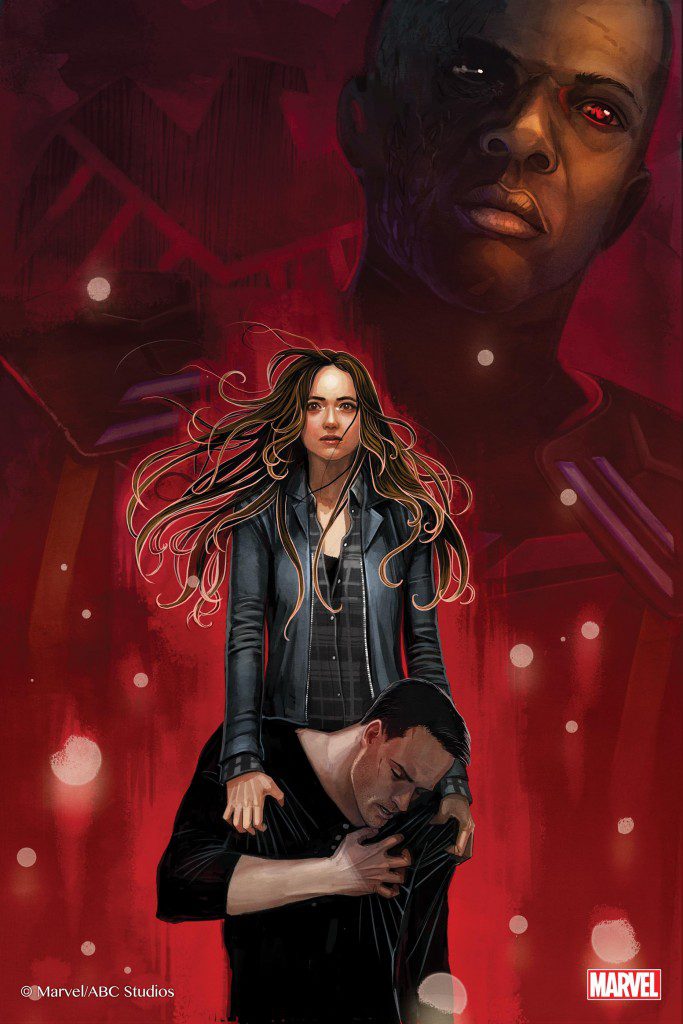 Stephanie Hans Joins Marvel's Agents of S.H.I.E.L.D. The Art of Level 7
By Staff Reports
(Burbank)– Marvel Television is proud to announce acclaimed artist Stephanie Hans (Journey Into Mystery, Young Avengers) as the newest recruit for Marvel's Agents of S.H.I.E.L.D.: The Art of Level 7, a new initiative uniting top artists from around the world to celebrate the final six episodes of the series' inaugural season (airing Tuesdays, 8|7c on the ABC Television Network).
Maria Hill (guest-star Cobie Smulders) makes her return to Marvels Agents of S.H.I.E.L.D. as Coulson finds his team divided and at their most vulnerable, but is she a friend…or foe? Meanwhile, Coulson must contend with the forces of Col. Glenn Talbot (guest-star Adrian Pasdar) and the United States military, as Ward and Skye work together on a covert mission to decrypt a hard drive containing S.H.I.E.L.D.'s biggest secrets. But just when Skye didn't think things could get worse…Deathlok makes his (literally) heart-stopping return!
"Nothing Personal", the twentieth episode of the series, premieres on Tuesday, April 29th, at 8|7c on the ABC network followed by brand new episodes each week until the suspenseful season finale.
"The relationship between Grant Ward and Skye takes center stage as the two of them must confront some uncomfortable – and life-threatening – truths," said Jeph Loeb, Head of Marvel TV. "Stephanie Hans was the perfect choice to bring the tortured relationship between Skye and Ward to life, with the threat of Deathlok figuring so prominently into this new episode of Marvel's Agents of S.H.I.E.L.D."
Each poster released in this series will be available as limited edition high quality prints at http://www.marvelstore.com/ArtOfLevel7 with "Nothing Personal" scheduled to go on sale Friday, April 25th at 1:00am PST. These individually numbered prints are strictly limited to 100 copies and once they're sold out, they won't be available again from Marvel.
"First, I have to say I am incredibly proud that Marvel has given me the chance to collaborate on the Marvel's Agents of S.H.I.E.L.D. series," said Stephanie Hans. "I have been a huge fan of Joss Whedon ever since I watched my first Buffy the Vampire Slayer episode and I nearly fainted when I learned one of my paintings would be associated with his work. For this illustration, I have been looking for a kind of Klimt-esque mood. I wanted the picture to talk about the inner torment Skye is going through. You can see it in her eyes that even though she's holding Agent Ward with all of her strength, she is not really with him at the same time: she's fighting with herself."
For more information on Marvel's Agents of S.H.I.E.L.D., please visit marvel.com or www.abc.com. Join the conversation on Twitter and get all the latest updates with @AgentsOfSHIELD and @Marvel.
About "Marvel's Agents of S.H.I.E.L.D."
"Marvel's Agents of S.H.I.E.L.D." stars Clark Gregg as Agent Phil Coulson, Ming-Na Wen as Agent Melinda May, Brett Dalton as Agent Grant Ward, Chloe Bennet as Skye, Iain De Caestecker as Agent Leo Fitz and Elizabeth Henstridge as Agent Jemma Simmons.
"Marvel's Agents of S.H.I.E.L.D.," Marvel's first television series, was co-created by Joss Whedon & Jed Whedon & Maurissa Tancharoen ("Dollhouse," "Dr. Horrible's Sing-Along Blog"), who also serve as executive producers along with Jeph Loeb ("Smallville," "Lost," "Heroes") and Jeffrey Bell ("Angel," "Alias"). "Marvel's Agents of S.H.I.E.L.D." is produced by ABC Studios and Marvel Television.
"Marvel's Agents of S.H.I.E.L.D." is broadcast in 720 Progressive (720P), ABC's selected HDTV format with a 5.1 channel surround sound.
About Marvel Entertainment
Marvel Entertainment, LLC, a wholly-owned subsidiary of The Walt Disney Company, is one of the world's most prominent character-based entertainment companies, built on a proven library of more than 8,000 characters featured in a variety of media over seventy years.  Marvel utilizes its character franchises in entertainment, licensing and publishing.  For more information visit marvel.com.  © MARVEL
ABOUT ABC STUDIOS:
ABC Studios is a leader in the development, production and strategic distribution of entertainment content across broadcast and emerging digital platforms.  The studio is the key content provider for the ABC Entertainment Group, having produced multiple seasons of hit series, including "Scandal," "Once Upon A Time," "Grey's Anatomy," "Desperate Housewives," "Lost," "Castle" and "Revenge"; as well as "Army Wives" for Lifetime and "Criminal Minds" for CBS.  These hit series have supplied the company's distribution pipelines worldwide with programming and related product lines.  ABC Studios continues to produce memorable television programming, including "Marvel's Agents of S.H.I.E.L.D." and "Trophy Wife" for ABC and the summer series "Mistresses";  along with "Perception" on TNT, "Cougar Town" on TBS and  "Devious Maids" on Lifetime.