Comics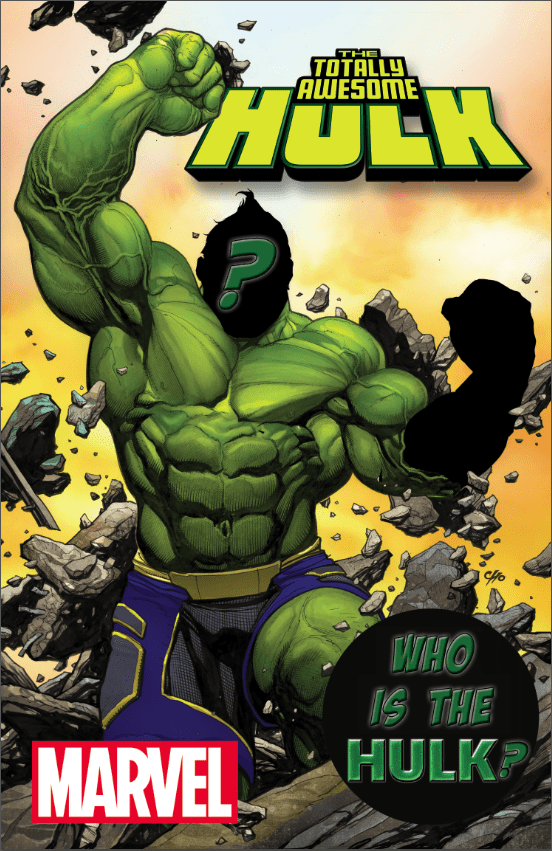 The Totally Awesome Hulk #1 Hits This Fall… Wait, What?
By Nolan P. Smith
Marvel Comics announced a new #1 today, and this time its with an all new, all different jade giant in The Totally Awesome Hulk #1, set to hit this fall by one of the Hulk's most impactful writers, Greg Pak (Planet Hulk, anyone?) and one of my favorite artists, Frank Cho (Savage Wolverine!).
"For decades, Dr. Bruce Banner has buckled under the weight of his fearsome alter ego, the Incredible Hulk," Says Marvel Editor-in-Chief Axel Alonso in a Marvel press release.  "Now, someone else is going to take away Banner's burden, hoist it onto his frail shoulders like it weighs no more than a leaf, and embrace the pure fun being the most powerful being in the Marvel Universe.  It's the Hulk like you've never seen him before: unleashed, unapologetic and totally awesome."
But who is this mysterious new Jade Giant? And just what has happened to Bruce Banner? All will be revealed, but if I had to hazard a guess, I would say… Amadeus Cho, one of the smartest humans on the planet. A creation of Pak, Cho has become a vital part of the Marvel U, and would be an ideal match for the title of this book.
"We ain't kidding – this is an all-new Hulk," says writer Greg Pak in an upcoming interview with Marvel.com. "We're breaking new ground here – no return to established personalities of the past. But what's going on is indeed grounded in the history of the character and will delve into the central themes of the Hulk in exhilarating new ways."
On board for this book? I am. Pak is an amazing storyteller, as is Cho, and this could be a great, new direction for green goliath.
For more information, check out Marvel.com tomorrow for the full interview with writer Greg Pak.
THE TOTALLY AWESOME HULK #1
Written by GREG PAK
Art & Cover by FRANK CHO
Coming Fall 2015!
To find a comic shop near you, visit www.comicshoplocator.com or call 1-888-comicbook.
About Marvel: Marvel Entertainment, LLC, a wholly-owned subsidiary of The Walt Disney Company, is one of the world's most prominent character-based entertainment companies, built on a proven library of more than 8,000 characters featured in a variety of media over seventy years. Marvel utilizes its character franchises in entertainment, licensing and publishing. For more information visit www.marvel.com © MARVEL 2015