Lifestyle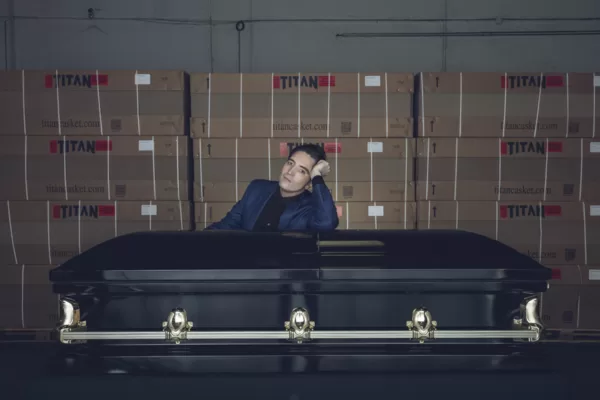 Titan Casket Announces David Dastmalchian as First Ever Celebrity Casket Ambassador
By Staff Reports
Titan Casket, the fastest-growing direct-to-consumer casket company in the United States, announced today that award-winning actor, writer, producer, and filmmaker David Dastmalchian has come on board as a celebrity ambassador for the company. As their newly minted ambassador, Dastmalchian will serve as the face of the brand while appearing in upcoming Titan Casket marketing materials and speaking on behalf of the company to press.
Dastmalchian's connection to Titan emerged from his personal experience with end-of-life planning and the company's direct-to-consumer approach to easing this process. "It's an honor to represent Titan Casket, a brand that's not only making end-of-life planning more accessible and affordable, but also initiating crucial conversations around it," Dastmalchian commented. "If I had known about Titan Casket and the right to buy my own casket, I would have been spared some heartache. The savings, convenience, and education that Titan offers while purchasing a casket is so important, and normalizing end of life planning is an important conversation I look forward to having in the months to come."
Co-founders of Titan Casket said of the partnership:"We are delighted to have David Dastmalchian join the Titan family. David's authenticity, talent, and dedication to meaningful storytelling is a perfect match with our mission. We believe that with David joining the national conversation around modern funeral planning, we can help millions of more families have more meaningful and affordable outcomes."
This announcement comes shortly after Titan appointed prolific Hollywood producer and writer Elan Gale ("FBoy Island," "The Midnight Club") as their first Creative Director. Dastmalchian, and the appointment of Gale, marks a clear acceleration by Titan of taking conversations around end-of-life planning into the mainstream, and is the first of many partnerships to help Titan educate consumers en masse about their federal rights regarding funeral planning. This is also not the first time Titan Casket has crossed over into the entertainment industry and pop culture, as one of their caskets was recently featured in Taylor Swift's "Anti Hero" music video, which has garnered over 150 million views, to date. Swift slowly cracks open the top of the casket and looks out, before emerging completely.
For more information about Titan Casket visit: http://www.titancasket.com