Action Figures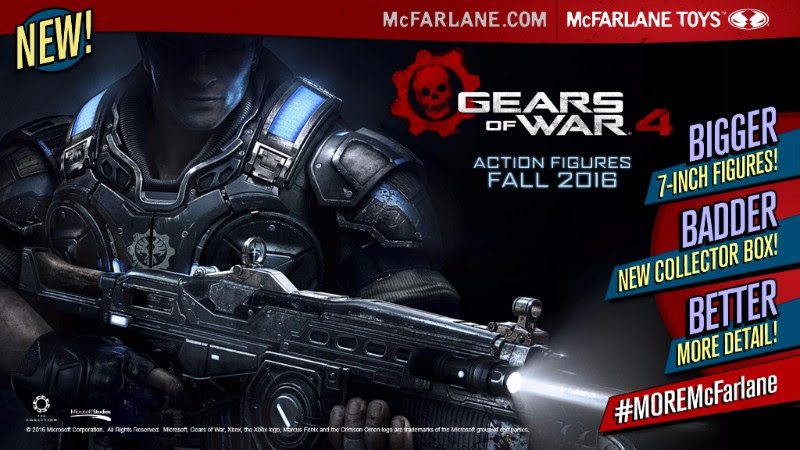 Toy Fair 2016: McFarlane Toys Declares War- Gears of War Action Figures Coming Soon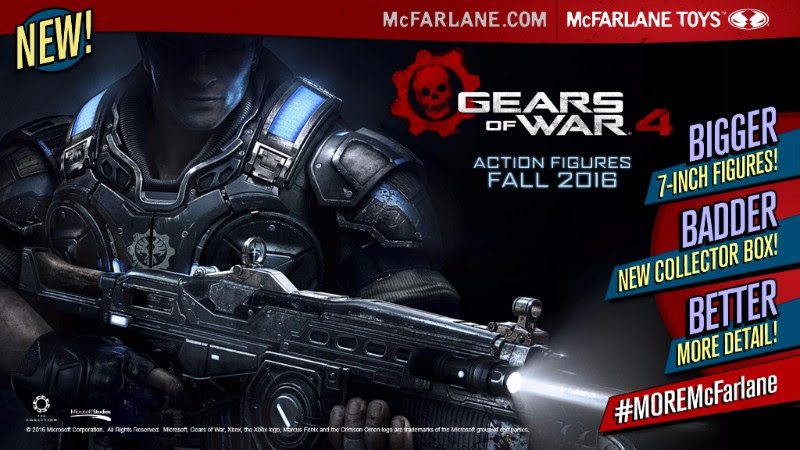 By Staff Reports
Legendary comic book and toy creator Todd McFarlane announced today that his company, McFarlane Toys has partnered with one of the gaming industry's hottest properties, Gears of War, to produce a line of highly collectible action figures.  Known for its gritty, gory, hyper realistic gameplay, Microsoft's Gears of War has been an Xbox staple for nearly a decade.  The franchise revolutionized cover-based combat, and drew millions of Xbox Live users in with its addictive multiplayer.  One of the most anticipated video games of the year, Gears of War 4 is slated to release Holiday 2016, exclusively on Xbox One.
McFarlane Toys is well known for producing excellent figures in the gaming genre, and currently produce and hold the action figure license for the Halo, and Assassin's Creed franchises.  The Gears of War figures will be based on the upcoming Gears of War 4 video game and will be a part of McFarlane's new 2016 Collector Box Program. The figures will stand a full seven inches tall, have an average of fifteen points of articulation for incredible poses and play action and feature game accurate accessories and weapons.  The Gears of War 4 action figures will boast the same meticulous level of detail that McFarlane has become known for over the last two decades.
"The game does such a great job of giving these characters big dynamic personalities." said Todd McFarlane, Creative Director and CEO of McFarlane Toys. "We're going to make sure all that personality gets represented in the action figures."
The Gears of War 4 action figures will be available at major retail locations beginning Fall of 2016.  Fans of both McFarlane Toys and Gears of War can check www.mcfarlane.com and the McFarlane Toys social media channels for updates and news.
McFarlane Toys will be exhibiting at International New York Toy Fair. By appointment only.
ABOUT GEARS OF WAR
Gears of War takes place on Sera, an Earth-type planet recovering from lifetimes of violence and conflict.  Leaving violence to the pages of history, Sera begins a golden-age of culture, science and arts; but the energy demands of this new age soon surpassed conventional means.  Again, wars raged.  That all ended on Emergence Day, when a sentient species of creatures known as the Locusts erupted from underground.  Now Sera fights for its survival.
ABOUT MCFARLANE TOYS:
Grammy-and Emmy-winning producer/director Todd McFarlane, creator of Spawn, is the creative force behind McFarlane Toys, one of America's top action figure manufacturers. McFarlane Toys has become an industry leader, redefining the standards within the action figure market. For complete information on this pop-culture powerhouse, visit http://www.mcfarlane.com; http://www.facebook.com/mcfarlanetoys; http://www.twitter.com/Todd_McFarlane and http://www.instagram.com/mcfarlane_toys_official.