Comics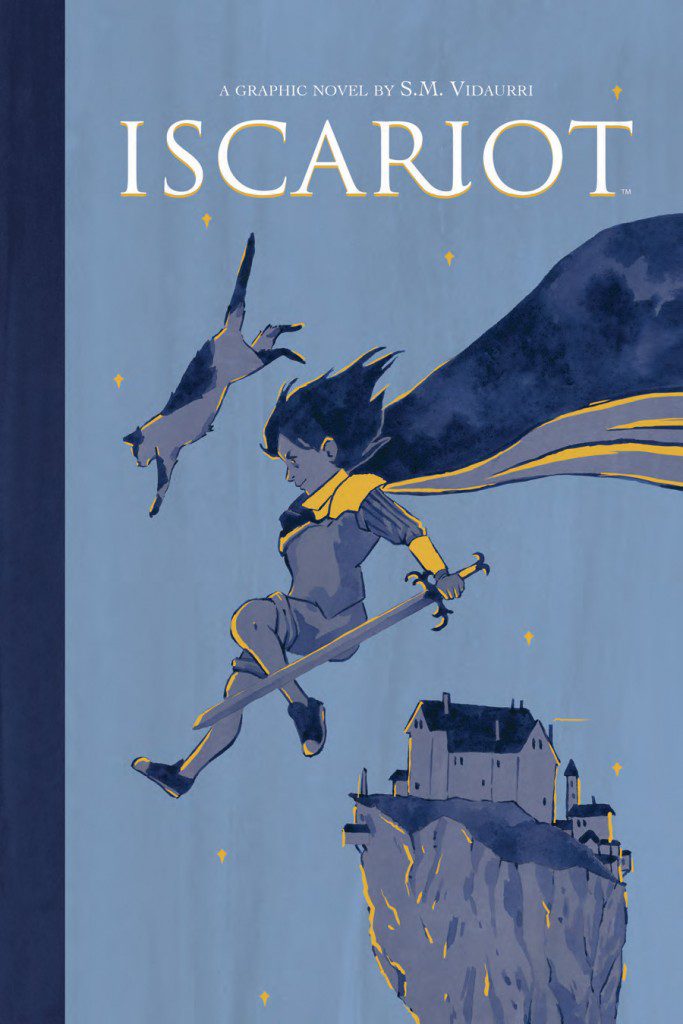 True Magic Comes at a Heavy Cost in S.M. Vidaurri's Archaia Original Graphic Novel, 'Iscariot'
By Staff Reports
If we've learned anything from fairy tales from the Brothers Grimm and Hans Christian Andersen, it's that magic powers usually have a hefty price attached. This October, S.M. Vidaurri (Jim Henson's The Storyteller: Witches, Iron: Or, the War After) brings us his new Archaia original graphic novel Iscariot, the story of Carson, a young girl living with cancer whose life is changed when she is granted an age-old magic by the rebellious magician Iscariot.
Carson must now navigate her powers, face a life she thought she'd left behind, and take on an order of magicians who want to control her destiny. Carson wants to trust Iscariot, but his intentions might not be as altruistic as they first appeared, and she'll have to trust her own feelings to decide what to do.
"Shane's hand-painted watercolors evoke so much emotion that it's easy to get sucked into the mood of this story," said BOOM! Studios Editor-in-Chief Matt Gagnon. "From his cold, quiet espionage story Iron: Or, the War After to his richly embellished 'The Magic Swan Goose and the Lord of the Forest' story in Jim Henson's The Storyteller: Witches, Shane has captured our attention time and again. Iscariot is the story of a little girl figuring out what to do with a life she thought was ending and struggling with a destiny that was forced upon her. Most of all, it's about magic, and what that means to these characters."
Iscariot hardcover (6″ x 9″, 144 pages, full color, hardcover) arrives in comic shops from Archaia on October 7th with a cover illustrated by creator S.M. Vidaurri for the price of $24.99 under Diamond order code AUG151205. It will be available in book stores on October 13th under ISBN 978-1-60886-761-5.
The Final Order Cutoff deadline for comic shop retailers is September 14th. Not sure where to find your nearest comic retailer? Use comicshoplocator.com or findacomicshop.com to find one! It's also available for order directly from boom-studios.com.
ABOUT BOOM! STUDIOS
Founded by Ross Richie in 2005, Diamond Gem Award-winning "Best Publisher" BOOM! Studios (boom-studios.com) generates a constellation of best-selling Eisner and Harvey Award-winning original and licensed comic books and graphic novels with the industry's top talent. BOOM! Studios is comprised of four distinct imprints. The original Studios imprint is home to Mike Carey's Suicide Risk; James Tynion IV's The Woods; Mark Waid's Irredeemable; Sons of Anarchy; and Big Trouble in Little China. Steven Grant's graphic novel 2 Guns was released as a feature film from Universal Pictures, starring Denzel Washington and Mark Wahlberg. BOOM!'s all-ages imprint KaBOOM! publishes Charles Schulz' Peanuts; Jim Davis' Garfield; Cartoon Network's Adventure Time, Regular Show, The Amazing World of Gumball, and Steven Universe; Mike Kunkel's Herobear and the Kid; and Natasha Allegri's Bee and PuppyCat. BOOM!'s experimental imprint BOOM! Box publishes The Midas Flesh and Lumberjanes. In June 2013, BOOM! acquired Archaia Entertainment (archaia.com). Archaia is the Eisner and Harvey Award-winning graphic novel publisher of Mouse Guard, Cow Boy, Gunnerkrigg Court, Rust, and Jim Henson's Tale of Sand. In October 2013, BOOM! Studios entered into a unique first-look relationship with 20th Century Fox, giving the studio access to its library of titles and giving the publisher access to Fox's vast catalog of films. In August 2014, BOOM! Studios began a similar first-look relationship with 20th Century Fox TV to develop properties for the small screen.