Comics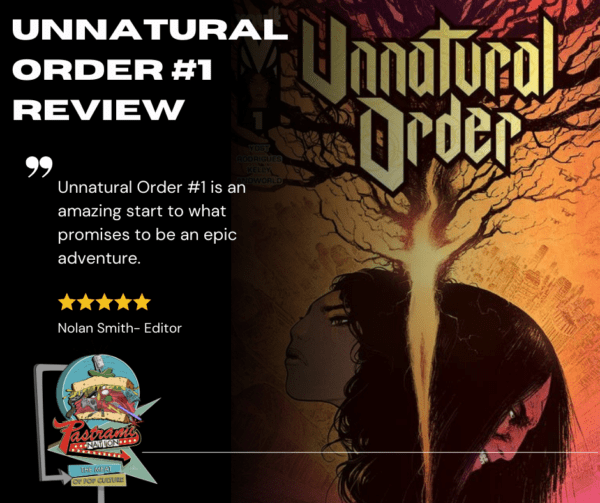 Unnatural Order #1 Review
By Nolan P. Smith
Editor
Vault Comics beckons us into a world beset by darkness in Unnatural Order #1, where the Druid has unleashed a reign of terror that threatens to engulf the land in evil's unyielding grip. Writer Christopher Yost, artist Val Rodrigues, colorist Dearbhla Kelly, and Andworld Design have conjured a mythic saga that boasts a gratifyingly unexpected twist, compelling readers to the edge of their seats.
Yost's storytelling prowess is on full display as he paints a grim picture of a world post the fall of the Britons—a world where a Druid, freed from ancient binds, wields the powers of hell itself. His scourge leaves behind nothing but death and despair, compelling an unlikely alliance of a warrior, a Viking, a thief, a Roman soldier, and a witch. They embark on a perilous journey not just to confront evil but to dismantle its very foundations. The discovery of a mysterious prisoner, believed to be pivotal in their quest, injects a pulse-quickening complexity into the narrative.
The dialogue penned by Yost breathes authenticity and depth into each character, making every exchange more than mere words—it's the lifeblood of their camaraderie and their individuality. Rodrigues's artwork is a visual masterpiece, carving out a memorable identity that resonates with the reader. Every expression, character design, and scene bursts forth with vigor, encapsulating the epic's scale and the stakes at hand.
Kelly's colors drape the story in hues that are as atmospheric as they are expressive, perfectly aligning with the grandeur and the gloom of the world Yost and Rodrigues envision. The synergy between art and narrative in Unnatural Order is seamless in each panel.
The dynamic interplay of the characters, their chemistry and conflicts, which lay a robust foundation for future installments, is fantastic. This debut issue stands tall among this year's comic book releases, and I eagerly await the implications of its climactic twist.
Unnatural Order #1 is an amazing start to what promises to be an epic adventure. Be sure to pick your copy up today while you still can! 
Rating: FIVE Pastrami Nations out of FIVE