Manga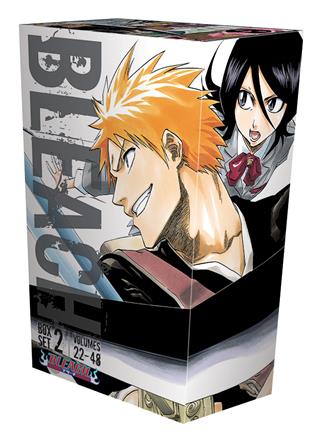 VIZ Media Announces New BLEACH & NARUTO Manga Box Set Editions
By Staff Reports
VIZ Media, LLC (VIZ Media), the largest publisher, distributor and licensor of manga and anime in North America, prepares to thrill ardent fans of the BLEACH and NARUTO manga (graphic novel) series as it announces the forthcoming release of the latest box set editions for both titles.
Scheduled for release on July 7th, the BLEACH Manga Box Set 2 and NARUTO Manga Box Set 2 each contain over twenty individual manga volumes at a substantial savings over buying them individually. Exclusive bonus premiums, such as special mini-comics and full-color posters, are also included in each set.
BLEACH Manga Box Set 2 · Rated "T" for Teens ·
MSRP: $214.99 U.S. / CAN · Available July 7th!
The latest BLEACH Manga Box Set contains Volumes 22-48 and includes an exclusive mini-comic containing the pilot story of the bestselling series along with a full-color, double-sided poster. In creator Tite Kubo's manga series, BLEACH, Ichigo Kurosaki never asked for the ability to see ghosts – he was born with the gift. When his family is attacked by a Hollow–a malevolent lost soul – Ichigo becomes a Soul Reaper, dedicating his life to protecting the innocent and helping the tortured spirits themselves find peace.
In the latest Box Set volumes, after finally rescuing their friend Rukia, Ichigo and friends return to their quiet lives in the world of the living. However, the peace is short-lived as new enemies arrive from the world of the Hollows. Aizen is back, and Ichigo may be the only one who can stop him for good!
Additional information on BLEACH is available at: http://www.viz.com/bleach.
NARUTO MANGA BOX SET 2 · Rated "T" for Teens ·
MSRP: $174.99 U.S. / CAN · Available July 7th!
Naruto is a young shinobi with an incorrigible knack for mischief. He's got a wild sense of humor, but Naruto is completely serious about his mission to be the world's greatest ninja! In the second NARUTO Manga Box Set, featuring Volumes 28-48, it's been more than two years since Naruto left to train with Jiraiya. Much has happened while he has been away, and new threats to the ninja world have emerged. Can Naruto prove his worth and rescue his friend Sasuke? The new box set also will feature an exclusive mini-comic containing the NARUTO pilot story and a full-color, double-sided poster.
Additional information on NARUTO is available at: http://www.viz.com/naruto.
For more information on other manga titles from VIZ Media, please visit www.VIZ.com.
About VIZ Media, LLC
Headquartered in San Francisco, California, VIZ Media distributes, markets and licenses the best anime and manga titles direct from Japan.  Owned by three of Japan's largest manga and animation companies, Shueisha Inc., Shogakukan Inc., and Shogakukan-Shueisha Productions, Co., Ltd., VIZ Media has the most extensive library of anime and manga for English speaking audiences in North America, the United Kingdom, Ireland and South Africa. With its popular digital manga anthology WEEKLY SHONEN JUMP and blockbuster properties like NARUTO, BLEACH and ONE PIECE, VIZ Media offers cutting-edge action, romance and family friendly properties for anime, manga, science fiction and fantasy fans of all ages.  VIZ Media properties are available as graphic novels, DVDs, animated television series, feature films, downloadable and streaming video and a variety of consumer products.  Learn more about VIZ Media, anime and manga at www.VIZ.com.