Comics
Zack Snyder's Rebel Moon to Receive Prequel Comic from Titan Comics
By Staff Reports
Titan Comics is pleased to announce that it will be publishing REBEL MOON: HOUSE OF THE BLOODAXE, the prequel comic series to one of 2023's most highly anticipated year end releases – part one available on Netflix on December 22. From director Zack Snyder (300, Man of Steel, Army of the Dead), REBEL MOON is an epic science-fantasy event decades in the making, featuring an all-star cast, including Sofia Boutella, Djimon Hounsou, Ed Skrein, Michiel Huisman, Doona Bae, Ray Fisher, Charlie Hunnam, Staz Nair and Cleopatra Coleman. 

The four-part comic series, based on a story by Zack Snyder, is written by Eisner-nominated Mags Visaggio (Kim & Kim, Transformers vs. The Visionaries) with art by Clark Bint (Killtopia, Murder Most Mundane) and colors from Francesco Segala.  Launching January 2024, issue #1 features an array of stunning covers, including by Stanley 'Artgerm' Lau and Rafael Albuquerque. 

Set 5 years before the events depicted in Rebel Moon – Part One: A Child of Fire, the comic HOUSE OF THE BLOODAXE provides backstory for the characters of Devra and Darrian Bloodaxe, leaders of a band of outlaw revolutionaries (played by Cleopatra Coleman and Ray Fisher), and their formidable family's history. 
As war is looming on the horizon on the planet Shasu, the leader of the Bloodaxe family is conflicted between living up to his father's domineering legacy and maintaining the peace. It is up to him to settle the conflicts within himself, and his family, before the entire planet erupts in war.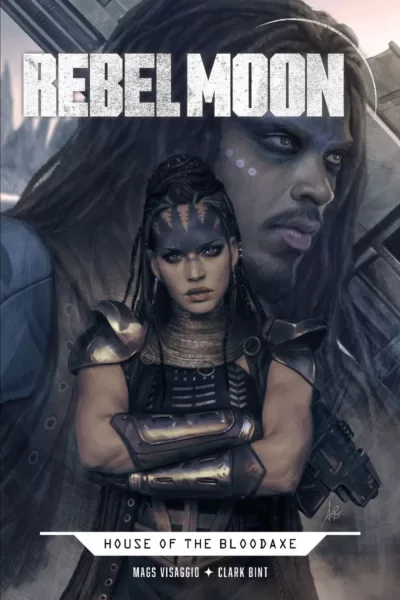 REBEL MOON: HOUSE OF THE BLOODAXE is essential reading for anyone who wants to know more about the rich and expansive lore of the REBEL MOON universe. With an original story from Zack Snyder himself, the comic carries the same levels of drama, action, and high emotional stakes that the director is known for. 

"I'm excited to collaborate with Mags to explore the rich and complex backstory of the Bloodaxe siblings," said Zack Snyder. "In REBEL MOON: HOUSE OF THE BLOODAXE, fans will get to discover their motivation, as well as the genesis of the rebellion."

Mags Visaggio, writer behind REBEL MOON: HOUSE OF THE BLOODAXE describes the comic as a 'Shakespearean tragedy…It's all extremely personal, a family in conflict with its patriarch who is in conflict with himself at a moment when they need to be united. It's a story about failure and the consequences of failure."

REBEL MOON: HOUSE OF THE BLOODAXE debuts in all comic shops and digitally on January 10, 2024. Fans can pick up a copy from their local comic shop and Forbidden Planet for UK & Europe.