Action Figures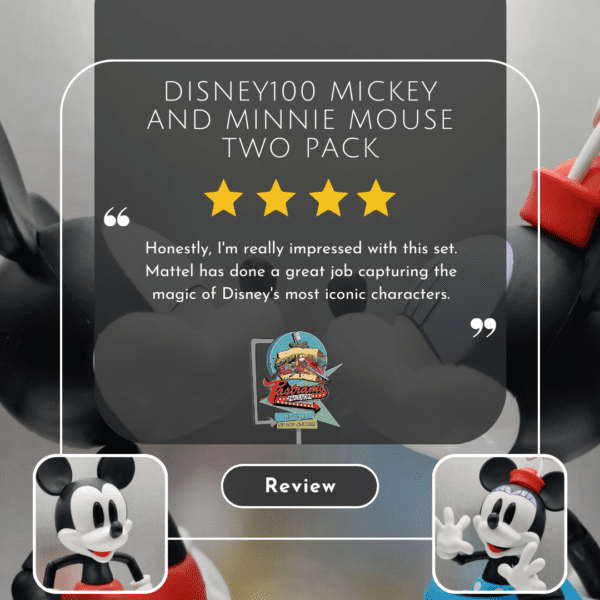 Action Figure Review: Disney100 Mickey and Minnie Mouse Two Pack
By Nolan P. Smith
Editor
Step into the world of Disney, where the fun never ends! It's time to celebrate the Disney100 extravaganza, and what could be more exciting than a fantastic set featuring the beloved Mickey and Minnie Mouse? Mattel has delivered with this set, let's check it out!
Get ready to be amazed by the excellent packaging that holds this fantastic treasure. The shiny silver box is adorned with eye-catching artwork and the Disney100 logo, setting the stage for an epic adventure. Open it up, and you'll find a pair of figures that perfectly capture the essence of Mickey and Minnie.
But wait, there's more! Along with these awesome figures, you'll discover a bunch of cool extras. Swap their hands to recreate their iconic poses with ease. Minnie's hat is included, too, so you can give her a stylish new look. And don't forget the interchangeable kissy faces for those adorable moments. Plus, there are stands and other neat accessories to complete the set.
Let's talk about these figures—they're pretty awesome! Although I was hoping for a bit more movement in their legs, the articulated arms still offer a decent range. These figures have 12 points of articulation, which might not be a ton compared to modern action figures, but it's enough to have a blast with Mickey and Minnie's adventures.
Honestly, I'm really impressed with this set. Mattel has done a great job capturing the magic of Disney's most iconic characters. I can't help but imagine more sets in the future, like one featuring Steamboat Willie and Pete, or even my personal favorite, Oswald the Lucky Rabbit. Don't miss out on this remarkable set—bring the Disney magic home and let your imagination run wild!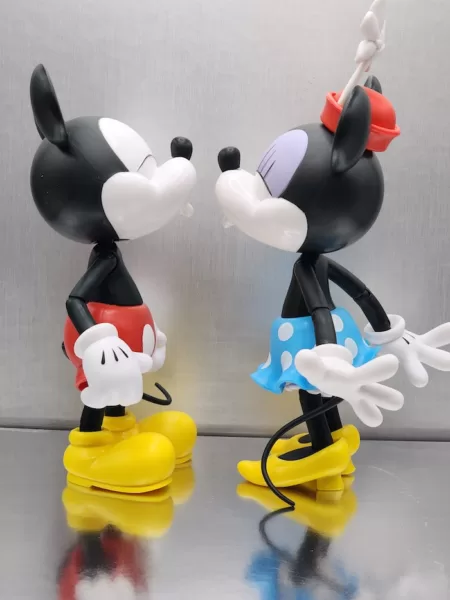 Rating: FOUR Pastrami Nations out of FIVE