Comics
Amigo Comics Phase 2 is here: UNLEASH, ALAN DRACON… and STRAITJACKET TP
By Staff Reports
This March, Amigo goes crazy with the launch of two brand-new miniseries, from rising stars Nacho Tenorio and Sergio Mora, and the superstar Stefano Martino. From the dark, twisted adventures of Emmie and The Machine in Unleash to the perilous futuristic quests of the bodyguard Alan Dracon, March is the month when Amigo goes totally loco.
Plus… brace yourself for the trade of our sell-out, hard-to-find Straitjacket miniseries! The world (the worlds!) of Alexandra Wagner and the madness surrounding her fight against the entities known as The Feeders… all packed and locked in a expensive, private asylum.
Preorder them. You know you need to!
Unleash #1 (of 4)
Writer: Jennifer Van Gessel, El Torres
Artists: Nacho Tenorio, Sergio Mora, Veronica R. Lopez
Cover Artist: Gabriel Hernandez Walta
STL000933
UPC Code: 708022654118—00111
MATURE THEMES.
32pgs, FC (1 of 4) $3. 99
Soon to be a feature film! Assaut survivor Emmie wants to change the world by creating her own superhero persona. Unfortunately her plans are limited, as being a hero takes more than a costume. In a strange twist of fate, Emmie forms an agreement with the most unlikely crime-fighting partner you could imagine. Now she can lay her own brand of twisted justice down on sexual predators.
Words by El Torres and screenwriter Jennifer Van Gessel, issue #1 features art by acclaimed artist Gabriel Hernandez Walta (Marvel's Magneto, Uncanny X-Men, The Vision… and also The Veil and The Suicide Forest!) with interior pages by Nacho Tenorio and Sergio Mora (Dark Shadows, Army of Darkness, Rogues: Odd Parenthood).
Read the first pages here!
Alan Dracon
Story and art by: Stefano Martino
Alan is just a bodyguard trying to make a living. But this is the future, and to survive Alan Dracon must deal with high-tech industrial moguls, genetically modified organisms… and seductive corporates. And most of them want him dead.
Action and adventure in the not-so-near future brought to you by Stefano Martino (George R.R. Martin's Doorways, Doctor Who).
Alan Dracon is the dear creation of Italian artist Stefano Martino, who worked on comic series such as Doctor Who, Warlord of Mars, Catwoman and George R.R. Martin's Doorways. He is working on the European market on titles as Nosferatu and Oracle, but he never forgot his creator-owned sci-fi series Alan Dracon.
And here are some preview pages
STL000927
UPC Code: 708022654125—0011132pgs, FC (1 of 6) $3. 99
STRAITJACKET TP
Writer: El Torres
Artist: Guillermo Sanna
Cover Artist: Guillermo Sanna
Alexandra Wagner is confined in an expensive asylum. She murdered her brother when she was a child, and has been jumping from an institution to another, thinking she's protecting our world against monsters called The Feeders with the help of her deceased brother. Thomas Hayes is her psychiatrist, and he believes she's totally mad.
Well, she's totally mad. But she's also right.
This volume compiles the acclaimed and really hard-to-find horror masterwork by El Torres and Guillermo Sanna!
This is what reviewers say about Straitjacket:
"The story inside was anything but common. El Torres strikes again (…) If you're into horror or maybe you just like stories about the insane, then you'll definitely want to check out Straitjacket."
—Dustin Cabeal, Comic Bastards
"Horror is hit-or-miss for me, more so the cinematic kind. The absolute best depictions are the ones that play with your mind, have you delve deep into your psyche, so much so that you question reality as we know it after viewing.(…) The first entry to this four-part tale deserves an 8.5 out of 10 on the crazy scale!"
—Paul Miranda, Comic Asylum
"Considering that Torres is the current best horror writer in comics (yeah, I said it), it's kind of neat that he takes one of his older horror comics (The Veil) and puts it in the same universe as this one. I love shit like that."_Greg Burgas, Comic Book Resources
"El Torres writes a stellar, gripping first issue to a series that looks to be the beginnings of a modern comics masterpiece of horror (…) This story is mesmerizing, and paired with Guillermo Sanna's pencils, this book becomes an absolute home run(…) If Amigo Comics keeps this up, they will become the new face of horror in the comics industry. This book has "movie adaptation" written all over it.
RATING: 10 out of 10. "
–Tex Comics and Reviews
ISBN Code: 9788416486199-51999
STL000933
120 pages, Black-white red $14.99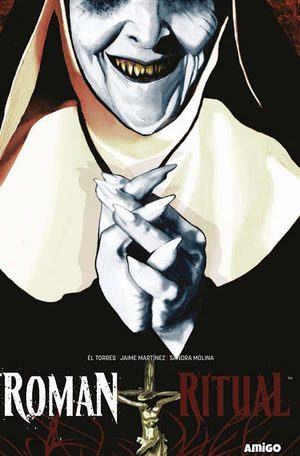 It's in the stores!
ROMAN RITUAL TP
"Roman Ritual has excellent pacing that uncomfortably keeps you mesmerized and eagerly turning the page. "
–Mike Peluso, ComicMonsters
"I love horror comics. They are primarily what I collect. The more horrific the better. I picked up one this week that was incredible. Roman Ritual."
-Comics Heating Up
"Infused with human drama and the supernatural element, Roman Ritual is the best book you aren't reading!"
-Steven Leitman, IndieComix
"El Torres is perhaps the most underrated horror comic writer working today. He comes at every subject he takes on with an edge that's sharp and deadly that you never quite see coming. Roman Ritual is no exception."
-Stephanie S. Gray, Horror Network
For more information, please go to www.amigocomics.com and facebook.com/AmigoComics