Wrestling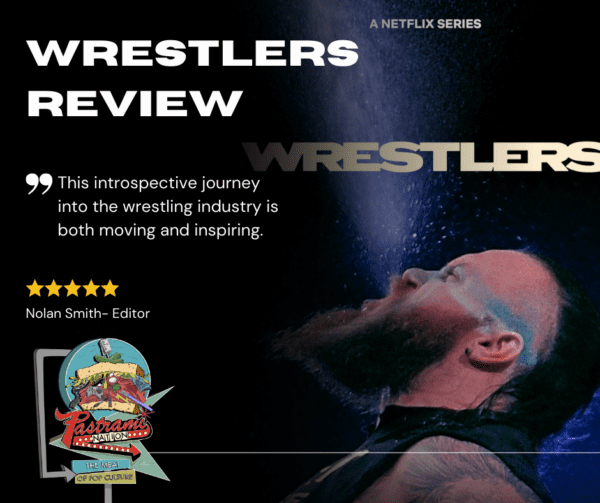 An Inside Look at Professional Wrestling: "Wrestlers" Review
By Nolan P. Smith
Editor
From my earliest memories, four constants in pop culture have molded my passions:
the sequential art of comic books
The lyrics of rap music
The intricate designs of action figures
The captivating allure of professional wrestling
Those Saturday Night Main Event episodes I watched religiously with my father and siblings introduced me to legends like the Legion of Doom and Big Boss Man. This foundation built a profound appreciation in me for every facet of professional wrestling. So, when news surfaced about Netflix launching a mini-series dedicated to the wrestling realm, it was a must-watch for me.
"Wrestlers" is an enlightening seven-part docuseries that offers an in-depth exploration into the dynamic world of professional wrestling, with its lens primarily focused on Ohio Valley Wrestling (OVW). Many might recognize OVW as the training ground that gifted the wrestling world with renowned icons such as John Cena, Randy Orton, Dave Bautista, and Brock Lesnar. However, with its detachment from WWE affiliation, OVW grapples with its challenges, and this series lays it all bare. At the helm of OVW is ex-WWE superstar Al Snow, who remains an unwavering custodian of the wrestling art form. As the narrative unfolds, two investors, Craig Greenberg and Matt Jones, enter the fray, and we are taken on a journey that showcases the myriad struggles and triumphs from diverse perspectives.
The talent pool of OVW is vast and varied. From Cash Flo to Jessie Godderz, Hollyhood Hailey J, and Mahabali Shera, each wrestler possesses a unique story, a burning drive that propels them to step into the ring time after time. While figures like Doug Basham and Shera may be familiar to many due to their WWE and TNA affiliations, respectively, "Wrestlers" offers a fresh perspective on lesser-known talents, revealing the depth of their passions and their personal battles.
This series doesn't sugarcoat its portrayal of professional wrestling. It offers viewers a raw, unfiltered gaze into everything from the rigorous training regimens to the challenges of promoting live events. Al Snow's profound knowledge and insights shared generously throughout the series, illuminate the intricate workings and appeal of professional wrestling. From understanding the complex psychology that underpins an engaging feud to the art of crafting a memorable match, Snow's wisdom is invaluable.
The radio host turned wrestling investor Matt Jones might rub some the wrong way with his initial approach. However, considering his significant financial investment in OVW, his desire to safeguard his stake becomes apparent. Both Jones and Greenberg's commitment to reviving this wrestling institution is commendable, culminating in Al Snow's heartwarming acknowledgment of Jones's transformation and the partnership they have fostered.
"Wrestlers" doesn't shy away from showcasing the harrowing aspects of the sport. From the shocking scene of Jones suffering a seizure on camera to the intense, emotional hardcore match between mother and daughter, the series paints a holistic picture. Moreover, it touches upon the personal challenges wrestlers face outside the ring, exemplified by Shera's vulnerable account of his darkest days, ultimately highlighting the redemptive power of OVW and Al Snow's mentorship.
For me, "Wrestlers" is the standout docuseries of the year. This introspective journey into the wrestling industry is both moving and inspiring. More than just a passive viewing experience, it compels audiences to rally behind OVW, urging them to immerse themselves in live events or online shows, thus fostering the continued growth and celebration of professional wrestling. The path within the squared circle is fraught with challenges. Still, the unwavering passion of the wrestlers and the dedicated leadership ensure that every match within those ropes is a testament to the spirit of the sport. An absolute must-watch for enthusiasts and newcomers alike!
Rating: FIVE Pastrami Nations out of FIVE.