Music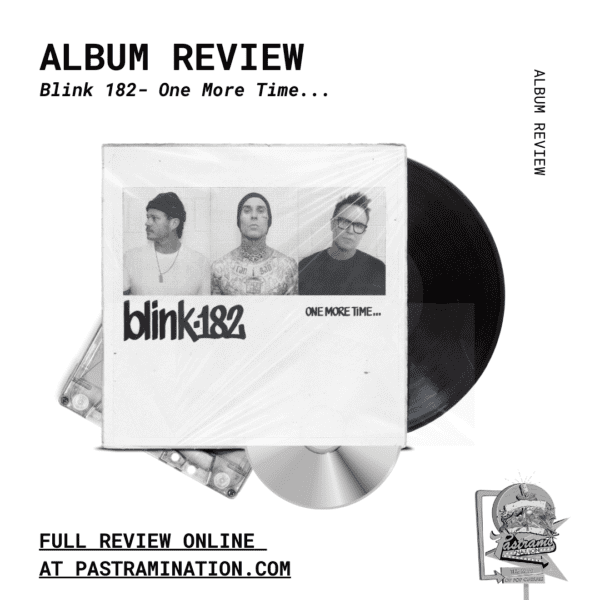 Blink-182: One More Time… Review
By Kevin Hoskinson
Entertainment Editor
It was the fall of 2022 when fans of Blink-182 had their collective minds blown. After weeks of speculation and rumors, it was confirmed that original founding member Tom DeLonge was reuniting with his former bandmates Mark Hoppus and Travis Barker. It was surprising, but fans were over the moon with this news and were ready for the boys to play together again. After the album Neighborhoods was released in 2011, the group went their separate ways, with DeLonge being replaced by Matt Skiba for a couple of albums and tours. For Tom, it wasn't that he didn't want to be a part of the band anymore; he wanted to focus on other things, and committing to the band was something he couldn't do at the time. After prioritizing his company, To The Stars, and helping to bring UFO disclosure to Congress (more on that another time!) and former bandmate Hoppus overcoming a cancer diagnosis, it was time for him to return and make music with his friends again.
The album we got from this reunion is One More Time…, a refreshing and nostalgic return to form for the group. One thing that is apparent right off the bat and upon first listen is that they are having fun making this record. While Neighborhoods had some great songs, it felt like an obligation more than a work of passion. It was pulled in many different directions and took itself way too seriously. They needed the time apart to get the creative juices flowing, which is on full display here. In a way, it feels like a greatest hits compilation using brand new songs to tell a cohesive story of the band and the ups and downs they've had along the way,
They hit a high note from the jump with Anthem Part 3, a loud and ferocious song about getting older and watching your dreams fall to the wayside. It's a feeling that many of us aging Blink fans can relate to, and they seem to be fully aware of this fact. It then transcends into songs about love, loss, and growing up in a world that has changed so much. One of my favorite things about it is that it loudly speaks to a forgotten generation, one that really came of age in the mid to late 90's and has disappeared into the background, working jobs that feel mediocre while initially being promised so much more.
The album also runs the gamut of emotions. One track will have you almost in tears, while the next will have you rocking out while perfecting your air guitar technique. It is exactly where the band should be at this point in their career. I was vibing so hard to the album, taking in the vibrancy and introspection, and then a song like Turn This Off! came on, and I found myself laughing so hard. It's so crazy how they hit those marks so precisely. It feels like a perfectly timed dramatic comedy where everything just falls into place.
I know it's still early, but I'm confident in saying One More Time… is one of Blink-182's best albums to date. It builds off the themes of earlier works to create something that will make fans very happy. Not only have they matured as people but also as songwriters and musicians. This is the most fun, interesting, and brilliant albums to release in 2023, and it's a joy to hear the boys back together again. It's so good, and you should check it out ASAP!
Rating: 4.5 Pastrami Nations out of 5.