Food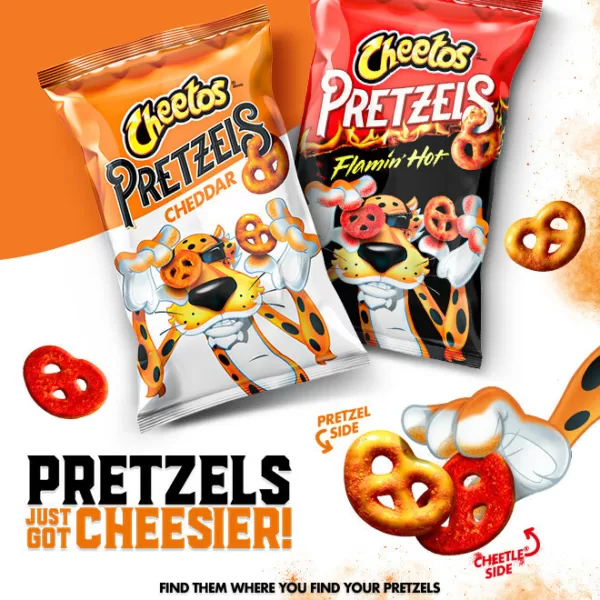 Cheetos Enters New Category with Debut of CHEETOS Pretzels
By Staff Reports
From Cheetos Popcorn to Cheetos Mac N' Cheese, Cheetos has been leaving its mark on the snack aisle for years with unexpected innovations. Now, Chester Cheetah is at it again – Cheetle-fying yet another beloved snack with the creation of Cheetos Pretzels.
"Our fans are always hungry for unique ways that they can experience Cheetos' signature cheesy flavor, which is why this latest innovation is breaking into an entirely new category," said Tina Mahal, senior vice president of marketing at Frito-Lay. "Cheetos pretzels maximize the fan-favorite seasoning in each bite with the perfect product texture, ultimately bringing the Cheetos flavor experience to life in pretzel form."
Similar to Cheetos, pretzels are a go-to snack – in fact, 63% of Cheetos consumers are also buying pretzels.1 With flavored pretzels driving 58% of the category's total growth,2 it's clear that pretzels lovers are looking for more flavorful options. Now Cheetos is meeting fans where they already are and delivering a new snack with a bold taste that's bound to shake up the category.
With two distinct sides – one covered in Cheetle and the other a classic pretzel – each bite of the crispy wheat pretzels gives the perfect amount of flavorful crunch. The two flavors, Cheetos Pretzels Cheddar and Cheetos Pretzels Flamin' Hot, can be purchased at retailers nationwide for $5.69 in 10oz and $2.49 in 3oz bags.
1 Total US All Outlets, 52 we 9/10/23
2 Total US MULOC, 52 we 10/1/23
SOURCE Frito-Lay North America; PepsiCo