Comics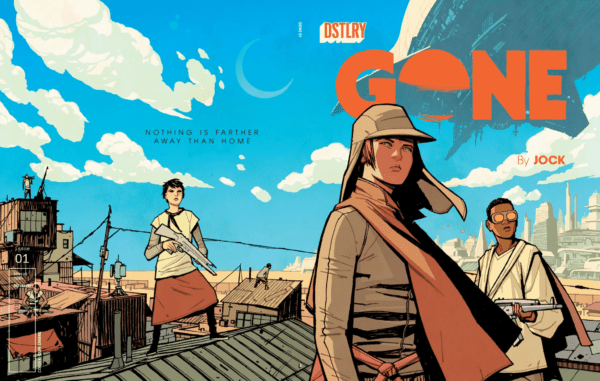 GONE #1 by Jock from DSTLRY Out Now + Two New Exclusive Variants
By Staff Reports
Today, DSTLRY's action-packed sci-fi adventure, GONE #1, is out now. Written, drawn, and colored by Eisner-Award winning creator Jock, the series spins out from his 8-page story "The Stowaway" from DSTLRY's debut release The Devil's Cut, and will feature an oversized, 48-page perfect bound issue. 
Additionally, DSTLRY revealed two new variant covers for GONE #1 exclusively available through its website from Caitlin Yarsky (Wonder Woman, Black Hammer Reborn) and Cliff Chiang (Wonder Woman, Paper Girls).
On an impoverished and distant planet where menial workers scratch out a living resupplying starships, the best place to be is GONE…and that's exactly where 13-year-old Abi wants to be. Along with her street-tough friends, Abi stows away on a colossal luxury space-liner, hoping for a better life. Unbeknownst to her, Abi's "friends" are not who they seem, and she suddenly finds herself branded a saboteur as she desperately struggles to evade the ship's deadly crew to stay alive! As the young heroine confronts betrayal, discovers her true allies, and fights against all odds, Abi will soon realize that nothing is farther away than…home.
GONE #1 is available now, October 25, as supplies last.
GONE #1 is available at local comic shops and online through DSTLRY's website at https://dstlry.co/.