Collectibles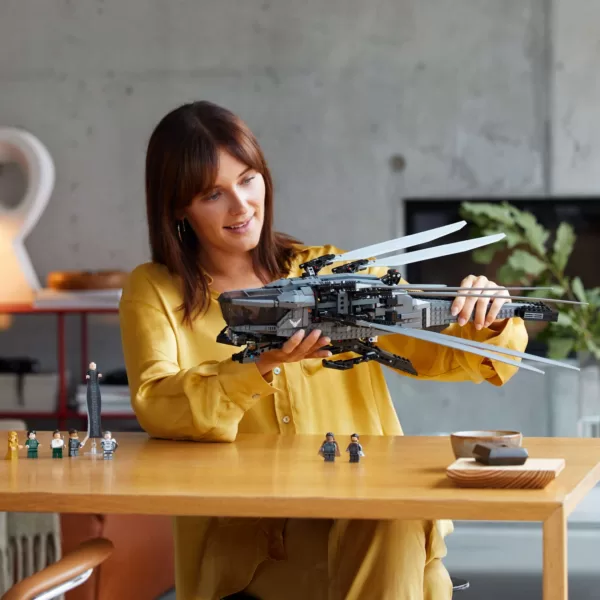 Prepare To Soar Above Arakkis In The New LEGO Icons Dune Atreides Royal Ornithopter
By Staff Reports
The LEGO Group has announced its first ever build experience from the Dune universe, from Legendary Entertainment based on Denis Villeneuve's film adaptation of Frank Herbert's masterpiece, with the LEGO® Icons Dune™ Atreides Royal Ornithopter, bringing one of the most iconic aircraft from the Spice-filled sci-fi epic to life in LEGO brick form.
As part of the new 1,369-piece build experience, fans of Dune™ will be able to recreate the dynamic dragonfly-inspired design of an Ornithopter like never before, with functional blades on the aircraft that can flap and retract with a 180-degree rotation.
Measuring 9 inches (23 cm) high, 22 inches (57 cm) long and 31 inches (79 cm) wide, the LEGO Icons Dune™ Atreides Royal Ornithopter features a foldable landing gear – and the set also comes with eight all-new LEGO Minifigures of key characters from Dune™, including Paul Atreides, Lady Jessica, Gurney Halleck, Chani, Leto Atreides, Liet Kynes, Duncan Idaho and Baron Harkonnen in his long robe.
The LEGO Icons Dune™ Atreides Royal Ornithopter creates an amazing toy or display piece for fans of Frank Herbert's original Dune novels or Denis Villeneuve's recent hit film franchise, with Dune: Part Two™ set to arrive in cinemas from March 15th 2024.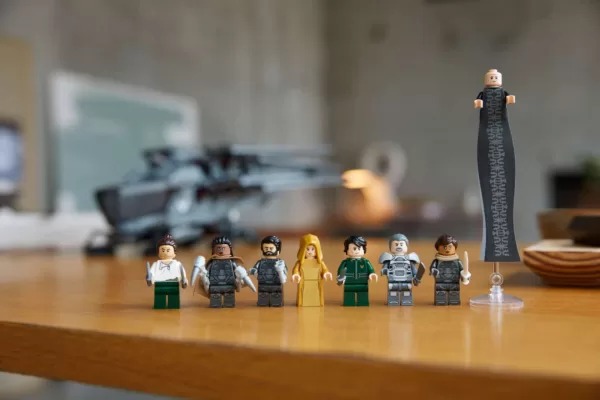 "Like fans across the world, we were fully enraptured by the epic Dune when it released – so our return to Arakkis in Dune: Part Two was the perfect opportunity to bring this iconic craft to life in LEGO brick form," said Michael Psiaki, Design Master at the LEGO Group. "Builders can now recreate this impressive ship with amazing detail, whether to proudly display or recreate their favourite scenes from the epic Dune saga at home."
"Turning a beloved Dune icon into a LEGO masterpiece has always been our dream. The unique and creative design of this product perfectly aligns with both the Dune and LEGO spirit, and we're excited for fans of all ages to enjoy the experience," said Amber Sheppo, Vice President, Consumer Products and Partnerships, Legendary Entertainment
The LEGO Icons Dune™ Atreides Royal Ornithopter is available to pre-order from 24th October, and on-sale from the 1st February 2024, with the set available to buy in-stores and online for 164.99 USD / EUR and 149.99 GBP.
The LEGO Icons Dune™ Atreides Royal Ornithopter is part of the LEGO Sets for Adults range, which gives adults immersive building experiences that let them flex their creativity, as well as to create masterpieces they can proudly display in their home when finished.
To find out more about the new LEGO® Icons Dune™ Atreides Royal Ornithopter, visit: www.lego.com/product/dune-atreides-royal-ornithopter-10327