Comics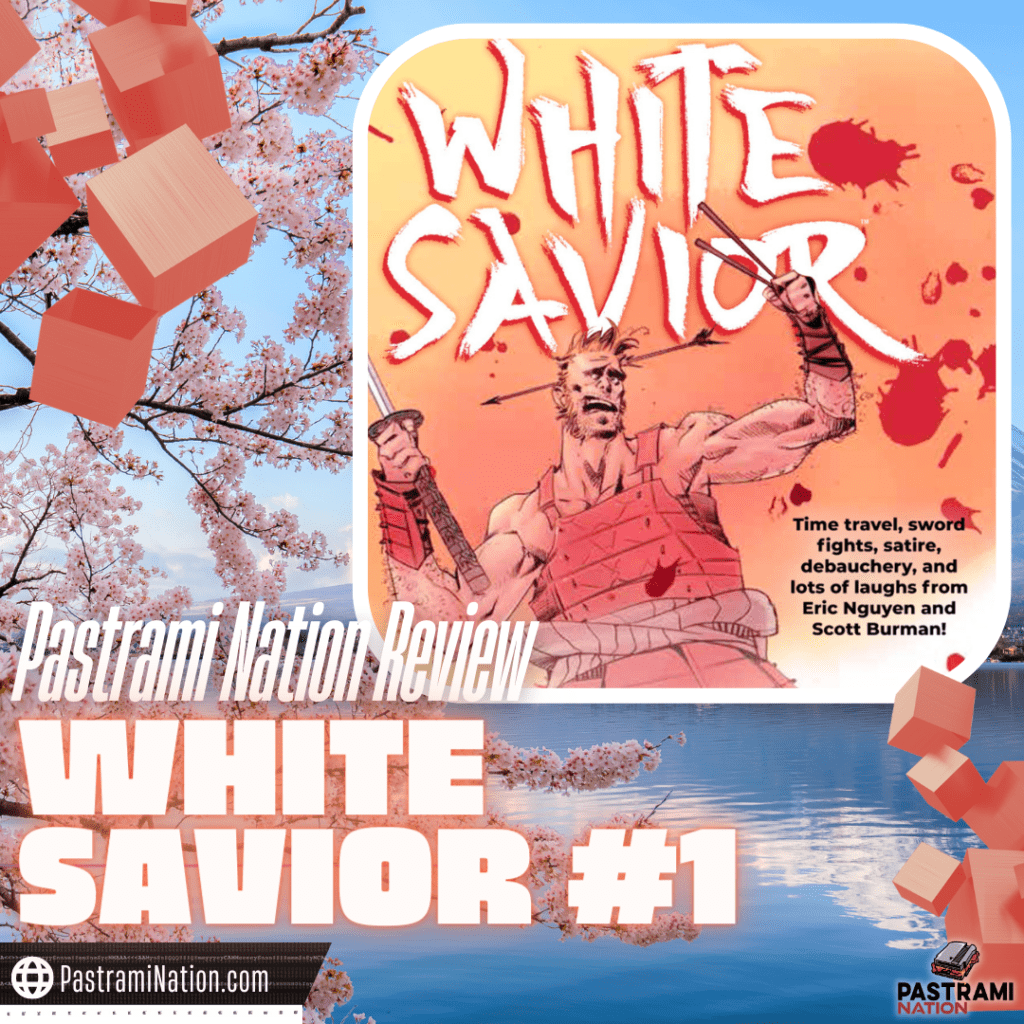 Comic Book Review: White Savior #1
By Nolan P Smith
Editor
Remember The Last Samurai? The Tom Cruise samurai epic showed the story of when a US Army Captain defects from his ranks and joins the side of the samurai in battle. Prepare for a satirical look at the story with White Savior from Dark Horse Comics.
Written by Eric Nguyen and Scott Burman with art by Eric Nguyen and Iwan Joko Triyono, this story comes to life with modern-day Japanese American teacher Todd Parker. He knows the tale well of Nathan Garin, a US Army Captain that prophecy said would lead the people of Inoki into the light. Instead, he led the people of Inoki to… a bloody massacre. Parker is a film history teacher that knows the story well from grandpa but never expected to be knee-deep in the legend. After chasing a woman who conned him earlier, he somehow ends up on the battlefield of Feudal Japan, where he experiences the sights and smells of war firsthand. He eventually comes face to face with Nathan Garin- a drunk, moronic excuse of a man- the same man who let the people of Inoki to certain death. Can Parker help rewrite history?
The creative team here does a bang-up job- from the modern-day scenes to the Japanese battlefield. Nguyen's artwork is top-notch- fans of Old Man Logan will know this. For me, it was from his enthralling series Strange Girl, where his art and designs instantly grabbed me. I love the character designs and the light-heartedness worked into something as serious as death and war. It's a fun story that takes you deep into the lands of Japan, and I can't wait to see how things go wrong next.
Be sure to check this one out. White Savior pokes fun at The Last Samurai tale and does so with style. I can't wait to see what happens next. On sale today from Dark Horse Comics! 
Rating: FOUR Pastrami Nations out of FIVE. 

Nolan P. Smith is the Editor in Chief and Co-Founder of Pastrami Nation. For the past ten years, he has worked for various media outlets, from newsprint to the ever-evolving internet platform. Residing in Pinon Hills, CA, writing has always been a significant aspect of his life. A reporter, teacher, public relations specialist, and more, Smith takes the most pride in being a husband and a father. You can follow him on Twitter and Instagram at @pastramination.