Comics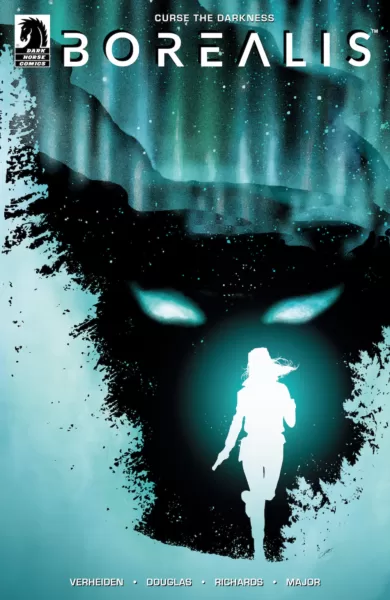 CURSE THE DARKNESS AND STAY ALIVE IN "BOREALIS"
By Staff Reports
Dark Horse Comics invites readers to the icy, dark winters of wild Alaska where the temperatures can drop to seventy below zero, and somewhere in the frozen wilderness, unearthly horrors are emerging. Screen and comics writer Mark Verheiden (The Mask movie, Daredevil TV series, Aliens and Predator comics) and writer/actor Aaron Douglas (Battlestar Galactica, The Bridge) join forces with artist Cliff Richards (Buffy the Vampire Slayer, Wonder Woman) and colorist Guy Major (Buffy the Vampire Slayer, Blue Beetle) to face the haunting legends of Alaska and tell the bloodcurdling tale of Borealis.
"Aaron and I have wanted to collaborate for years, and when he suggested the idea for Borealis, we had a blast combining a gritty crime story and supernatural horror with the emotional journey of a woman confronting the figurative and literal monsters haunting her. We can't wait for readers to see how Cliff Richards and Guy Major have brought our madness to life!" —Mark Verheiden
Welcome to remote Qinu, Alaska, home to four thousand isolated residents and a world of bad memories for Alaska State Trooper Silaluk Osha, aka Sil. A series of horrific murders has pulled her back to Qinu after thirteen years to face her dark past and discover her own frightening connections to mysterious and deadly legends.
"I am so excited to bring this story to the world with one of the best writers out there who just happens to be a Battlestar Galactica alum and one of my closest friends. From the moment I pitched my idea of Borealis to Mark the fuse was lit, and bringing on Guy and Cliff to draw and color added fuel to the fire."—Aaron Douglas
"When Aaron and Mark came to me with Borealis, the idea felt like a real gift for me. I love the supernatural /horror / crime story they bring, and then Guy joined to make it an exciting experience to work on. Hope readers have as much fun as I had working on the pages." —Cliff Richards