Comics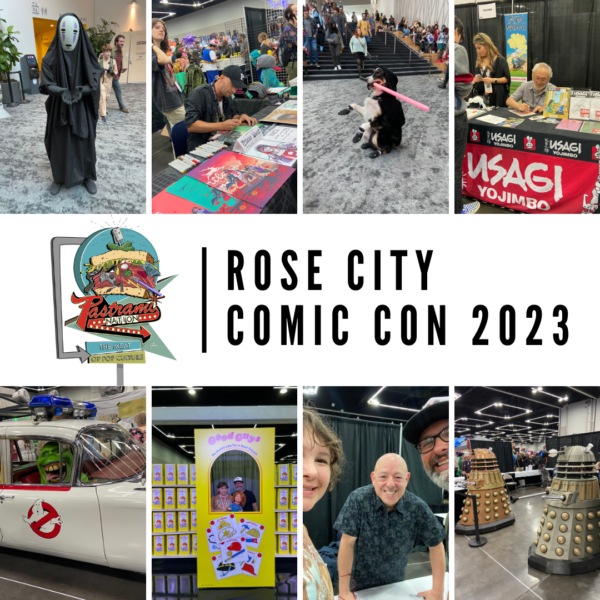 RCCC 2023: Critical Role Attacks Portland!
By Kevin Hoskinson
Entertainment Editor
Rose City Comic Con took the Oregon Convention Center by storm this weekend, and it was one of the most interesting and exciting years yet. It was packed with celebrity guests, including actors, voice-over artists, writers, animators, and every other type of artist you could think of. Even though it had the same amount of activities and guests as years past, there was a different feeling this year. It can't be a sure thing, but it's a possibility that the current WGA and SAG-AFTRA strikes had a lot to do with the vibe in the air this time around. It felt a bit more Portland-centric than previous years, with a spotlight on local creators, artists, and businesses, which isn't a bad thing at all.
Dark Horse Comics is one of the biggest companies to attend the con every year. Based in the Rose City, they sponsor the event and always have an incredible booth featuring various local artists and merchandise. This year, they had signings from talent such as Jocoby Salcedo, Diana Schutz, Mike Mignola, Jody Houser, and many more. They also had fantastic deals on comics, puzzles, pins, and collectibles. Also joining this year is Powell's City of Books, the biggest independent bookstore in the United States. Their flagship store downtown is one of the most incredible places you will ever visit if you love books (but that's another article in itself). They did something they had never done before and had authors signing their books at the cons book fair section. Some of those in attendance were Travis Baldree, Rosiee Thor, Seanan McGuire, Lauren Beukes, and Terry Brooks, all of which drew huge crowds.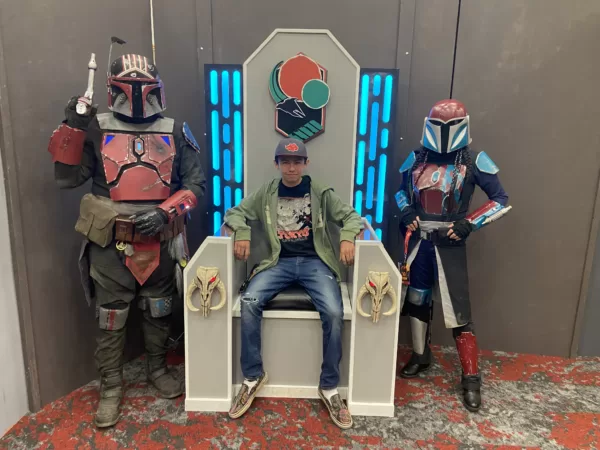 This year was huge with a particular subset of pop culture, mainly because the cast of the popular series Critical Role were there. Matthew Mercer, Ashley Johnson, Travis Willingham, Laura Bailey, Liam O'Brien, Taliesin Jaffe, Marisha Ray, and Sam Riegel attended. For the first time in forever, I felt the fervor regarding a particular group of guests. On top of that, Zoe Saldana and Karen Gillan were in the building, and fans were very excited to see the Daughters of Thanos in person. Critical Role: Zoe and Karen were the ones who required you to purchase autographs and photos in advance, and they all sold out almost immediately. Critical Role did a panel that required reservations to get in, and it filled up fast. Some other guests available to meet and get your favorite things signed by were Felicia Day, Rebecca Romijn, Ralph Macchio, Mark Sheppard, and Steve Blum.
The convention center floor was crawling with comic book talent in Artists Alley and Makers Market. If you were walking around, you could run into Brian Michael Bendis, Jeph Loeb, or Greg Rucka. The folks at Portland Gear had a booth set up, promoting their merchandise and new comic series Saint John, with writer/artist Brennan Wagner on hand to sign copies and meet fans. Wild Bill's Olde Fashioned Soda Pop Co. had stands throughout the back end of the main floor, offering delicious handcrafted sodas at a reasonable price. There were also artists selling original prints, cosplay-friendly homemade weapons, keychains, stickers, candles, and everything else you expect to see at Comic-Con.
One of my favorite things about attending any Comic Con is the cosplay. There seemed to be a lot less this year than in previous years, but it didn't diminish the enjoyment too much. The cosplay on display was excellent, as usual, and it's always fun to watch them do their thing.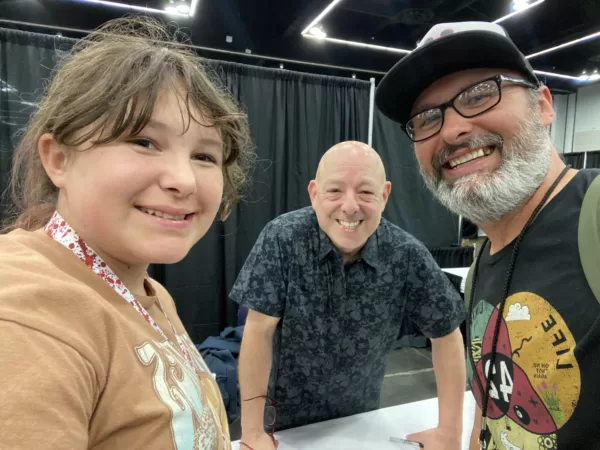 There were also several panels and various activities for the whole family. In the family section, there was a giant rock wall that all ages could attempt, and there was a kid's stage featuring storytelling and family-friendly dance parties. Ground Kontrol, a classic arcade in the city's heart, brought several vintage video games you could play with friends or by yourself. The 501st Legion, a worldwide collection of individuals celebrating everything Star Wars, brought their love of the world created by George Lucas to the con. They had a very cool room filled with amazing fan-made costumes, props, and droids. We even faced the villainous Kylo Ren face-to-face for a photo op. The Portland Ghostbusters brought a beautiful replica of the Ecto-1, and a crew of passionate Supernatural lovers brought a screen-accurate reproduction of Baby to the show for fans to take pictures with.
Year after year, RCCC offers a good time, and this year was no different. The team over there knows how to handle the crowds and is very helpful and friendly. Portland is an incredible city, and if anybody wants to get a taste of what the Rose City is all about, this is the event to go to. The atmosphere is like no other, and you are guaranteed to meet others who love the things you do. Overall, it was a great experience, and I'm very excited for next year!